Comba Public Safety UHF BDA Class A (DC) 2 Window Passband Duplexed Dual Sub-Band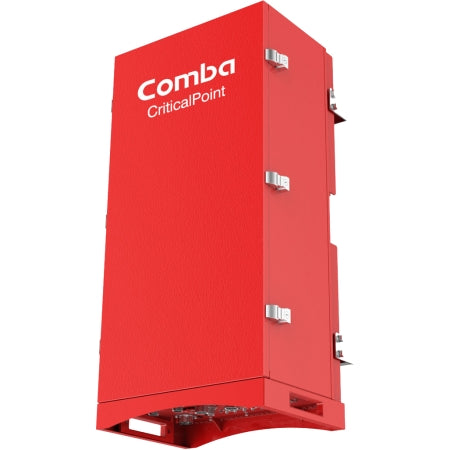 Comba Public Safety UHF BDA Class A (DC) 2 Window Passband Duplexed Dual Sub-Band
Best Price Guarantee. [1, 2, 3]
Buy Now, Pay Later with No Interest if paid in full within 6-12 months. Choose Klarna payment option at the checkout for details of this, and other long-term low-interest financing options.
Free Lifetime Support. SKU / Model: RXUHF-A36DC-2WB
Best Price Guarantee [1 2 3]
Call for FREE consultation:
1(855)846-2654
Need installation quote, or help with designing a custom solution? Submit a request for quote.
Description
Reviews
Questions & Answers
Make An Offer
Warning
Description
Product Description
Comba CriticalPoint RXUHF-A36DC-2WB Public Safety Class A duplexed UHF dual sub-band DC powered BDA. It is provided with different passbands from 2.0/2.5MHz passband ranging from 450 to 470 MHz including 1.0/1.5 MHz passband beginning from 470MHz to 512 MHz, 2.0/2.5 MHz+2.0/2.5MHz within the 450MHz to 470MHz with window to window Guard 2.5MHz band and greater and 1.0/1.5MHz+1.0/1.5MHz within the 470MHz to 512MHz. It is critical to indicate the specific passbands during the purchasing process.
UHF Class A public safety BDA also supports both conventional analog and digital P25 P1/P2 communications concurrently. Also supported include ALC (Auto Level Control) channelizing and internal duplexing and simplex. BDA also supports maximum 32 channels and uplink channelized squelching. Inbuilt compulsory isolation test ensures oscillation doesn't occur. GUI, web-based allows intelligent configuration while supporting SNMP.
Summary:
Comba Critical Point RXUHFA36DC2WB is a Class A, DC powered, dual sub-band, duplexed BDA.
Can be provided with either a:
2.0/2.5 MHz passband from 450-470 MHz plus a 1.0/1.5 MHz passband from 470-512 MHz.
2.0/2.5 MHz + 2.0/2.5 MHz in 450-470MHz, Window to Window Guard band greater than 2.5 MHz.
1.0/ 1.5 MHz + 1.0/1.5 MHz in 470-512MHz, Window to Window Guard band greater than 1.5 MHz.
Specify exact passbands when ordering. Comba CriticalPoint UHF Public Safety Bi-Directional Amplifier.
Compliances: NFPA 1221/IFC (dry contact alarms) and NFPA 1221/IFC (NEMA 4 enclosure).
Highlights:
36 dBm Composite Power Downlink.
30 dBm Composite Power Uplink.
0-30 GAR [Gain Adjustment Range (dB)].
Measures 31.5 inches (height) by 15.4 inches (width) by 12.4 inches (length).
32 Channels.
-33-60 degree C range.
Weighs 77.0 lbs.
Type N-Female connectors.
Features:
Supports P25 P1/P2 digital and conventional analog communications simultaneously.
Simplex and internal Duplexing supported.
Up to 32 narrow band filters.
Channelized Auto Level Control (ALC) supported.
Channelized uplink squelch supported.
Uplink PA shutdown bring the minimum noise for Base Station.
Built-in mandatory isolation test to prevent BDA oscillation.
Web based GUI for intelligent configuration, SNMP supported.
NFPA 1221 / IFC compliant dry contact alarms.
NFPA 1221 / IFC compliant NEMA 4 enclosure.
Technical Specifications:
| | |
| --- | --- |
| Manufacturer: | Comba Telecom, Inc. |
| Composite Power Downlink: | 36 dBm. |
| Composite Power Uplink: | 30 dBm. |
| Gain Adjustment Range (dB): | 0-30. |
| Item Height: | 31.5 inches. |
| Number of Channels: | 32. |
| Temperature Range: | -33-60 degrees centigrade. |
| Item Weight: | 77.0 lbs. |
| Item Width: | 15.4 inches. |
| Qty/ Uom: | 1 each. |
| RF Connectors: | Type N-Female. |
| Item Length: | 12.4 inches. |
WARNING:
Per FCC laws and regulations, this INDUSTRIAL GRADE device must not be installed by consumers. It is designed for installation by QUALIFIED INSTALLERS only. You MUST have an express consent in writing from all Carriers in your service area to operate this device. Unauthorized use may result in significant forfeiture penalties, including penalties in excess of $100,000 for each continuing violation. Please submit public safety DAS installer questionnaire for a quote, if you require professional installation and assistance with DAS design, consent and approval process with our certified public safety DAS installation service.
Reviews
Questions & Answers
QUESTIONS & ANSWERS
Have a Question?
Be the first to ask a question about this.
Ask a Question
Data Sheet / User Guide
Make An Offer
Warning
Note: For any signal booster to help, outside signal strength must be at least -110 dB or there must be a clear line of sight to a cell tower that is within twenty miles. Before ordering, please check outside signal level in decibels or ensure that you can make and hold a phone call at any good spot outside where you can mount an exterior antenna. Square footage stated in signal booster listings is based on good signal outside. If it is any weaker, the boosted sq. ft. area will be considerably lower, accordingly.
Kevin K. of Anderson, California gave the following review:
Website is easy to use with plain straight forward info but could have had more on testing signal strength to make sure you get a strong enough booster.
Therefore, please note that stated sq. ft. coverage is based on good signal outside. For best results: If outside signal is weak, we suggest choosing the next higher sq. ft. coverage kit. If outside signal is very weak, we suggest choosing the kit with even more higher sq. ft. range bracket. Basically, higher the sq. ft. bracket, the more powerful the signal amplifier with greater Gain as well as higher uplink and downlink output power.
If outside signal is too weak (weaker than -110 dB), submit request for cell coverage solution assessment. Upon receipt of questionnaire, we will perform residential or business site survey. This will help us determine the system that is needed to improve cell coverage. Then, we will create system design using that system such as femtocell, active or hybrid distributed antenna system (DAS), or other carrier feed signal enhancing method available that will work at your signal-challenged location. Finally, we will schedule for installation after equipment and installation service quote has been approved by you, or your company.
For non installation-included kits: Most home / office / building cell signal booster kits only include bracket to mount exterior antenna on outside wall, edge of roof, or existing pipe up to 2 inches in diameter. Mounting pole not included with most kits, unless stated specifically that it is included for free. Therefore, a mounting post must be purchased separately if you will require it to mount exterior antenna.
---
Related Products