M2M Modem / Router Direct-Connect Signal Booster for Verizon and AT&T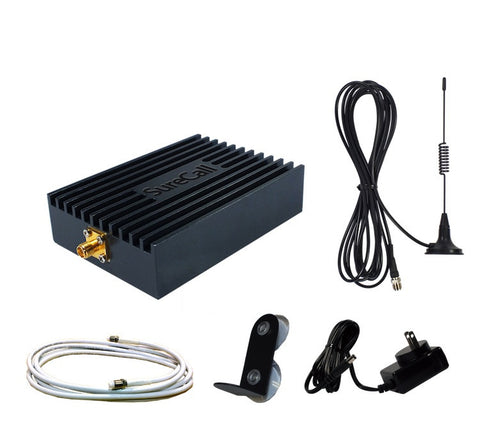 M2M Modem / Router Direct-Connect Signal Booster for Verizon and AT&T
Regular price

$300.00 USD

Sale price

$240.00 USD
Best Price Guarantee. [1, 2, 3]
Buy Now, Pay Later with No Interest if paid in full within 6-12 months. Choose Klarna payment option at the checkout for details of this, and other long-term low-interest financing options.
Free Lifetime Support. SKU / Model: SC-SoloAI-15
Best Price Guarantee [1 2 3]
SureCall M2M Booster (4G Verizon & ATT) Highlights:
FCC approved and certified for use with Verizon & AT&T.
Compact in size and designed for excellent heat dissipation.
Supports Verizon's & AT&T's 4G and 4G LTE standards.
Easy to install - plug-and-play installation!
Stealth technology incorporated – uplink becomes dormant when not in use, providing green, power saving operation.
Industry Leading 3-Year Warranty.
Call for FREE consultation:
1(855)846-2654
Need installation quote, or help with designing a custom solution? Submit a request for quote.
Description
Reviews
Questions & Answers
Make An Offer
Warning
Description
Product Description
M2M Modem or Router Direct-Connect 3G, 4G, LTE Cellular Signal Booster for Verizon and AT&T Mobile Networks. Choose Indoor Signal Booster if you need signal boost in homes & buildings. Choose Vehicle Signal Booster if you need signal boost in car, truck, RV, or boat.
This is a M2M signal booster for use within vending machines (VM), automatic teller machines (ATM), and other machine to machine applications where signals get weak preventing high speed wireless data transfers. SureCall's 4G LTE Signal Booster provides significantly enhanced 4G data reception for Verizon or AT&T LTE (Choose appropriate unit from drop-down menu provided). You will see the difference in the number of bars your computer displays and you will notice the dramatic increase in the speed of data uploads and downloads. SureCall's 4G LTE can be used with an outdoor antenna for use at home or in the office by directly connecting to a computer's data card or router.
It is a direct-connect signal booster meaning the cable from amplifier directly connects to the cellular modem, tracking, monitoring and other cellular data device containing a SIM card to ensure signal reliability and increase data speeds in poor signal environments. Therefore, it cannot be used for smartphones today that practically never have a direct antenna port connection. If you need to improve signal on a smartphone, you need a wireless cell phone signal booster.
The SIM card in a cellular device such as cellular modem or mobile hotspot device like Mi-Fi (not a mobile hotspot created in a smart phone because that won't have an antenna port to connect cable that comes with this M2M direct connection kit) requires consistent wireless connectivity to operate the M2M or IoT machine properly by utilizing paid wireless subscription service. This kit helps provide that consistent connectivity.
SureCall M2M 4G industrial quality signal booster delivers optimum cellular signal enhancement for all machine-to-machine (M2M) applications. Applications include ATMs, Vending Machines, Lotto machines, and remote monitoring to name just a few. Its compact size and extension cable allow it to be connected directly to a modem or data card. Compatible with all major carriers except Nextel.
SureCall part number SC-SoloAI-15 for AT&T Wireless and part number SC-SoloVI-15 for Verizon Wireless provides 15 dB Gain. It is compact, and includes a magnetic antenna and power adapter. It delivers optimum signal enhancement for use on ATMs, vending machines, or any machine-to-machine purpose.
Sure Call M-2-M 4G signal booster kit can be easily connected directly to a modem or data card. Enjoy enhanced 4G M2M connectivity and increased signal with SC-SoloAI-15 for AT&T and SC-SoloVI-15 for Verizon. UPC: For AT&T: 857593005024 (FCC ID: RSNM2M-A) / For Verizon: 857593005031 (FCC ID: RSNM2M-V).
This SureCall M2M signal booster is comparable to Wilson Electronics brand weBoost Signal 4G 470119 or 460119.
SureCall M2M 4G LTE Specifications:
| | |
| --- | --- |
| Frequency | Verizon: Uplink 777-787 MHz; Downlink 698-716 MHz; AT&T Uplink 698-716 MHz, Downlink 728-746 MHz |
| Input Impedance | 50 ohm |
| Average Gain | 15dB |
| Maximum Gain | 15 dB |
| VSWR | ≤2.0 |
| Standard Supported | LTE |
| AC Power Transformer | Input 100-240, 60Hz 0.36A |
| DC Power | 6V, 2A |
| Maximum RF Output Power | Verizon: 19.5 dBm, AT&T: 19.44 |
| Noise Figure | 5dB |
| Cable | RG58 |
| RF connectors | SMA Male Connectors |
| Power Consumption | ≤9W |
| Dimensions | 4-7/8" X 2-3/4" X 1-1/8" |
| Weight | 1 lb 13oz |
Consumer Alert:
Reviews
Questions & Answers
What's the difference between this and a cell booster? I live in a home with good insulation or something out side the door I have 4g lte. Step inside the house not even 1x. Don't care about voice just want data . Will this work as a repeater for my application ?

This M2M signal booster can possibly be suitable if you need to boost data on a cellular device that has an exterior antenna port. For example, if you're looking to improve wireless data signal on your recently manufactured smartphone, that would not be possible because it probably will not have an external antenna port since most smartphones don't have it anymore. However, if you're looking to boost cell data signals through a mobile hotspot device with an antenna port, this device can be technically connected to it and help it to boost reception for cellular devices connected to that mobile hotspot device also known as Mi-Fi, etc. Please note that this Machine to Machine booster kit is designed for standalone cabinets like ATMs, vending machines, etc. so the length of the cable included may not be sufficient to install in a residential setting as you intended to use. Therefore, it is best to use a signal booster designed for such residential settings such as the ones shown here: https://www.signalbooster.com/collections/home-office

Can I use the 4G M2M signal booster with my Verison wireless MiFi to connect the Verison wireless signal to my modem? Thanks

Yes, this would be technically possible. However these are designed to boost signals in commercial applications like ATM machines, vending machines, etc. so the length of the cable from antenna to amplifier is not a lot. Therefore, you may have to improvise accordingly if installing in a home setting.

Looking for antenna and booster for weak signal on some accounts. We use CalAmp devices with 4G Verizon and AT&T.

This referenced IoT / M2M signal booster would help provide consistent data connectivity to your devices. Choose Verizon or AT&T and order quantities accordingly, as needed, for each device, subscriber and carrier account. Please contact us if you have any questions. Thank you.
Data Sheet / User Guide
Make An Offer
Warning
Note: For any signal booster to help, outside signal strength must be at least -110 dB or there must be a clear line of sight to a cell tower that is within twenty miles. Before ordering, please check outside signal level in decibels or ensure that you can make and hold a phone call at any good spot outside where you can mount an exterior antenna. Square footage stated in signal booster listings is based on good signal outside. If it is any weaker, the boosted sq. ft. area will be considerably lower, accordingly.
Kevin K. of Anderson, California gave the following review:
Website is easy to use with plain straight forward info but could have had more on testing signal strength to make sure you get a strong enough booster.
Therefore, please note that stated sq. ft. coverage is based on good signal outside. For best results: If outside signal is weak, we suggest choosing the next higher sq. ft. coverage kit. If outside signal is very weak, we suggest choosing the kit with even more higher sq. ft. range bracket. Basically, higher the sq. ft. bracket, the more powerful the signal amplifier with greater Gain as well as higher uplink and downlink output power.
If outside signal is too weak (weaker than -110 dB), submit request for cell coverage solution assessment. Upon receipt of questionnaire, we will perform residential or business site survey. This will help us determine the system that is needed to improve cell coverage. Then, we will create system design using that system such as femtocell, active or hybrid distributed antenna system (DAS), or other carrier feed signal enhancing method available that will work at your signal-challenged location. Finally, we will schedule for installation after equipment and installation service quote has been approved by you, or your company.
For non installation-included kits: Most home / office / building cell signal booster kits only include bracket to mount exterior antenna on outside wall, edge of roof, or existing pipe up to 2 inches in diameter. Mounting pole not included with most kits, unless stated specifically that it is included for free. Therefore, a mounting post must be purchased separately if you will require it to mount exterior antenna.
---
Related Products