Refurbished Wilson Pro M2M Signal 4G LTE IoT Cell Signal Booster (USA)
Refurbished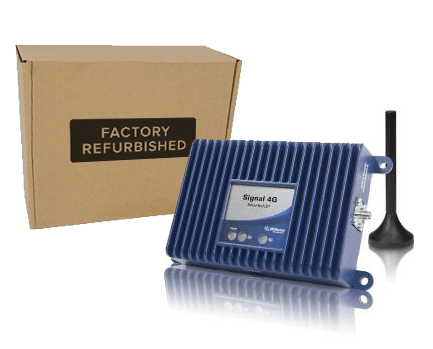 Refurbished Wilson Pro M2M Signal 4G LTE IoT Cell Signal Booster (USA)
Regular price

$299.99 USD

Sale price

$275.00 USD
Best Price Guarantee. [1, 2, 3]
Buy Now, Pay Later with No Interest if paid in full within 6-12 months. Choose Klarna payment option at the checkout for details of this, and other long-term low-interest financing options.
Free Lifetime Support. SKU / Model: 460119R
Best Price Guarantee [1 2 3]
Call for FREE consultation:
1(855)846-2654
Need installation quote, or help with designing a custom solution? Submit a request for quote.
Description
Reviews
Questions & Answers
Data Sheet / User Guide
Make An Offer
Warning
Description
Product Description
Refurbished weBoost/ Wilson Pro Signal 4G LTE IoT / M2M cell signal booster for Internet of Things and Machine to Machine devices used inside cellular connected applications. It is a like-new factory certified refurbished and renewed version of brand new Pro Signal 4G, but with 1 year manufacturers warranty. Furthermore, we offer our industry leading 60 days money back guarantee that it will work as specified. Applications where it will improve wireless signal strenth include vending machines (VM), bank automated teller machines (ATM), and any application that uses mobile connectiviy to tranfer wireless data, usually without human intervention.
It is a direct-connect signal booster meaning the cable from amplifier directly connects to the cellular modem, tracking, monitoring and other cellular data device containing a SIM card to ensure signal reliability and increase data speeds in poor signal environments. Therefore, it cannot be used for smartphones today that practically never have a direct antenna port connection. If you need to improve signal on a smartphone, you need a wireless cell phone signal booster.
The SIM card in a cellular device such as cellular modem or mobile hotspot device like Mi-Fi (not a mobile hotspot created in a smart phone because that won't have an antenna port to connect cable that comes with this M2M direct connection kit) requires consistent wireless connectivity to operate the M2M or IoT machine properly by utilizing paid wireless subscription service. This kit helps provide that consistent connectivity. This is a new version replacement model of the discontinued models weBoost Wilson M2M Data Pro (460109) and Signal 3G (470109).
Original weBoost M2M Cell Booster Kit SKU # 470119 or wa470119 (USA). Original Wilson Pro M2M Cell Booster Kit SKU # 460119 or wa460119 (USA). Refurbished weBoost M2M Cell Booster Kit SKU # 470119R or wa470119r (USA).Refurbished Wilson Pro M2M Cell Booster Kit SKU # 460119R or wa460119r (USA).
Only one cellular device can be connected for signal booster because this is a direct connection signal booster kit but that application can be limitless. For example, that mobile device can be a cellular modem, data card, lotto machine, remote monitoring system within an alarm system, wireless remote monitored signage, fleet monitoring system, mobile hotspot device such as Mi-Fi, Jetpack, etc. - as long as it has an exterior antenna port consisting of SMA female connector to connect the cable with its SMA male connector. Amplifier Model Number is 460019.
This USA version works for all cellular service providers in USA such as AT&T Wireless, Verizon Wireless, T-Mobile, and Sprint. Boost signal reception inside Machine to Machines and Internet of Things with stronger connection with respective network's cell tower. Strong connection means fewer disconnects and redialling, less loss of data due to lack of realtime wireless connectivity, and fewer Internet hang-ups or freezing / buffering.
Enjoy fast 3G + 4G LTE mobile internet downloads and uploads in your M2Ms and IoTs after installing this M2M and IoT cellular signal amplifier kit. WilsonPro Signal 4G LTE kit is easy to install. It installs easily using DIY installation instructions included. It is self-regulating, plug and play, automatically adjusts antenna signal gain as needed, and requires no maintenance after it is installed. Please refer to brief version of WilsonPro Signal 4G Installer Guide for basic M2M signal booster installation details. This Wilson WL-460119 kits is lightly used, but in like-new factory refurb. signal booster kit condition. It performs per manufacturer specifications, and saves you money!
Consumer Alert:
Reviews
Questions & Answers
Is this boooster for a car or a house?

Machine to Machine (M2M) direct-connect cellular signal boosters are typically neither for car nor house. They are typically used in commercial applications such as ATM and vending machines. Antenna provided is placed on top of such a cabinet and the wire routed inside the cabinet and connected to the booster which in turn has a cable that connects to the cellular modem inside the cabinet which relays wireless data. This set-up helps maintain consistent connection of such Internet of Things (IoT) to its respective network without losing connection causing disruption / redials which results in loss of business. We carry in-home cell boosters and in-vehicle cell boosters as well, but this is not one of them.
Data Sheet / User Guide
Make An Offer
Warning
Note: For any signal booster to help, outside signal strength must be at least -110 dB or there must be a clear line of sight to a cell tower that is within twenty miles. Before ordering, please check outside signal level in decibels or ensure that you can make and hold a phone call at any good spot outside where you can mount an exterior antenna. Square footage stated in signal booster listings is based on good signal outside. If it is any weaker, the boosted sq. ft. area will be considerably lower, accordingly.
Kevin K. of Anderson, California gave the following review:
Website is easy to use with plain straight forward info but could have had more on testing signal strength to make sure you get a strong enough booster.
Therefore, please note that stated sq. ft. coverage is based on good signal outside. For best results: If outside signal is weak, we suggest choosing the next higher sq. ft. coverage kit. If outside signal is very weak, we suggest choosing the kit with even more higher sq. ft. range bracket. Basically, higher the sq. ft. bracket, the more powerful the signal amplifier with greater Gain as well as higher uplink and downlink output power.
If outside signal is too weak (weaker than -110 dB), submit request for cell coverage solution assessment. Upon receipt of questionnaire, we will perform residential or business site survey. This will help us determine the system that is needed to improve cell coverage. Then, we will create system design using that system such as femtocell, active or hybrid distributed antenna system (DAS), or other carrier feed signal enhancing method available that will work at your signal-challenged location. Finally, we will schedule for installation after equipment and installation service quote has been approved by you, or your company.
For non installation-included kits: Most home / office / building cell signal booster kits only include bracket to mount exterior antenna on outside wall, edge of roof, or existing pipe up to 2 inches in diameter. Mounting pole not included with most kits, unless stated specifically that it is included for free. Therefore, a mounting post must be purchased separately if you will require it to mount exterior antenna.
---
Related Products