An item you're pre-ordering is on backorder so it will take few days to ship - are you sure you want to proceed to order it?
Close
Ground Wire w/Clamp - Grounding Kit for Exterior Antenna/ Surge Protec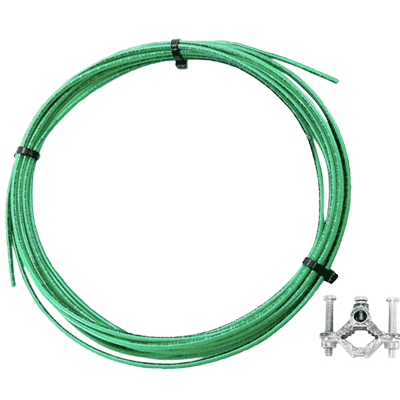 Ground Wire w/Clamp - Grounding Kit for Exterior Antenna/ Surge Protec
Best Price Guarantee. [1, 2, 3]
Buy Now, Pay Later with No Interest if paid in full within 6-12 months. Choose Klarna payment option at the checkout for details of this, and other long-term low-interest financing options.
Free Lifetime Support. SKU / Model: GND-20KIT3-AFC
Best Price Guarantee [1 2 3]
Call for FREE consultation:
1(855)846-2654
Need installation quote, or help with designing a custom solution? Submit a request for quote.
Description
Reviews
Questions & Answers
Make An Offer
Warning
Description
Product Description
Exterior Antenna or Lightning Surge Arrester Protector Ground Wire and Grounding Kit for protecting home / building from lightning surge. Comparable to zBoost YX012 grounding kit.
Kit Includes:
20 feet roll of 12-18 American Wire Gauge (AWG) Ground Wire.
Ground Clamp for cold water pipes.
This purchase is for an antenna system grounding kit that comes complete with pipe clamp, ground cable, and ground wire. It can be used with antenna systems that are omnidirectional as well as outside systems that are yagi directional.
It is perfectly suited in any public safety, office, or home environment, including M2M ATM and vending machines.
Suggested applications include Wi-Fi Systems, 3G, 4G, LTE WiMax, cellular, and other antenna systems that are omni-directional, as well as outside antennae systems that are yagi unidirectional.
The ground wire connects to lightning surge protector if installed, or exterior antenna's cable connector metal portion and other end connects to the clamp which in turn clamps on to metal water pipe or similar metallic grounded object visible outside the home. This redirects lightning surge to shortest distance to ground to prevent damage to cell signal booster system connected to exterior antenna. It does require professional installation so those that know how to ground exterior antennas, already know how to install this product.
Note: Lightning Surge Arrester or Protector NOT included with this purchase.
Important Notice Regarding Grounding Requirements.
The team at SignalBooster.com would like to take this opportunity to remind all our valued customers - particularly those residing in the United States, that the National Electric Code mandates that all coaxial cables and antenna masts that enter a building from the outside must be grounded. It is only by utilizing proper grounding techniques with approved protectors that we can work together to prevent building fires, safeguarding our valuable equipment and even more valuable human lives.
Regardless of where in the world you live, proper grounding protection measures should always be undertaken when installing any type of antenna or other equipment from outdoors into a building. This ensures that people and property are protected against electrical surges caused by lightning strikes or any other reason. As an added benefit, precautions that you take to protect your equipment against electrical surges can also provide similar levels of protection to wireless equipment against the build-up of static electricity.
The team at SignalBooster.com highly recommends all customers engage the services of professional installers if necessary, and follow all local electrical laws and codes, regardless of where you live.
Reviews
Questions & Answers
QUESTIONS & ANSWERS
Have a Question?
Be the first to ask a question about this.
Ask a Question
Data Sheet / User Guide
Make An Offer
Warning
Note: For any signal booster to help, outside signal strength must be at least -110 dB or there must be a clear line of sight to a cell tower that is within twenty miles. Before ordering, please check outside signal level in decibels or ensure that you can make and hold a phone call at any good spot outside where you can mount an exterior antenna. Square footage stated in signal booster listings is based on good signal outside. If it is any weaker, the boosted sq. ft. area will be considerably lower, accordingly.
Kevin K. of Anderson, California gave the following review:
Website is easy to use with plain straight forward info but could have had more on testing signal strength to make sure you get a strong enough booster.
Therefore, please note that stated sq. ft. coverage is based on good signal outside. For best results: If outside signal is weak, we suggest choosing the next higher sq. ft. coverage kit. If outside signal is very weak, we suggest choosing the kit with even more higher sq. ft. range bracket. Basically, higher the sq. ft. bracket, the more powerful the signal amplifier with greater Gain as well as higher uplink and downlink output power.
If outside signal is too weak (weaker than -110 dB), submit request for cell coverage solution assessment. Upon receipt of questionnaire, we will perform residential or business site survey. This will help us determine the system that is needed to improve cell coverage. Then, we will create system design using that system such as femtocell, active or hybrid distributed antenna system (DAS), or other carrier feed signal enhancing method available that will work at your signal-challenged location. Finally, we will schedule for installation after equipment and installation service quote has been approved by you, or your company.
For non installation-included kits: Most home / office / building cell signal booster kits only include bracket to mount exterior antenna on outside wall, edge of roof, or existing pipe up to 2 inches in diameter. Mounting pole not included with most kits, unless stated specifically that it is included for free. Therefore, a mounting post must be purchased separately if you will require it to mount exterior antenna.
---
Related Products