weBoost Drive 4G-M | 470121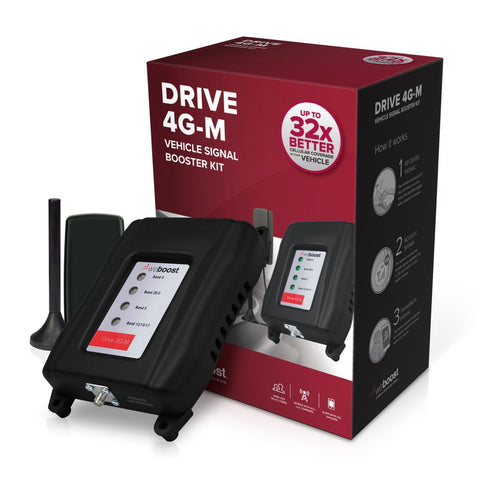 weBoost Drive 4G-M | 470121
Regular price

$425.00 USD

Sale price

$379.99 USD
Best Price Guarantee. [1, 2, 3]
Buy Now, Pay Later with No Interest if paid in full within 6-12 months. Choose Klarna payment option at the checkout for details of this, and other long-term low-interest financing options.
Free Lifetime Support. SKU / Model: 470121
Best Price Guarantee [1 2 3]
Optional accessory available: DC car plug-in power cord included. Optional 110v electrical outlet AC power supply adapter can be purchased separately.
Call for FREE consultation:
1(855)846-2654
Need installation quote, or help with designing a custom solution? Submit a request for quote.
Description
Reviews
Questions & Answers
Data Sheet / User Guide
Make An Offer
Warning
Description
Product Description
weBoost Drive 4G-M 4G LTE cell phone signal booster kit for cars & trucks. Drive 4GM is a Multi-User Cell Booster for Cars with part # 470121 or wa470121, previously 470108 or wa470108
. It boosts signal of multiple cell phones or cellular devices with SIM card, simultaneously. All cellular devices being used in car will get simultaneous signal boost. Such devices can include smartphones, computer tablets, turbo sticks, internet sticks, air cards, mobile hotspots Mi-Fi, Jetpack, etc. UPC: 811815028604.
5G Ready - Per manufacturer, this weBoost signal enhancer will work for the next decade and beyond.
This is a new version replacement model of the discontinued models weBoost Wilson Mobile 3G (460102), Mobile 4G (460108) & Drive 3G-M (470102), Drive 4G-M (470108). This USA version works for all cellular service providers in USA such as AT&T Wireless, Verizon Wireless, T-Mobile, and Sprint. Boost signal reception inside cars and trucks with stronger connection with respective network's cell tower.
Strong connection means fewer missed or dropped calls, fewer incoherent conversations, fewer Internet hang-ups or freezing / buffering. Enjoy clear voice conversations, instantaneous texting, and fast 3G + 4G LTE mobile internet downloads and uploads after installing this car cell phone signal amplifier kit. weBoost Drive 4G-X kit is easy to install. It installs easily using DIY installation instructions included.
Product Highlights.
Amplifies text, voice calls and 4G LTE Internet data.
Designed for cars but works great for vans, trucks, SUVs, minivans, boats and RVs.
This base cell amplifier model is recommended for city driving. For rural remote areas, we recommend weBoost Drive 4G-X (470510).
Works with all cellular service carriers on all their cell phones.
Maximum Gain Allowed by FCC for Vehicle Cell Signal Boosters: +50 dB.
Product Overview.
Don't stand for dropped calls, poor call quality and slow internet.
weBoost's powerful 4G car cell phone signal booster boosts 3G & 4G LTE signals for many people in a vehicle (cars, vans, SUVs, trucks, mini-vans, boats, RVs, etc).
weBoost Drive 4G-M is basic cell signal booster model that enhances cellphone signals wirelessly for up to 4 cellular devices including tablets, smartphones and Kindles. With a gain of up to +50 dB, it delivers a stronger signal, resulting in a clear connection to your smart cell phone.
weBoost has been solving cell-phone reception problems for more than 4 decades with signal boosters that are FCC as well as IC certified. They boost weak signals in both the city and remote rural areas but this lower cost kit is geared more towards city driving. This kit is DIY and very easy to install.
Benefits.
Improves Reception.
More Bars.
Eliminates Dropped Calls.
Crystal Clear Voice.
Text Delivered Quickly.
Increases Coverage.
Dead Zones reduced or eliminated.
Longer Battery Life.
Reliable Communication Method.
Up & Download at Faster Speeds.
Who will benefit?
If you require a reliable signal for voice & text, as well as a high-speed 4G LTE internet connection, this unit will provide you improved cell phone reception. This signal booster is perfect for people that need fast up and downloads for streaming apps like Netflix, YouTube, Spotify, Pandora, and other apps that are heavy on data.
Carriers Supported.
weBoost 470121 (USA version for Verizon, AT&T, T-Mobile, Sprint, etc.) Drive 4G-M can be used for all major US carrier service networks except iDen and WiMax networks. It supports 700 MHz, 850 MHz, 1900 MHz, and AWS 1700/2100 MHz.
How does it Work?
Drive 4GM picks up existing weak signals with a compact high-gain antenna, and then amplifies it numerous times with Wilson Signal Booster's patented SmarTech III technology. The boosted signals easily bypass all vehicle interior and vehicle exterior obstructions providing signal directly to your cell device. Refer to weBoost Drive 4G-M Quick Installation Guide for quick set-up and installer manual overview.
Drive 4G-M cell phone booster Kit (Item # 470121) Includes:
Drive 4G-M Wide-band Cell Phone Amplifier & Repeater (Product #: U470008. Model #: 460021).
10 cm Mini Magnet-Mount Antenna for Vehicle Top.
Low Profile Antenna for Inside Vehicle.
Power Supply to Power-up Signal Amplifier.
Easy Installation Instructions and Manual.
Specifications of Amplifier Model Number 460021 with Product # U470021 or 470021 and FCC ID PWO460021 and IC ID 4726A-460021.
| | |
| --- | --- |
| Frequency | 700 MHz - Band 12/ 13/ 17, 850 MHz - Band 5, 1700/ 2100 MHz - Band 4, 1900 MHz - Band 2. |
| Maximum Gain | 50 Decibels (dB) |
| Impedance | 50 Ohm |
| Voltage / Power | 6V/ 2A |
| Connectors | SMA-Female |
| Dimensions | 4.38 x 6.38 x 1.38 inches |
| Weight | 0.53 kg or 1.16 lbs (amplifier only). |
| 470121 (USA) UPC | 811815028604 |
Installation.
Vehicle cell phone booster kit is very easy to install with all required components and installation instructions included.
Installation in Car Video:
Installation in Truck Video:
Consumer Alert:
Reviews
Questions & Answers
I am a Canadian Bell customer travelling the USA. My plan is unlimited North America wide cell coverage with unlimited text and 8 Gb shared data with 2 phone lines, but we have signal issues in USA Arizona to be exact. Wwich country version should I go with?

Canadian version would be the one you would order from Canada. Once installed in Canadian registered vehicle, you can travel in that vehicle wherever you need to travel within Canada or United States.

Does this work with iPhones? No SIM card.

Does your iPhone EVER show signal bars without the SIM card? If yes, it will work. If no, then it will not.

If there is no paid service plan on the phone, then it is obvious that you won't be able to make a local or long distance call.

However, some cell phones connect to nearby cell towers and show signal bars even if they have no cell service subscription. That accessibility is for the sole purpose of enabling 911 calls in an emergency now that there are practically no payphones in most places.

A signal booster can improve signal if it is weak, but it cannot do so if your phone cannot connect to any nearest cellular network service provider's tower and shows "no service" ALL the time.

Therefore, if you have EVER seen atleast a service bar or two on your iPhone without a SIM card, then this signal booster will work to improve that reception, albeit only for calling 911.
Data Sheet / User Guide
Make An Offer
Warning
Note: For any signal booster to help, outside signal strength must be at least -110 dB or there must be a clear line of sight to a cell tower that is within twenty miles. Before ordering, please check outside signal level in decibels or ensure that you can make and hold a phone call at any good spot outside where you can mount an exterior antenna. Square footage stated in signal booster listings is based on good signal outside. If it is any weaker, the boosted sq. ft. area will be considerably lower, accordingly.
Kevin K. of Anderson, California gave the following review:
Website is easy to use with plain straight forward info but could have had more on testing signal strength to make sure you get a strong enough booster.
Therefore, please note that stated sq. ft. coverage is based on good signal outside. For best results: If outside signal is weak, we suggest choosing the next higher sq. ft. coverage kit. If outside signal is very weak, we suggest choosing the kit with even more higher sq. ft. range bracket. Basically, higher the sq. ft. bracket, the more powerful the signal amplifier with greater Gain as well as higher uplink and downlink output power.
If outside signal is too weak (weaker than -110 dB), submit request for cell coverage solution assessment. Upon receipt of questionnaire, we will perform residential or business site survey. This will help us determine the system that is needed to improve cell coverage. Then, we will create system design using that system such as femtocell, active or hybrid distributed antenna system (DAS), or other carrier feed signal enhancing method available that will work at your signal-challenged location. Finally, we will schedule for installation after equipment and installation service quote has been approved by you, or your company.
For non installation-included kits: Most home / office / building cell signal booster kits only include bracket to mount exterior antenna on outside wall, edge of roof, or existing pipe up to 2 inches in diameter. Mounting pole not included with most kits, unless stated specifically that it is included for free. Therefore, a mounting post must be purchased separately if you will require it to mount exterior antenna.
---
Related Products