Wilson Pro 1300/1300R & 4300/4300R Enterprise/Commercial Cell Boosters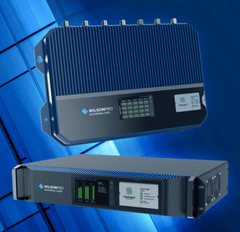 Best‐in‐class multi-tower cell phone signal boosting technology - Another first in cellular amplification by WilsonPro.
The Enterprise 1300 delivers enhanced cell signal throughout commercial building spaces up to 40,000 sq. ft. The Enterprise 4300 maximizes cell coverage in buildings up to 100,000 sq. ft. with ports for 4 indoor antennas. Both amplifiers feature: A) 3 configurable outdoor antenna ports that can target specific cell towers for maximizing reception on all networks. B) Connect to the WilsonPro Cloud for easy remote monitoring. C) Offer wall or rack mount options for installation flexibility. D) User‐friendly LCD touchscreens to change settngs easily. E) Built‐in XDR technology whuch ensures signal amplifier does not shutdown nor overload with external signal to maximize performance.
Experienced installers on standby to professionally install signal enhancing system at lowest cost and free system design.
Product Features:
Enterprise 1300: The industry's first, fully configurable, 3 outdoor-antenna-port design to amplify cellular signal in spaces up to 40,000 sq. ft.
Enterprise 4300: With 4 indoor and 3 outdoor antenna ports, cellular signal is amplified throughout commercial spaces up to 100,000 sq. ft.
Mounting Options: Both the Enterprise 1300 and Enterprise 4300 offer users the choice of a wall‐mount or rack‐mount configuration.
Wired or LTE WilsonPro Cloud Access: Remotely manage, monitor, and adjust your amplifier, and receive real‐time updates on your smartphone or tablet.
User‐Friendly Functionality: LCD touchscreen for troubleshooting and XDR technology to auto‐adjust gain provides continuous connectivity.
---