Wilson Pro 1000 for up to 35k Ft² (Wall Mount) | WilsonPro 460236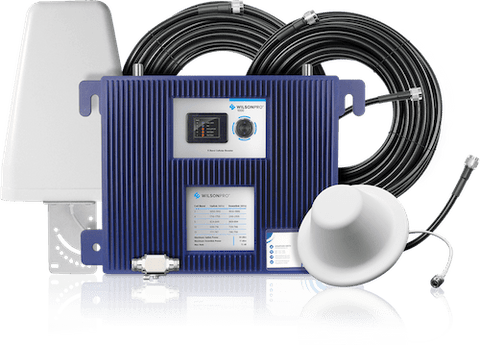 Wilson Pro 1000 for up to 35k Ft² (Wall Mount) | WilsonPro 460236
Best Price Guarantee. [1, 2, 3]
Buy Now, Pay Later with No Interest if paid in full within 6-12 months. Choose Klarna payment option at the checkout for details of this, and other long-term low-interest financing options.
Free Lifetime Support. SKU / Model: 460236
Best Price Guarantee [1 2 3]
Sold as a complete cellular booster kit with all reqd. parts.
Boost in-building coverage up to 35k sq. ft. using this one unit.
Color LCD toggle screen for easy access to monitor settings.
Extra Dynamic Range technology for continuous connectivity.
Highest downlink and uplink power (adjustable).
Expand coverage indoors even more by purchasing add'l 50 Ohm in-building antenna kits that include required cables and splitter to connect to this 50 Ohm booster kit.
Call for FREE consultation:
1(855)846-2654
Need installation quote, or help with designing a custom solution? Submit a request for quote.
Description
Reviews
Questions & Answers
Data Sheet / User Guide
Make An Offer
Warning
Description
Product Description
WilsonPro 1000 Product Review and Description. 
Wilson Pro 1000 cell phone signal booster for approximately 35,000 square feet indoor building spaces consists of a wall mount main amplifier unit. Wilson Pro 460236/ wa460236 part number is a top quality commercial grade boosting system for entire buildings and similar large building structures. Designed, engineered, and assembled in USA by Wilson Electronics/ weBoost.
5G Ready - Per manufacturer, this WilsonPro cell phone booster will work for the next decade and beyond.
What does the WilsonPro 1000 Commercial Signal Booster Kit (460236) cost? Call us, chat live, or email us to find out because these can be customized or kitted with variable number of antennas depending on your needs.
Wilson Pro1000 cellphone signal booster is offered to increase the strength of cellular devices as well as boost data transfers (both uploading and downloading). This powered repeater unit is designed to provide in-building cellular coverage enhancements for businesses such as hospitals, hotels, warehouses, offices, and other properties up to 35,000 sq. ft. The small but modern technology found within the booster allows for easy navigation, automatic controlling, manual adjustments, and quick installation.
Features.
Key features of the Wilson Pro-1000 include the new extended Dynamic Range (XDR) technology this unit never shuts off due to strong outside or changes in outside signals. Downlink power consists of industry leading +15dBm per port making the WilsonPro 1000 equipped with the highest available indoor coverage than other WilsonPro boosters.
Kit Components.
The standard Wilson-Pro 1000 kit comes with all the components necessary for your or our licensed technician to install the device properly (installation cost extra - submit details here for a quote). Included in the kit you will find:
Wilson 1000 Signal Booster Amplifier Unit - WilsonPro 460036 (Model Number: U460036).
Outside Directional Antenna - Part # 314411.
Inside Dome Antenna - Part # 304412.
Lighting Surge Protector - Part # 859902.
2 feet Low-Loss Wilson 400 Cable - Part # 952302.
75 feet Low-Loss Wilson 400 Cable - Part # 952375.
100 feet Low-Loss Wilson 400 Cable - Part # 952300.
Antennas work independently from onboard software allowing for maximum coverage without disrupting coverage from other antennas. Customers can extend the contents of the kit by purchasing an expansion kit. Optional indoor expansion kits (see below for links to purchase) are sold in Single Antenna (309906-50N), Double Antenna (309907-50N), or Triple Antenna Expansions (309908-50N). Product kits include:
Wall Mount Panel Antenna (x the purchased amount).

A 50 Ohm 2-way, 3-way, or 4-way splitter depending upon # of indoor antennas.

2 feet Wilson 400 Cable.

50 ft. Wilson 400 Cable (x the purchased amount).
Connectors for the coax cables have been strategically placed upon the 1000 Booster to minimize the likelihood of entanglements. The clear and illustrative LCD screen beside the display empowers the user to go through settings to maximize peak performance on the booster. The LCD screen has been designed for quick and effective control of the product upon installation and allows for manual adjustments to the uplink and downlink gain levels for each band.
Mounting your device.
Wilson Pro 1000 commercial grade cellular signal booster is best mounted in areas where there's little to no obstacles obstructing the path to the main antenna. Due to the design of the Wilson 1000 booster, mounting can be accomplished in virtually any interior space. It is advised that the mounting unit and outside Directional Antenna be within as much close proximity as possible for best results. Power should be linked to a dedicated circuit if possible. As this unit is a commercial grade product, mounting of the unit must be done by a licensed installation professional so we recommend getting a prompt installation quote from us.
Specifications.
Like all WilsonPro cellular signal boosters, this features cell site protections that auto-detect and prevent any cell tower interference. This model (Wilson 460236) is capable of increasing signal strength to a max gain of 70 dbs on 50 Ohm impedance. Connections are N-Female. Power is 100-240V AC, 50-60 hz, 30 W. Based upon the band selected the frequencies will vary. The frequencies available are:
Band 12 – 698-746 MHz.
Band 13– 746-787 MHz.
Band 5– 824-894 MHz.
Band 4– 1850-1995 MHz.
Band 25/2– 1710-1755/2110-2155 Mhz.
Above frequencies cover all wireless service carriers in USA including Verizon, Sprint, AT&T, T-Mobile and in Canada including Rogers Wireless, Bell Mobility and Telus. 
Compatibility and Support.
It is designed to be compatible with all major US 2G, 3G, and 4G devices on all mobile service providers. Additionally, phones from the same major manufacturers will still be able to receive data plus voice enhancement from use of the booster. Communication and data increases are subject to the existing strength of the network signal outside. Businesses which have moderate to strong signals outside will see the most increase.
All Wilson commercial cellular signal boosters are supported with a 3 year warranty from the date of purchase. Any support questions or concerns about your product can be addressed by contacting us or the manufacturer.
Optional Parts and Accessories (not included):
Optional Omni Directional Exterior Antenna: 3G & 4G Omni Wide-band External Antenna.
Yagi (included) is more powerful than Omni (not included, can be purchased separately), but Omni's attract signals from all directions and from all cellular service carriers. Omni's also do not have to be pointed to the cell phone tower.
Installing Wilson Pro 1000: Professional Installation by Certified Installers.
This commercial cellular signal booster kit (WIL-460236) needs to be installed by a professional installer. We provide professional installation service that installs Wilson Pro 1000 in your commercial business or residential complex at an affordable cost. Please contact us for WilsonPro 1000 installation service by certified cell phone signal booster installers.
Consumer Alert:
Reviews
Questions & Answers
What type of service might I expect in a metal building

As long as there's some reception outside the building, you will have great reception inside metal buildings. The signal boosting system basically injects signal from outside into the metal building so the fact that building has metal composite in its exterior has no impact in boosting signal inside the building.
Data Sheet / User Guide
Make An Offer
Warning
Note: For any signal booster to help, outside signal strength must be at least -110 dB or there must be a clear line of sight to a cell tower that is within twenty miles. Before ordering, please check outside signal level in decibels or ensure that you can make and hold a phone call at any good spot outside where you can mount an exterior antenna. Square footage stated in signal booster listings is based on good signal outside. If it is any weaker, the boosted sq. ft. area will be considerably lower, accordingly.
Kevin K. of Anderson, California gave the following review:
Website is easy to use with plain straight forward info but could have had more on testing signal strength to make sure you get a strong enough booster.
Therefore, please note that stated sq. ft. coverage is based on good signal outside. For best results: If outside signal is weak, we suggest choosing the next higher sq. ft. coverage kit. If outside signal is very weak, we suggest choosing the kit with even more higher sq. ft. range bracket. Basically, higher the sq. ft. bracket, the more powerful the signal amplifier with greater Gain as well as higher uplink and downlink output power.
If outside signal is too weak (weaker than -110 dB), submit request for cell coverage solution assessment. Upon receipt of questionnaire, we will perform residential or business site survey. This will help us determine the system that is needed to improve cell coverage. Then, we will create system design using that system such as femtocell, active or hybrid distributed antenna system (DAS), or other carrier feed signal enhancing method available that will work at your signal-challenged location. Finally, we will schedule for installation after equipment and installation service quote has been approved by you, or your company.
For non installation-included kits: Most home / office / building cell signal booster kits only include bracket to mount exterior antenna on outside wall, edge of roof, or existing pipe up to 2 inches in diameter. Mounting pole not included with most kits, unless stated specifically that it is included for free. Therefore, a mounting post must be purchased separately if you will require it to mount exterior antenna.
---
Related Products