An item you're pre-ordering is on backorder so it will take few days to ship - are you sure you want to proceed to order it?
Close
zBoost Wide-Band Omni Outdoor Signal Antenna | CANT-0040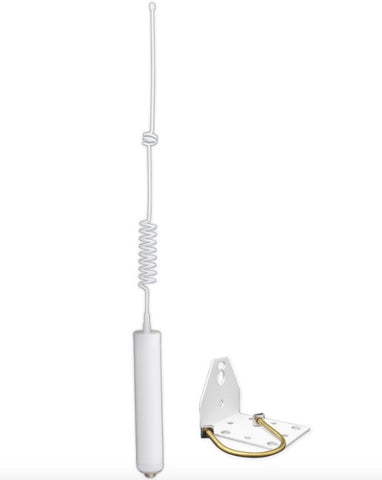 zBoost Wide-Band Omni Outdoor Signal Antenna | CANT-0040
Regular price

$75.00 USD

Sale price

$69.99 USD
Best Price Guarantee. [1, 2, 3]
Buy Now, Pay Later with No Interest if paid in full within 6-12 months. Choose Klarna payment option at the checkout for details of this, and other long-term low-interest financing options.
Free Lifetime Support. SKU / Model: CANT-0040
Best Price Guarantee [1 2 3]
Browse premium Interior Antennas as well as Exterior Antennas.
Looking for a complete cell phone signal booster kit? Call 1-855-846-2654 for expert recommendation or try our super easy-to-use Product Selection Tool to help find the perfect cell phone signal booster kit for home/office or car/truck to solve weak signal strength problem.
Call for FREE consultation:
1(855)846-2654
Need installation quote, or help with designing a custom solution? Submit a request for quote.
Description
Reviews
Questions & Answers
Make An Offer
Warning
Description
Product Description
This Outdoor Signal Antenna is a wide-band omnidirectional two piece whip antenna. It boosts 3 to 5 dBi Gain on LTE, Cellular, AWS, and PCS bands. zBoost Directional Outside/ Exterior Antenna Part  Number is CANT-0040. UPC: 641676303318.
Two-piece external wide-band omni-directional signal antenna part # CANT0040 includes mounting hardware. Compatible with many zBoost kits including YX550-ALTE-AWS, YX550-VLTE-AWS, ZB575-A, ZB575-V, ZB545 / ZB-545 signal amplifier kits.
For best performance, this omni directional antenna should be mounted on the highest point available on the roof. Avoid mounting the antenna within 2 feet of wires or metal objects such as gutters.
Wi-Ex zBoost external antenna provides increased coverage for all cellular bands (700 MHz - 2600 MHz) from all directions.
Summary:
Outdoor, wide-band omnidirectional antenna.
Fixed easy installations.
Weather resistant.
Up to +5 dB Gain.
Reviews
Questions & Answers
how does this connect to a cellphone in order to have better signal and are there other parts that goes with it ?

This is a part of a signal boosting system - It cannot in itself help improve reception. It is included in zBoost signal amplifier models stated in the description. You must purchase the main signal booster system that already includes this item, if you do not have that already yet.

Will it work on a ZB540 booster

Yes, this antenna will work with the ZB540 booster.

I am looking for a replacement antenna for my zboost. I love the product and everything else works but this is cracked. Could you suggest another that would work for zboost 545.

You would be able to use either omni-directional or uni-directional antenna shown at links below.

Omni antennas don't have to be pointed to nearest cell tower because they attract signals from all directions. This is similar to the original 75 Ohm antenna that came with this kit. Here's the link to the recommended replacement omnidirectional antenna:
https://www.signalbooster.com/products/omni-short-antenna-75-ohm-fiberglass-surecall-sc-289w-cm-289w

There's an even more powerful antenna available which is "directional". While these catch signals from farther away, it is recommended that they are pointed to nearest cell tower of the carrier for which you want to improve signal. Here's the link to the suggested replacement unidirectional antenna:

https://www.signalbooster.com/products/yagi-antenna-directional-full-band-75-ohm-surecall-sc-231w

Please keep in mind that the zBoost 545 is a 3G-only booster and it will only be a matter of time before the carriers discontinue the 3G service.

If you wish to upgrade the booster kit itself instead of replacing your exterior antenna, here's a 4G equivalent signal booster to what you have but made by a company called weBoost (it happens to own zBoost which it is phasing out to prevent redundancy in its product line). Their basic kit is called the "weBoost Home". Here's the link so you can see this new cell phone booster (3G, 4G, LTE plus possible coverage for upcoming 5G era) and consider purchasing it instead of buying a new external antenna for your 3G booster:

https://www.signalbooster.com/products/wilson-weboost-home-room-472120

What is the characteristic impedance and connector type? Is coax included?

Impedance of CANT0040 antenna is 75 ohm. It has an F Female connector. No coax cable included with purchase, but bracket to mount it is included.
Data Sheet / User Guide
Make An Offer
Warning
Note: For any signal booster to help, outside signal strength must be at least -110 dB or there must be a clear line of sight to a cell tower that is within twenty miles. Before ordering, please check outside signal level in decibels or ensure that you can make and hold a phone call at any good spot outside where you can mount an exterior antenna. Square footage stated in signal booster listings is based on good signal outside. If it is any weaker, the boosted sq. ft. area will be considerably lower, accordingly.
Kevin K. of Anderson, California gave the following review:
Website is easy to use with plain straight forward info but could have had more on testing signal strength to make sure you get a strong enough booster.
Therefore, please note that stated sq. ft. coverage is based on good signal outside. For best results: If outside signal is weak, we suggest choosing the next higher sq. ft. coverage kit. If outside signal is very weak, we suggest choosing the kit with even more higher sq. ft. range bracket. Basically, higher the sq. ft. bracket, the more powerful the signal amplifier with greater Gain as well as higher uplink and downlink output power.
If outside signal is too weak (weaker than -110 dB), submit request for cell coverage solution assessment. Upon receipt of questionnaire, we will perform residential or business site survey. This will help us determine the system that is needed to improve cell coverage. Then, we will create system design using that system such as femtocell, active or hybrid distributed antenna system (DAS), or other carrier feed signal enhancing method available that will work at your signal-challenged location. Finally, we will schedule for installation after equipment and installation service quote has been approved by you, or your company.
For non installation-included kits: Most home / office / building cell signal booster kits only include bracket to mount exterior antenna on outside wall, edge of roof, or existing pipe up to 2 inches in diameter. Mounting pole not included with most kits, unless stated specifically that it is included for free. Therefore, a mounting post must be purchased separately if you will require it to mount exterior antenna.
---
Related Products