30" Wide-Band Trucker Antenna for Trucks, Rigs, RVs, Boats (SC-130W)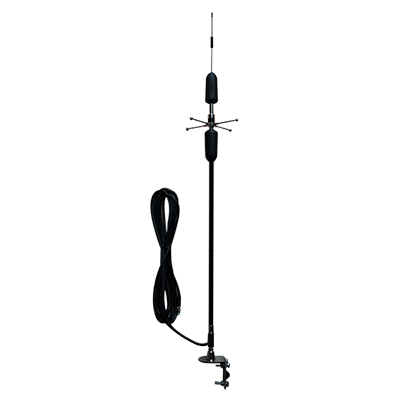 30" Wide-Band Trucker Antenna for Trucks, Rigs, RVs, Boats (SC-130W)
Best Price Guarantee. [1, 2, 3]
Buy Now, Pay Later with No Interest if paid in full within 6-12 months. Choose Klarna payment option at the checkout for details of this, and other long-term low-interest financing options.
Free Lifetime Support. SKU / Model: SC-130W
Best Price Guarantee [1 2 3]
Call for FREE consultation:
1(855)846-2654
Need installation quote, or help with designing a custom solution? Submit a request for quote.
Description
Reviews
Questions & Answers
Data Sheet / User Guide
Make An Offer
Warning
Description
Product Description
Wide Band 30 inches Omni-Directional Exterior Trucker Antenna with FME-Female Connector is a mirror mount antenna. It features five band coverage covering all frequecies of all cell phone service carriers in USA & Canada - iDEN, Cellular, AWS, PCS, LTE. Part number is Sure-Call SC-130-W/ Cellphone-Mate CM-130-W. This is the best and longest distance antenna for all types of vehicles especially trucks and 18 wheelers.
It is an external antenna for outside your vehicle such as Truck, big Rig, Boat, RV. It is black in color. It draws signals omni-directionally with a 3 dBi gain. It is designed to use with all cell phone signal boosters and amplifiers. It is equipped with a strong base and mirror mount that can hold up in the harshest of conditions. Includes complete mounting kit for mirror installation. Alternate part #'s: SC130W/ CM130W. UPC: 896831002753.
Designed for mounting the antenna to a vehicle mirror for maximum efficiency. Omni-directional antennas gather cell signals from all  sides and do not need to be pointed towards a cellular tower. If you have a truck, SUV or any other type of vehicle you will find the Sure Call SC-130-W dual band mirror-mount antenna an ideal choice. This 30 inches antenna must be installed vertically to draw signals from all directions. It has an FME-Female connector type. It is 15 oz in weight with an impedance of 50 Ohm.
USA wireless service carriers supported include T-Mobile, Verizon, AT&T, Sprint and all others. Canada mobile service providers supported include Rogers Wireless, Telus Mobility, Bell Mobility, Freedom Mobile, and all others. It is designed for all SureCall 50 Ohm vehicle cell phone signal boosters such as the latest Fusion2Go 3.0 but also can be used with other brands such as weBoost Drive 4G-X, Cel-Fi Go-M, SmoothTalker Mobile X6 Pro, HiBoost Travel 4G, etc.
Sure-Call SC-130-M Vehicle Exterior Antenna Set-Up.
Mirror mount antenna is suitable for RVs, large trucks and semi-tractor trailers.
Loosen screws on mounting bracket.
Insert pole into bracket.
Mount bracket in desired location on side mirror.
Screw cable into antenna base.
Secure mounting bracket.
Screw top half of antenna to lower antenna portion.
Attach antenna cable to OUTSIDE connector of booster.
SureCall SC-130-W Specifications.
| | |
| --- | --- |
| Part Number. | SC-130W. |
| Frequency. | 698 - 2700 MHz. |
| Input Impedance. | 50 ohm. |
| Antenna Gain. | 3 dB. |
| VSWR. | ≤1.8 |
| Polarization Type. | Vertical. |
| Radiation. | Omni-directional. |
| Connector type. | FME – Female or based on customer request. |
| Cable type. | RG-58. |
| Cable length. | 17 feet. |
| Cable O.D. | 5.0 mm. |
| Height (inches). | 30". |
| Diameter. | N/A. |
| Weight. | 15 oz. |
| Ground Plane. | Built-in ground plane. |
| Color. | Black. |
Reviews
Questions & Answers
This is the antenna I ordered and the adapter needs to fit my cobra C B radio. Thanks.

This Sc-130w trucker antenna has a FME-Female end connector. If your Cobra CB radio has a FME-Male connector end, this antenna will fit and will work. However, if it does not, then you will also need to buy an adapter that will adapt to it and make the cable fit your Cobra C-B radio. If it does not fit, send us a good picture of the connector your CB radio has, so we can provide link to the connector you will need to get this antenna to work for you. Thank you.

I have a 2018 Chevy Silverado four door pickup truck. Can this antenna be attached to the side mirror on my truck?

Yes, it can definitely be installed on your mirror because it is designed so it can be installed there as well. However, you may need to make sure that both inside and outside are not too close. It may potentially cause feedback if the antenna both the inside and outside are too close. If you can put the inside antenna far away enough, oscillation might be prevented.

i have a 2018 ford f150 will this antenna work for my weboost and for the alluminum body i have

Yes, it will work because it attaches to the mirror using the mirror-mount hardware included.
Data Sheet / User Guide
Make An Offer
Warning
Note: For any signal booster to help, outside signal strength must be at least -110 dB or there must be a clear line of sight to a cell tower that is within twenty miles. Before ordering, please check outside signal level in decibels or ensure that you can make and hold a phone call at any good spot outside where you can mount an exterior antenna. Square footage stated in signal booster listings is based on good signal outside. If it is any weaker, the boosted sq. ft. area will be considerably lower, accordingly.
Kevin K. of Anderson, California gave the following review:
Website is easy to use with plain straight forward info but could have had more on testing signal strength to make sure you get a strong enough booster.
Therefore, please note that stated sq. ft. coverage is based on good signal outside. For best results: If outside signal is weak, we suggest choosing the next higher sq. ft. coverage kit. If outside signal is very weak, we suggest choosing the kit with even more higher sq. ft. range bracket. Basically, higher the sq. ft. bracket, the more powerful the signal amplifier with greater Gain as well as higher uplink and downlink output power.
If outside signal is too weak (weaker than -110 dB), submit request for cell coverage solution assessment. Upon receipt of questionnaire, we will perform residential or business site survey. This will help us determine the system that is needed to improve cell coverage. Then, we will create system design using that system such as femtocell, active or hybrid distributed antenna system (DAS), or other carrier feed signal enhancing method available that will work at your signal-challenged location. Finally, we will schedule for installation after equipment and installation service quote has been approved by you, or your company.
For non installation-included kits: Most home / office / building cell signal booster kits only include bracket to mount exterior antenna on outside wall, edge of roof, or existing pipe up to 2 inches in diameter. Mounting pole not included with most kits, unless stated specifically that it is included for free. Therefore, a mounting post must be purchased separately if you will require it to mount exterior antenna.
---
Related Products