Omni Short Antenna Dual Band 50 Ohm (5 dB, SureCall SC-100-S)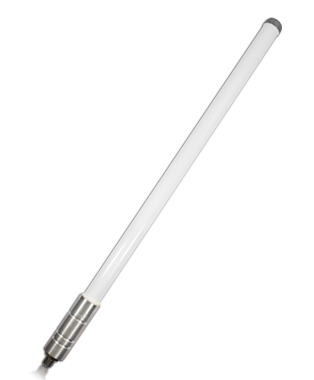 Omni Short Antenna Dual Band 50 Ohm (5 dB, SureCall SC-100-S)
Regular price

$66.00 USD

Sale price

$44.00 USD
Best Price Guarantee. [1, 2, 3]
Buy Now, Pay Later with No Interest if paid in full within 6-12 months. Choose Klarna payment option at the checkout for details of this, and other long-term low-interest financing options.
Free Lifetime Support. SKU / Model: SC-100-S
Best Price Guarantee [1 2 3]
Need more powerful exterior 50 Ohm directional antenna with up to 26 dBi Gain option? For extremely weak signal areas, consider unidirectional RF-Boost High Power Long Range Antenna to replace any 50 Ohm Yagi / LPDA or Omni antenna within your signal enhancing system. It is ultra wide-band and ultra directional parabolic metal grid antenna. It requires precise directional focusing using signal meter for max. add'l Gain of up to +26 dB.
Call for FREE consultation:
1(855)846-2654
Need installation quote, or help with designing a custom solution? Submit a request for quote.
Description
Reviews
Questions & Answers
Data Sheet / User Guide
Make An Offer
Warning
Description
Product Description
Omni Short Antenna covering Dual-Band 800 & 1900 MHz on 50 Ohm systems is an omni-directional antenna. It provides 4 dBi Gain on 806 MHz to 924 MHz bandwidth and 5 dBi Gain on 1850 MHz to 1995 MHz bandwidth frequency. Purchase includes the mountinghardware for perfect attachment to a mast, antenna or existing pole.
It is 11.7 oz in weight, with a 50 Ohm impedance and N-Female connector type.Being omni-directional, it easily collects signals from various cell towers in the process boosting different carrier's signals on both bandwidths stated above. Alternate part #'s: SC-100S/ CM-100S.
SureCall SC100S or CM100S is a roof or wall mount antenna best for marine, RV or urban building installations. This antenna is omni-directional, a property that gives it an ability to collect signals generally from different sides. Therefore, you need not point it to any particular tower for it to work perfectly. Antenna's range stands at about 50 miles from an unobstructed tower. 
For best results mount it upright. SureCall SC100-S or Cellphone-Mate CM100-S is compatible with a number of cables and amplifiers from SureCall, such as 4G boosters, RV boosters, accelerator kits, SOHO series of boosters, low coax cables as well as all in-building series of amplifiers on 50 Ohm system. It is very easy to install. It covers dual band frequencies as stated above. It is weather resistantant. It has an N-Female connector type. 
Surecall Omni Antenna with bandwidth frequency coverage of 698-2700 MHz is a ceiling or wall mount Omnidirectional Antenna with N-female termination. With 10 watts of power, two band omni-directional 50 ohm, this fiberglass antenna provides excellent signal boosting for cellular and wireless connectivity, providing 4 to 5 db Antenna Reception Gain. Antenna includes a mounting kit, and can be set on walls or roofs. It is ideal for downtown settings, RVs, or marine installations, where signal strength is already reasonable at 3+ bars.
This Omni-directional antenna gathers signal from all sides, and does not need to be pointed at a cellular tower. It is easy to install, and weather resistant. Connectivity begins here. Omni-Directional Antenna - Dual Band Fiberglass Antenna (SureCall SC100S/ Cellphone-Mate CM100S). 
From the manufacturer:
Summary.
Outside use.
Omni-directional.
5 dB Gain.
2G, 3G.
Dual Band (800 &1900 MHz).
Weather resistant.
Easy to install.
Overview.
This short omni-directional antenna is the best performing dual band antenna on the market. It is commonly used with our dual band in-building antennas.
Cellphone-Mate CM100S or SureCall SC100S two band fiber-glass antenna is an omni-directional antenna that gathers signals from all sides and does not need to be pointed toward a cellular tower. Range of antenna is approximately 50 miles to, and from cellular towers (free of obstructions). Besides the antenna itself, parts include mounting equipment for either a flat horizontal surface or a wall. It should be mounted in an upright position for best results. 
SureCall SC-100-S Specifications.
| | |
| --- | --- |
| Frequency | 806 - 924/ 1850 - 1990MHz. |
| Input Impedance | 50 ohm. |
| Antenna Gain | 5 dB. |
| Beamwidth | 118/140. |
| VSWR | ≤2:0. |
| Polarization Type | Vertical. |
| Radiation | Omni-directional. |
| Maximum Power | 10 W. |
| Connector type | N Female or based on customer request. |
| Cable type | SC400 or SC240 recommended. |
| Height (inches) | 16.18". |
| Diameter | 0.75". |
| Weight | 11.7 oz. |
| Mount | Mount to roof. |
| Operating Temperature | -22°F to +140°F. |
| Color | White. |
| Universal Product Code (UPC) | 896831002234. |
SureCall SC-100-S Antenna Set Up Instructions.
Step 1. Mount the U bolt and and screw assembly to a 1 inch to 2 inches diameter pole (not included) by placing the U bolts around the pole.
Step 2. Tighten them with the nuts and washers. Antenna should be mounted with antenna tip pointing toward the sky (perpendicular to the ground). For best results, antenna should be unobstructed in all directions.
Reviews
Questions & Answers
Hi this antenna is a good investment for better reception in a helium bobcat 300 miner.

Thank you for your comment.
Data Sheet / User Guide
Make An Offer
Warning
Note: For any signal booster to help, outside signal strength must be at least -110 dB or there must be a clear line of sight to a cell tower that is within twenty miles. Before ordering, please check outside signal level in decibels or ensure that you can make and hold a phone call at any good spot outside where you can mount an exterior antenna. Square footage stated in signal booster listings is based on good signal outside. If it is any weaker, the boosted sq. ft. area will be considerably lower, accordingly.
Kevin K. of Anderson, California gave the following review:
Website is easy to use with plain straight forward info but could have had more on testing signal strength to make sure you get a strong enough booster.
Therefore, please note that stated sq. ft. coverage is based on good signal outside. For best results: If outside signal is weak, we suggest choosing the next higher sq. ft. coverage kit. If outside signal is very weak, we suggest choosing the kit with even more higher sq. ft. range bracket. Basically, higher the sq. ft. bracket, the more powerful the signal amplifier with greater Gain as well as higher uplink and downlink output power.
If outside signal is too weak (weaker than -110 dB), submit request for cell coverage solution assessment. Upon receipt of questionnaire, we will perform residential or business site survey. This will help us determine the system that is needed to improve cell coverage. Then, we will create system design using that system such as femtocell, active or hybrid distributed antenna system (DAS), or other carrier feed signal enhancing method available that will work at your signal-challenged location. Finally, we will schedule for installation after equipment and installation service quote has been approved by you, or your company.
For non installation-included kits: Most home / office / building cell signal booster kits only include bracket to mount exterior antenna on outside wall, edge of roof, or existing pipe up to 2 inches in diameter. Mounting pole not included with most kits, unless stated specifically that it is included for free. Therefore, a mounting post must be purchased separately if you will require it to mount exterior antenna.
---
Related Products