SureCall In-Building Dome Antenna 3G, 4G, 50 Ohm (SC-222W or CM-222W).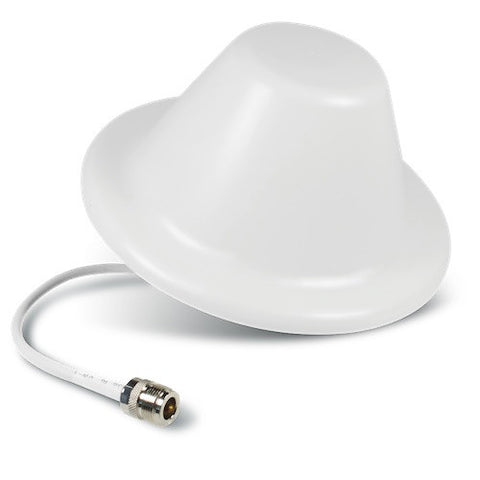 SureCall In-Building Dome Antenna 3G, 4G, 50 Ohm (SC-222W or CM-222W).
Best Price Guarantee. [1, 2, 3]
Buy Now, Pay Later with No Interest if paid in full within 6-12 months. Choose Klarna payment option at the checkout for details of this, and other long-term low-interest financing options.
Free Lifetime Support. SKU / Model: SC-222W
Best Price Guarantee [1 2 3]
If not purchasing Indoor Dome Antenna (50 Ohm) Expansion Kit to add to a complete cell signal booster kit, add'l parts to connect it to your existing signal boosting system are:
One Additional Dome Antenna Would Require:
Two Additional Dome Antennas Would Require:
Three Additional Dome Antennae Would Require:
Call for FREE consultation:
1(855)846-2654
Need installation quote, or help with designing a custom solution? Submit a request for quote.
Description
Reviews
Questions & Answers
Data Sheet / User Guide
Make An Offer
Warning
Description
Product Description
SureCall In-Building Dome Antenna works on all frequencies including 3G and 4G. This Sure-Call part number SC-222W or CM-222W operates on 50 Ohm signal booster systems. SureCall's full band dome omni-directional antenna is unobtrusive in its design. It is for inside building use.
This in-building antenna has a low profile capable of blending very easily with indoor surroundings. It has 50 ohm impedance and covers a system ranging from WLAN, 4G, 3G and 2G voice for AWS, Cellular, LTE and PCS frequencies spanning 698 MHz to 2700 MHz compatibility. Consider future-proofing by buying 5G Dome antenna that covers 5G Sub-6 Frequencies from 617 MHz that includes T-Mobile Band 71.
Sure Call interior antenna is best mounted on the ceiling and receives and transmits within a beamwidth of 360 degrees to all cellphones. It provides a 3 dB to 4 dB Gain or even 2 dB to 5 dB gain and a radius of 39 feet. Being omni-directional, it is easy to install thanks to the included mounting equipment. This home internal antenna covers a range of 5,000 to 7,500 square feet with an up to 20 feet vertical height. It has an N-Female connector type. UPC: 896831002890.
Range of antenna is dependent on three factors: 
1) Physical obstructions.
2) Power generated by booster/ amplifier.
3) Reception from outside signal received and distributed by outside antenna.
Besides the antenna itself, the parts include mounting equipment for either a flat horizontal surface or a wall. It should be mounted in an upright position for best results. Alternate part numbers are: Sure-Call SC222W/ SC-222-W/ SC222-W. Cellphone-Mate CM222W/ CM-222-W/ CM222-W. UPC: 896831002890. This 5-band dome antenna is designed to integrate seamlessly with the interior of your building, and receive and transmit signals to cell phones within a 360 degree beamwidth of the device's installation. This dome inside antenna is easily installed on the ceiling of your building, and includes a mounting kit. You can expect to receive a 2 to 5db gain from the dome transmission.
SureCall SC-222W Dome Indoor Antenna Set Up.
This Cellphone-Mate CM222W full-band antenna is an omni-directional antenna designed to cover 360° for 2G/3G/4G and WLAN systems for Cellular, PCS, AWS and LTE frequencies. It is a high gain indoor antenna suited for places where the signal needs to be broadcast over a central area or space. This ceiling mount antenna transmits and receives signal to cell phones.
Installation Steps.
1. Choose a location on the portion of the ceiling that is accessible from above so you can run antenna cable to signal booster or amplifier. Please make sure the location you choose for this inside antenna allows for necessary separation between this inside and another outside external antenna you have or plan to install (antenna separation is helpful to prevent oscillation).
2. Drill a 3/8 of an inch diameter hole in your ceiling. The ceiling thickness should be atleast half an inch to support this dome shaped indoor antenna.
3. Unscrew fixing nut from dome antenna. Place antenna cable through that hole. Screw fixing nut back onto antenna base and cable on an attic side of ceiling, and fasten.
4. Attach the connection from this interior dome shaped antenna to the cable leading to your amplifier or booster with connector marked, "Inside".
5. Finally, you can easily hand-tighten fixing nut to secure this internal antenna.
Storage and transportation: Place in a non-extreme room temperature and dry environment. Not to be placed near fireplace or any open flame.
SureCall SC-222W Specifications.
| | |
| --- | --- |
| Frequency | 698-960/1700-2700 |
| Input Impedance | 50 ohm |
| Antenna Gain | 2±0.5dBi/5±0.5dBi |
| Beamwidth | 360 Degrees |
| VSWR | ≤2.0 |
| Polarization Type | Vertical |
| Radiation | Omni-directional |
| Maximum Power | 50W |
| Connector type | N-Female |
| Cable type | CM240 or CM400  |
| Height (inches) | 3.5" |
| Diameter | 7.25" |
| Weight | 10.5 oz |
| Ground Plane | Built in ground plane |
| Mount | Mounts to ceiling |
| Color | White |
Reviews
Questions & Answers
Can we mix dome and Panel antenna on the same Surecall 5x ?

Yes, however do ensure both have same impedance. Please note doing that will split or divert signal strength coming into signal amplifier from donor antenna.
Data Sheet / User Guide
Make An Offer
Warning
Note: For any signal booster to help, outside signal strength must be at least -110 dB or there must be a clear line of sight to a cell tower that is within twenty miles. Before ordering, please check outside signal level in decibels or ensure that you can make and hold a phone call at any good spot outside where you can mount an exterior antenna. Square footage stated in signal booster listings is based on good signal outside. If it is any weaker, the boosted sq. ft. area will be considerably lower, accordingly.
Kevin K. of Anderson, California gave the following review:
Website is easy to use with plain straight forward info but could have had more on testing signal strength to make sure you get a strong enough booster.
Therefore, please note that stated sq. ft. coverage is based on good signal outside. For best results: If outside signal is weak, we suggest choosing the next higher sq. ft. coverage kit. If outside signal is very weak, we suggest choosing the kit with even more higher sq. ft. range bracket. Basically, higher the sq. ft. bracket, the more powerful the signal amplifier with greater Gain as well as higher uplink and downlink output power.
If outside signal is too weak (weaker than -110 dB), submit request for cell coverage solution assessment. Upon receipt of questionnaire, we will perform residential or business site survey. This will help us determine the system that is needed to improve cell coverage. Then, we will create system design using that system such as femtocell, active or hybrid distributed antenna system (DAS), or other carrier feed signal enhancing method available that will work at your signal-challenged location. Finally, we will schedule for installation after equipment and installation service quote has been approved by you, or your company.
For non installation-included kits: Most home / office / building cell signal booster kits only include bracket to mount exterior antenna on outside wall, edge of roof, or existing pipe up to 2 inches in diameter. Mounting pole not included with most kits, unless stated specifically that it is included for free. Therefore, a mounting post must be purchased separately if you will require it to mount exterior antenna.
---
Related Products