SureCall Fusion4Home w/Omni & Ultra Thin Dome | SC-PolyH-72-OU-Kit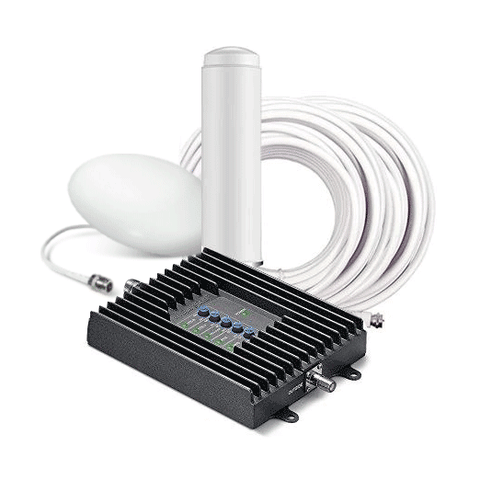 SureCall Fusion4Home w/Omni & Ultra Thin Dome | SC-PolyH-72-OU-Kit
Regular price

$549.99 USD

Sale price

$399.99 USD
Best Price Guarantee. [1, 2, 3]
Buy Now, Pay Later with No Interest if paid in full within 6-12 months. Choose Klarna payment option at the checkout for details of this, and other long-term low-interest financing options.
Free Lifetime Support. SKU / Model: SC-PolyH-72-OU-Kit
Best Price Guarantee [1 2 3]
SureCall Fusion For Home Cell Phone Booster kit with outside Omni and inside Ultra Thin Dome antenna: (view other kitted antenna combinations and options)
Boosts voice, text, 3G, 4G LTE, 5G-E signals of all USA cell carriers.
Reduces dropped calls. Improves 3G, 4G LTE, 5G E data speeds.
Covers up to 3,000 square feet of indoor home/ office building space.
Supports multiple cellular devices and users simultaneously.
Ideal for good to medium outside signal situations (-100 dBi, or better).
How to check external cell signal strength in Decibels?
Call for FREE consultation:
1(855)846-2654
Need installation quote, or help with designing a custom solution? Submit a request for quote.
Description
Reviews
Questions & Answers
Data Sheet / User Guide
Make An Offer
Warning
Description
Product Description
SureCall Fusion4Home Omni & Ultra Thin Dome Antennas Signal Booster.
Exclusive to SignalBooster.com, this custom kitted SureCall Fusion4Home Omni, and Ultra Thin Dome Antennas cell phone signal booster kit model is SKU SC-PolyH-72-OU-Kit. You It is for homes and offices for better in-building cellular coverage. It boosts signals up to 3,000 sq. ft. with good signal outside. Coverage space will be less inside if signal outside is weaker. It works for all 2G, 3G, 4G, 5G-E mobile devices. It has one watt power output (max allowed by FCC).
Easy to follow installation instructions are included. However, if you realize you need help with installation, a professional installation of this kit is available for your residential or commercial business address anywhere within USA 50 states. Please contact SignalBooster.com with your order number after purchase of this kit for your home, or office / retail store building for instructions to pay and schedule installation at the cost of $299.99 by a certified professional installer.
How does it work?
Omnidirectional exterior antenna catches signals from all directions, from all carriers. Then the main signal amplifier box amplifies those signals. Then interior omnidirectional antenna broadcasts that amplified signal inside in all directions up to 1,500 feet radius to cover up to 3000 sq. ft. spaces in all.
Requirements for it to work.
With its exterior omni antenna, it is ideal for locations with good to medium signal strength outside. Then inside, it provides improved cell phone talking clarity and faster data speed on all cellular devices such as tablets and mobile hotspots in an office or home, up to 3,000 sq. ft. with good signal outside. Coverage will be lower if signal is weaker outside.
Main Benefits:
Up to +4 dB Gain outside antenna does not require aiming of outside antenna to nearest cell tower. It is installed upright, vertically. It captures signals from all directions, from all carrier cell towers. With its inside antenna providing up to +7.5 dB Gain, it is the most powerful ultra thin Dome antenna. Thus, it is ideal for large in-building areas when installed on ceiling in a central location to broadcast evenly in all directions.
Why buy this kit?
SignalBooster.com custom designed cellular amplifier system F4H Omni / Ultra Thin Dome kit provides up to 72 dB Gain. With up to +4 dB Gain, included Omni external antenna's ideal for medium to good outside signal environments. It does not need to be calibrated to point to nearest cell tower. It is mounted vertically with its top pointed to the sky. It catches signals from all carriers in vicinity automatically.
SureCall Fusion4Home for up to 3000 sq. ft. is an all-carrier cell phone signal booster designed for in-building use. It enhances voice, text, 4G LTE, 5GE data signals for all US American cell carriers. Fully configurable for all indoor environments, it ensures enhanced call clarity and increased signal strength for multiple simultaneous users, covering up to 3,000 square feet.
Cell Phone Signal Booster for Small to Medium Size Homes.
Coverage Area: Whole Home / Up to 3,000 sq. ft.
Estimated Coverage Based On Outside Signal Strength:
1-2 Bars = 500 sq. ft. (-100 to -110 dBi).
3-4 Bars = 1,500 sq. ft. (-85 to -100 dBi).
5 Bars = 3,000 sq. ft. (-70 to -85 dBi).
Unique Features:
Includes omni or multiple directional outdoor and indoor antennas for easy installation and better inside coverage for broad range of carriers.
Includes highest gain omnidirectional interior Ultra Thin Dome antenna with up to 7.5 dBi Gain (standard SureCall dome antenna provides up to 5 dBi Gain).
Features exclusive 2XP technology that provides twice the signal power to the tower when compared to the closest competitor to keep all devices connected in suburban and the most rural and remote places.
Best-In-Class Performance - Best inside broadcast antenna option when coverage needed to all areas equally from a centralized location.
More Benefits:
It features 2XP technology, which doubles the uplink transmission power (up to 26 dBm) to maintain your connection throughout the weakest cell signal environments. Assembled and tested in USA with outstanding build quality, award-winning technologies, all-carrier compatibility, and world-class support. It is the premier cell phone booster for the home or small building.

Significantly boosts all North American carriers' signals incl. AT&T, Verizon, Sprint, and T-Mobile to reduce lost calls.
With stronger signal, it greatly improves data transfer speed that you must see to believe.
High downlink gain for best indoor coverage & data speeds.
Supports multiple simultaneous users.
5G Phone Compatible - Boosts voice and 4G LTE data signals on 5G phones and devices.
Compatible with all cellular devices including hotspots, while extending their battery life.
Simple DIY setup with option for local installation assistance.
Built with the highest quality materials for longevity and connectivity when you need it most.
FCC-approved booster system with one-time install and no recurring fees.
Includes 24/7 lifetime US-based tech support, 60-day money-back guarantee by SignalBooster.com and 3-year manufacturer's warranty.
What Makes It Unique?
No matter what type of device you have or which carrier you use, the SureCall Fusion4Home All-Carrier mobile signal booster is truly the best wireless booster of its kind to choose. The cellular booster has a number of unique features, including:
Fastest 4G LTE & 5G-E data speeds for unbeatable performance.
Conserves energy by going into a dormant stealth mode when not in use.
Meets or exceeds all FCC regulations for use in the U.S.
Auto Gain Control makes installation easier.
Fabricated out of wear and tear resistant metal for durability.
Comes with everything required for setup in most homes.
SureCall warranties the system for 3 years.
Other Product Information.
Assembled and tested in USA. UPC: 697691002514. The set comes in brand new retail packaging. The package dimensions are 20" x 12" x 8". The package weighs 10 pounds.
What does the kit include?
Kit includes: Fusion4Home Booster, outdoor Omnidirectional antenna, indoor Multidirectional ultra thin dome antenna, 50 feet of RG6 cable, 20 feet of SC240 cable and power supply. Please note that the standard video for Fusion4Home shows omni and panel antennas. Actually, this custom antenna kitted system includes ultra-thin dome inside antenna, instead of the panel inside antenna shown in video.
Considerations:
Does your whole home seem like a cell phone dead zone? If your mobile devices never seem to work their best, this SureCall Fusion4Home OU All-Carrier Cellular Signal Booster Omni and Ultra Thin Dome antennas kitted cell phone booster for up to 3K sq. ft. will help you to enjoy better voice, 3G, 4G LTE, 5G E use, if your signal outdoors is strong but weak inside. Good to medium signal outside required for it to work properly with maximum efficiency - see warning tab above for details.
Interior omni-directional ultra thin dome antenna installed on ceiling in the center of your property provides strong multi-directional signal to cover all areas evenly up to 1500 feet radius in all directions covering total of up to 3000 sq. ft. The signal booster is housed in a metal casing for extra durability and performance.
SureCall Fusion For Home is an ideal kit for boosting your mobile and internet across your home and office when signal is weak inside, but good outside.
This 2G, 3G, 4G LTE, 5G E cellular signal booster kit is compatible with following U.S.A. wireless service providers:
American Service Providers
AT&T Wireless
Boost Mobile
C Spire
Cricket Wireless
Metro PCS
Net10
Shentel
Simple Mobile
Sprint
Straight Talk
T-Mobile USA
Ting
TracFone
US Cellular
Verizon Wireless
Virgin Mobile USA
SureCall Fusion 4 Home Omni & Ultra Thin Dome Antenna Booster Bands and Frequencies.
FREQUENCY
BAND 12/17
700 MHz
 
BAND 13
700 MHz
 
BAND 5
850 MHz
 
BAND 4
1700/2100 MHz
 
BAND 25/2
1900 MHz
Fusion4Home Omni & Ultra Thin Dome Antenna Kit Amplifier Specs.
| | |
| --- | --- |
| Frequency | Uplink: 698-716 / 776 – 787 / 824-849 / 1850-1915 / 1710-1755 MHz (G Block Included); Downlink : 728-746 / 746 – 757 / 869-894 / 1930-1995 / 2110-2155 MHz (G Block Included) |
| Input Impedance | 75Ω donor port / 50Ω server port |
| Average Gain | Cellular - 65 dB / PCS - 72 dB / LTE(A) - 63.5 dB / LTE(V) - 64 dB / AWS - 71 dB |
| Maximum Gain | Cellular - 65 dB / PCS - 72 dB / LTE(A) - 63.5 dB / LTE(V) - 64 dB / AWS - 71 dB |
| VSWR | ≥2.0 |
| Standard Supported | CDMA, WCDMA, GSM, EDGE, HSPA+, EVDO, LTE and all cellular standards |
| AC Power Transformer | Input AC 110V, 60 Hz; Output DC 5-15V |
| DC Power | 12V |
| Maximum RF Output Power | 1 Watt EIRP |
| Noise Figure | 8 dB |
| Cable | RG6 / SC-240 |
| RF connectors | N-Female (Indoor) / F-Female (Outdoor) |
| Power Consumption | <15W |
| Dimensions | 7.875 x 5 x 1.188 inches |
| Weight | 2 lb 3oz |
SureCall Exterior Omni Antenna (SC-528W) Specs.
| | |
| --- | --- |
| Frequency. | 698-960/1700-2700MHz. |
| Input Impedance. | 75 ohm. |
| Operating Temperature. | -22° F Degrees to +176° Degrees. |
| Antenna Gain. | +2-4 dB. |
| Beamwidth. | E:72 H:92/ E:50 H:80. |
| VSWR. | ≤1.8. |
| Polarization Type. | Vertical. |
| Radiation. | Omni-directional. |
| Maximum Power. | 100 Watts. |
| Connector type. | F-Female or customized. |
| Cable type. | SC-RG6 or SC-RG11 recommended. |
| Height (inches). | 8.5. |
| Diameter (inches). | 2.63. |
| Weight. | 1 pound. |
| Mount. | Mount on the roof or side of roof / wall. |
| Ground Plane. | Built-in ground plane. |
| Color. | White. |
| Dimensions (inches). | 9.5" x 3.9". |
| Material. | Fiberglass. |
| UPC. | 857593005574. |
SureCall Interior Ultra Thin Antenna (SC-528W) Specs.:
| | |
| --- | --- |
| Frequency | 617 to 960 / 1710 to 2700 MHz |
| Gain (Maximum) | 3.5 dBi / 7.5 dBi |
| Non-Circularity | ±2.5 dB / ±4.0 dB |
| Input Impedance | 50 Ohms |
| Beam width | 360 degrees |
| VSWR | ≤1.7 |
| Radiation Pattern | Omni-directional |
| Connector Type | N-Female |
| Polarization Type | Vertical |
| Diameter | 11.8 inches |
| Height | 1.45 inches |
| Weight | 1.19 lbs |
| Mounting Type | Ceiling |
| Covering Material | PC & ABS |
| UPC | 854328008459 |
Cable length customization.
For most practical purposes, included cable length will suffice for installation. However, in rare situations longer cable may be needed due to distance between antenna, and signal amplifier unit. Secondly, in some cases where signal that exterior antenna can capture happens to be very weak to provide enough interior improved coverage space, a customized shorter cable will be best to minimize signal loss. The reason for this is that cables incur signal loss so longer the cable, more the loss of signal incurred. Therefore, see below for optional cable purchase suggestion to facilitate installation and/or better performance.
Optional Available Cables and Accessories.
Cables incur signal loss. Therefore, shorter the cables, the better the performance. While this kit includes required outside cable, you may buy a different specific size cable to meet your needs. If longer or shorter outside cable needed than included size, a different size RG6 cable with F-Male connectors can be purchased separately. For even better performance, select from low loss RG11 cables to upgrade outside antenna cable (must be bought separately).
Although this purchase has all other components required to install the system per se, the following accessories may make the installation easier and help protect the system in the future:
*Upgrading from included RG-6 cables to lower loss RG-11 cables may be helpful because longer the cable, higher the signal loss. For every 100 feet, the signal loss is approx. -4dB on low frequencies and approx. -6dB on high frequencies. Therefore, it is best to use shortest runs possible. If using longer runs, outside signal strength should be good to support the Gain loss. Please contact us if you need assistance regarding your situation.
Consumer Alert:
Reviews
Questions & Answers
I have identified this home signal booster unit model # SC-PolyH-72-OU-Kit that I would like to buy. However, I would like to protect the system from lightning strikes that have been occurring in my area quite frequently (can global warming cause this?). Anyway, I just want to know the model number of the lighting surge arrestor to purchase for that system. It looks like I have an N connector on one side of the cabling with this kit and a F style connection on the other side. So I would need a lightning arrester that has one of each connector I think.

The 75 Ohm lightning surge protector part model number SC-LP-75 is for this Fusion4home kit. Its male side should be connected to the outdoor antenna and the female side should be connected to the coax cable that goes into home or building.
Data Sheet / User Guide
Make An Offer
Warning
Note: For any signal booster to help, outside signal strength must be at least -110 dB or there must be a clear line of sight to a cell tower that is within twenty miles. Before ordering, please check outside signal level in decibels or ensure that you can make and hold a phone call at any good spot outside where you can mount an exterior antenna. Square footage stated in signal booster listings is based on good signal outside. If it is any weaker, the boosted sq. ft. area will be considerably lower, accordingly.
Kevin K. of Anderson, California gave the following review:
Website is easy to use with plain straight forward info but could have had more on testing signal strength to make sure you get a strong enough booster.
Therefore, please note that stated sq. ft. coverage is based on good signal outside. For best results: If outside signal is weak, we suggest choosing the next higher sq. ft. coverage kit. If outside signal is very weak, we suggest choosing the kit with even more higher sq. ft. range bracket. Basically, higher the sq. ft. bracket, the more powerful the signal amplifier with greater Gain as well as higher uplink and downlink output power.
If outside signal is too weak (weaker than -110 dB), submit request for cell coverage solution assessment. Upon receipt of questionnaire, we will perform residential or business site survey. This will help us determine the system that is needed to improve cell coverage. Then, we will create system design using that system such as femtocell, active or hybrid distributed antenna system (DAS), or other carrier feed signal enhancing method available that will work at your signal-challenged location. Finally, we will schedule for installation after equipment and installation service quote has been approved by you, or your company.
For non installation-included kits: Most home / office / building cell signal booster kits only include bracket to mount exterior antenna on outside wall, edge of roof, or existing pipe up to 2 inches in diameter. Mounting pole not included with most kits, unless stated specifically that it is included for free. Therefore, a mounting post must be purchased separately if you will require it to mount exterior antenna.
---
Related Products