What to Expect from 5G in 2019
Jan 09, 2019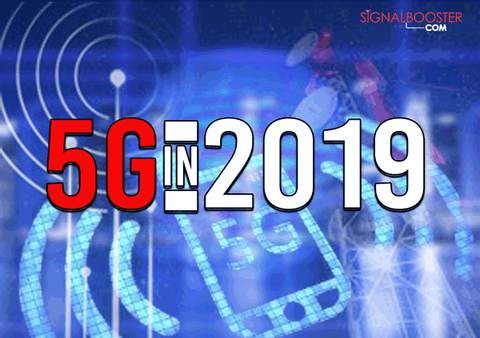 It is 2019 and 5G is already here. 5G Americas has predicted 336 thousand 5G connections in North America by the end of 2019. This contributes to 47% of the global market for 5G connections. Unfortunately, the 5G coverage issues inside buildings will persist and consequently, a 5G booster has been announced already.
However, the reality remains that most of us don't have 5G at our fingertips (as we had imagined it to be like) even now. So is mainstream 5G just in theory even in 2019? Or will everything that 5G stands for come to life in our daily realities by the end of this year?
Going by the very virtue of break-through technology which has a history of rolling out in phases, probably not. But the first few phases of 5G are here. And here is how North American telecom's big-4 is faring so far.
AT&T Wireless
AT&T was one of the first few companies to flag-off 5G before the onset of 2019. In December 2018, AT&T launched standards-based mobile 5G services in 12 selected cities of US (Charlotte NC, Raleigh NC Houston TX, Dallas TX, Atlanta TX, Waco TX, San Antonio TX, Oklahoma City OK, Jacksonville FL, Louisville, KY, New Orleans LA, and Indianapolis IN) accessible through a 5G-enabled hotspot device called NETGEAR Nighthawk. However, the service was made available to selected businesses and individuals only, in selected parts of these cities and it is still unclear as to how these participants were chosen. What we do know is that it has offered 90-day free-of-charge 5G services to them.
Once AT&T's second rollout phase begins in March 2019, it plans to offer 5G as a 15-GB data plan priced at $70 per month to its subscribers. Available for purchase to everyone from then on, the hotspot itself will be priced at $499. AT&T has plans to extend this service to seven more US's cities (Las Vegas NV, Los Angeles CA, Nashville TN, Orlando FL, San Diego CA, San Francisco CA, and San Jose CA).
AT&T fiber, the technology that functions as AT&T's 5G building block is expected to reach 14 million locations by the middle of 2019. The company has also announced two 5G phones in partnership with Samsung, one by the first half of 2019 and the other by the second half.
As of now, it is rumored that AT&T's 5G is a more like 4G in terms of speed itself but it will be sometime before the actual official market reviews are out.
Verizon Wireless
Verizon entered the commercial 5G market in the second half of 2018 too. But unlike AT&T, it took a detour and went on to flag-off 5G with broadband internet service. Verizon had started taking pre-orders for Verizon 5G home, its 5G broadband Internet, from September 2018 and kicked-off its services from October 1st.
The company's initial 5G offerings came with a lot of benefits though, including a First on 5G Membership for priority 5G support and services, YouTube TV free for the first three months, and a free Apple TV 4K or Google Chromecast Ultra device. The deal also included a free router and free upgrades to it in 2019. All this was made available to customers across Houston TX, Indianapolis IN, Los Angeles CA, and Sacramento CA with free 5G for first three months followed by a $50/month plan for members and $70/month for non-members (not annual costs).
Verizon's broadband internet is currently operating on a non-industry standard 5G network but it is expected to catch-up in 2019. Also, the company is working to set up its mobile network in 2019. What's more, it has also partnered with Motorola and Samsung to release 5G smartphones early this year. A 5G hotspot device from Inseego is also underway. As mentioned previously, those already on the Verizon 5G family thanks to Verizon 5G Home, will be able to get their hands on Verizon's 5G devices first on a priority basis.
As of now, tested speeds for Verizon 5G Home range between 300 Mbps to 1 Gbps, and the service is void of any data caps.
Sprint
Unlike both Verizon and AT&T who are basing 5G off the millimeter wave spectrum, Sprint is enhancing its existing LTE networks to incorporate 5G more smoothly. It has been using the excess 2.5 GHz spectrum to build a 5G network, which means Sprint will be able to offer 5G upgrades with just a software upgrade to its existing 4G LTE Advanced network (this means that both Sprint's LTE and 5G network will be initially nestled on the same spectrum). To lay the groundwork for this move, Sprint has already deployed its LTE Advanced network to 300 cities, which implies that Sprint is preparing to make 5G available to a larger audience.
Additionally, the carrier is working to equip its towers with 128-antenna massive MIMO equipment to facilitate both gigabit-speed LTE and 5G networks, and allow an upgrade to 5G via a software upgrade once the network is fully functional.
Sprint is working with HTC to launch a 5G mobile smart hub in the first half of 2019 which will work with both 4G and 5G and will enable its customers to access Sprint network across multiple devices. Sprint has also partnered with LG and Samsung to launch 5G phones in the first half and summer of 2019 respectively.
As of now Atlanta, Chicago, Dallas, Houston, Kansas City, Los Angeles, New York City, Phoenix, and Washington, D.C. are confirmed markets for Sprint 5G in 2019.
T-Mobile
T-Mobile's 5G fate hangs in balance even as a merger with Sprint in underway. The decision is pending for review with the FCC. If it gets a go ahead, the synergistic network is expected to be four to six times the individual carrier's achievable speed and promises a much larger coverage. As of now, T-Mobile is currently working on creating massive low-band coverage. But no solid 5G move can be expected unless the decision for the merger is out.
Read more about 5G and ATT 5G-E to learn everything else there's to know about 5G.
---
Share this post
---
---