Barndominium Cellular & Public Safety Radio Signal Booster Case Study
Mar 29, 2019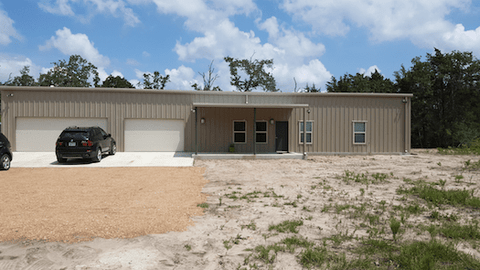 Project: A Texas Barndominium Metal Building for a Texas Sheriff Deputy Needed Communication for both his Cellular and Law Enforcement Police Radio.
Due to metal structure of barndominium, we had no signal for both his personal cellular nor his law enforcement public safety radio inside his metallic home. Being a Sheriff Deputy on call, it was crucial to make sure both devices worked. SignalBooster.com installed two separate systems - SureCall Fusion 5X 2.0 with three internal antenna's and SureCall Guardian 3 with a single antenna. After being professionally installed, cellular signal bars jumped to 5 throughout whole house with the worst reading being very good at -73 dBm. Public safety bands signal also became strong throughout where sheriff deputy could transmit and receive calls throughout entire house.
Location Details.
The police officer moved into a steel Barndominium in the middle of nowhere and suffered severe poor cell phone signal coverage outside and zero cellular signal inside due to its remoteness and thick barndominium walls material. Lots of cellular repeater companies told the police officer outright that it was impossible to get a working cell phone signal on the inside and proper cellular coverage from the outside, in addition to boosting reception for public safety bands of his police radio. After a careful and incisive premises survey, a powerful cell phone signal booster system and a powerful public safety booster kit was installed ending poor coverage problems for both types of devices (cell phone and first responder radio).
Major Concern.
As a police officer was virtually on duty all day and night he required his police radio to be in operation whether he was inside his home or not - every single day, every hour. The main concern was getting a working cellular coverage outside and also inside but the Barndominium made of sturdy steel and being far away from nearest cell tower made that practically impossible. Wireless signal reception for the police radio and the cell phone simultaneously was desperately needed, but seemed to be an extremely difficult task.
Solution.
A highly insightful and comprehensive site survey was carried out by SignalBooster.com's experienced technicians and identified the problem. Due to the nature of the client's work, a solution for his police radio reception and cell phone signal inside the steel-made Barndominium and cellular coverage on the outside needed to be found. A SureCall Force 5 2.0 with 4 indoor dome antenna for cellular reception was identified, including a SureCall Guardian 3 QR public safety bands signal booster kit.
Installation.
SignalBooster.com technicians installed the identified SureCall Fusion 5X 2.0 with three internal antenna's to help amplify the cellular reception while a SureCall Guardian 3 QR public safety bands signal booster kit with single antenna was also expertly installed to ensure the client's police radio would work.
Barndominium Cell Phone Signal Booster Installed:
Barndominium Public Safety Signal Booster Installed:
Results.
From a poor cellular coverage outside to no cell phone coverage on the inside the Barndominium was soon covered by a working cell phone signal inside the entire steel building and a properly working police radio for the officer. What most companies thought was impossible was expertly done and a powerful cellular coverage system successfully installed.
Barndominiums.
A Barndominium is generally a building made of metal such as steel and enhanced into living quarters. In the last few years they have been increasing in value due to their low maintenance, affordability and energy efficiency. It is more like a warehouse but creatively designed with a plush front porch and an upgraded exterior. Other amenities included are ceiling fans, air-conditioning, hardwood floors, showers and hot-tubs spread across different rooms, among others. Barndominium are used for all manner of functions such as entertainment areas, shops, meeting centers, churches, homes and even standalone garages.
Conclusion.
Are you facing serious cell phone signal problems inside your home, office, Barndominium or commercial building? We can get you a working comprehensive solution for your entire home and soon improve the cellular coverage around your property. Contact us with cell phone signal issues you're facing and a working, properly contrived and effective tested solution will be provided. Our quote will also include efficient equipment tailor-made and selected for your unique problem, including a speedy installation process to get a working cellular coverage inside your premises.
Call for FREE consultation:
1-855-846-2654
Or request quote for Installation Service by certified engineers.
---
Share this post
---
---