BDA DAS Equipment Types Supplied by SignalBooster.com
Nov 27, 2018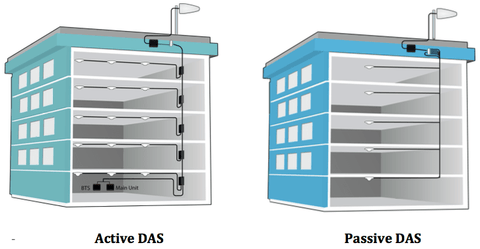 Our field of expertise is in stocking BDA & DAS equipment as well as design and implementation/ installation of systems within buildings that improve upon the coverage of wireless signals. The provision of optimal applications based on budget and technical constraints is our primary design goal.
DAS Diagram.
The standard components of a typical signal booster solution can be seen in the diagram above. Interior antennas, signal amplifiers, and donor antennas will require installation via a coaxial cable network within and throughout the entire building.
At SignalBooster.com, we believe that a cookie-cutter approach is never an appropriate solution for a wireless signal project. In every instance, the best solution will always be a custom solution: one designed by a qualified system designer following a full review of your facility, the creation of floor plans, and the production of a fully calculated design. We employ only fully-certified RF technicians to test and install wireless signal solutions to the required standard, and to follow-up with all future maintenance support as required.
We're proud to have previously implemented solutions within the following types of buildings:
Retail stores.
Parking garages.
Hospitals.
Schools.
Tunnels.
Hotels.
Shopping malls.
Manufacturing plants.
Multi-building campuses.
Small and large commercial offices.
We work with the following public safety BDA/DAS manufacturers:
Commscope
Westell Technologies
Corning Mobile Access
Axell (Cobham Wireless)
Comba
TxRx
SOLiD
ADRF.
We work with the following BDA/DAS cellular signal booster manufacturers:
SOLiD.
Wilson Electronics' WilsonPro.
Nextivity's Cel-Fi.
SureCall.
HiBoost.
---
Share this post
---
---