Canadian Smartphone Signal Boosters for Large Homes & Buildings
May 25, 2018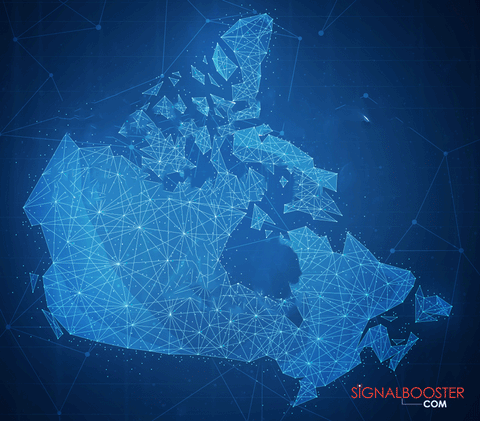 When you have a large area to cover with cell phone signal in large Canadian homes or buildings, you need a large area smartphone signal booster that has the power to do the job. Ideally, the gain of the wireless phone booster should be as high as possible for maximum reach, but additional antenna gain will also make a huge difference. The smartphone boosters or amplifiers discussed below will provide coverage of between 4,000 and 50,000 square feet. That cellular coverage depends on the model chosen and the strength of mobile reception outside where exterior antenna can be installed. All of the following smartphone signal amplifiers can enhance Canadian mobile network reception of all Canadian mobile service carriers including Bell Mobility, Rogers Wireless, and Freedom Mobile.
SureCall Fusion4Home 3.0 CA Yagi & Panel Antennae Canada Smartphone Booster for 4k Ft².
The Fusion4Home 3.0 CA Yagi/ Panel Canada Booster is a low cost, all-carrier cell phone signal booster designed for home and office use. It enhances voice, text and 4G LTE data signals for all Canadian cell carriers and is fully configurable for all indoor environments. The Fusion4Home booster ensures enhanced call clarity and increased signal strength for multiple simultaneous users, and covers up to 4000 square feet. Its external Yagi or log periodic cellular antenna must be pointed to the mobile tower being targetted for better reception. Although not necessary, this can be done quickly and easily with help of a mobile signal meter. Its in-house or in-building Panel directional antenna broadcasts mobile signal powerfully indoors when installed on a wall. The uni-directional Panel antenna can also be mounted on ceiling if coverage is required on floor(s) below such as an office/ home basement floor.
SureCall Fusion5X 2.0 Building Smartphone Signal Booster for up to 20k Ft².
The Fusion 5x 2.0 smartphone signal booster for large area including big residential houses and mid-sized buildings in Canada has higher downlink power than earlier versions. It will not shut down due to a strong outside signal when few other brand boosters get overpowered and shut down per Industry Canada (IC) requirement and regulation as issued under authority of the Minister of Innovation, Science and Economic Development (ISED). This smartphone reception amplifier kit reduces dropped and missed calls substantially. It improves 3G and 4G data speeds by boosting voice, text, 3G, 4G reception of all Canadian cell providers. This product features maximum reception strength gain, uplink and downlink power, as well as automatic dB gain / attenuation optimizes booster performance.
Large Area 4G LTE Smart Phone Booster weBoost Connect 4G-X 471104F for up to 7k Ft².
The Connect 4G-X (SKU 471104F) smart-phone booster kit for large homes and offices will boost signals for a coverage of up to 7,000 or 7,500 square feet in Canada. The signal strength outside on the roof of the office or home has a big impact on the coverage area you can expect from a smartphone signal amplifier. As many factors determine coverage area, actual results may however differ from this estimate. This phone booster will boost reception to all cellular devices within covered coverage spaces. It is sold in end-user friendly retail package with easy to follow instructions in English and French. It is the most powerful consumer-grade smartphone signal booster sold by this manufacturer (Wilson Electronics). Browse all the weBoost Connect cell signal booster series available.
Wilson Pro 70 Smartphone Signal Booster for up to 25k Ft².
Wilson Pro 70 is a heavy duty commercial grade large area smart-phone signal booster kit for very large homes and businesses in Canada. It is the most affordable in the line of smartphone boosters provided by Wilson Electronics. It is a great alternative in scenarios where less coverage area than the standard commercial mega spaces is needed. This 50 Ohm Pro 70 amplifier provides boosted signal for up to 25,000 square feet and is packaged with all the basic set of components required to do a complete installation setup. However, it must be configured or designed with additional antennas to customize the design to fully cover all areas of indoor spaces that need better cellular service coverage. It is service provider agnostic signal enhancing system. This means that it improves reception of all mobile networks of all carriers in Canada including Rogers Wireless, Bell Mobility, and Freedom Mobile.
Wilson Pro 70 Plus Smartphone Booster for up to 50k Ft².
These Wilson Pro 70 Plus large area smartphone boosters for homes in Canada boost cellphone signals for in-building coverage up to 50k sq. ft. The 5 band signal amplifier boosts signals of all mobile service providers in Canada. Like others, this wireless RF enhancement system operates on all mobiles and networks of all service providers in Canada including Telus Mobility, Bell Canada, Rogers Wireless and Freedom Mobile owned by broadband Internet provider, Shaw Communications. On another note, Freedom Mobile also has access to Shaw's network of Wi-Fi hotspots. Those're mainly located in Western Canada including British Columbia and Alberta. This also helps Freedom Mobile subscribers if mobile reception is poor or weak at certain locations which are already being served by Shaw WiFi (popularly referred to, as "Shaw Go WiFi hotspot").
Wilson Pro 70 Plus Select Smartphone Amplifier Kit for up to 50k Ft².
The Wilson Pro 1000C Smart Phone Signal Booster Kit with Cloud Monitoring Integration is a large area cell phone signal amplifier for very big houses in rural Canada or skyscrapers in business districts of major city downtowns. Such cities may include Toronto, Vancouver, Calgary among others. It has adjustable gain controls for each band, as well an uplink and downlink power meter. With ability to boost 2G voice, 3G voice and data, and 4G LTE voice and data, this smartphone booster will work with all cellular network providers in Canada on all frequency bands. It has been approved by Innovation, Science and Economic Development Canada which is a Canadian government department which oversees radio telecommunication technology products. This is the most powerful 4G booster currently allowed by ISED.
Commercial Grade Smartphone Signal Booster Installation Tip.
For all of above detailed kits, wireless coverage can be expanded to even more spaces indoors by purchasing additional 50 Ohm in-building antenna kits that include required cables and splitter to connect to this 50 Ohm cell phone booster kit. Our certified cell phone signal booster installers can leverage the benefit of such antenna expansion kits to provide strong and seamless coverage within all your in-building interior spaces. Please contact us for free system design and installation quote.
---
Share this post
---
---