SignalBooster.com Installs Cel-Fi QUATRA for Texas Police Station
May 20, 2021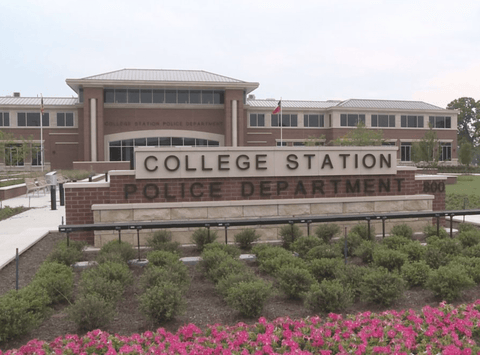 College Station, TX Police Station Enhances Service Delivery with Improved Cell Signal.
Location.
With the need to offer better security and law enforcement services to students and wider community the new revamped Police Department Hearquarters in College Station, Texas is essential. Situated in a 60,000 square foot building and two stories, the need for a quality cellular signal both for administrative purposes and individual use in and around the police station is clearly obvious.
The Problem.
As a new police building in a largely well-built modern building, the structural integrity of the place is solid and reputable. However, complaints of little to zero cellular reception inside PD Headquarters have been common and evident throughout the new police station. Due to the building materials, architectural integrity and enhancements, the quality of cell phone signal on the outside doesn't translate the same on the inside.
Technician at work.
The problem is that with a great cell reception outside, the coverage inside the building has remained critically atrocious affecting operations of the police station, overall communication, and service delivery.
The Solution.
After careful, intense and extensive signal tests, technicians on the ground were able to ascertain the best solution that would amplify the cell signal on the inside. Due to the breadth of the building and structural design the Cel-Fi QUATRA 2000 system was identified as the best solution that would provide Verizon and AT&T services, among others.
Two Cel-Fi QUATRA Verizon/AT&T Network Units were incorporated, including eight Cel-Fi QUATRA Verizon / AT&T Coverage Units, four Cel-Fi misc. connector adapter cables, LPDA outdoor antenna, and a high gain indoor dome antenna.
Other parts included four-way cellular cable splitter, cellular taps, 500-feet non-plenum cellular cable and twenty fittings. Also, two reels of Cat5E cable non-plenum 1000-ft. cables were used, as well as Rohn 10 ft. antenna tower and base with miscellaneous hardware and Cel-Fi QUATRA Range Extender.
Results after system complete, up and running.
With installation completed, the signal was retested to a resounding success. The new College Station Police Station in Texas now has an improved cellular signal throughout its 60K square feet space. As result, AT&T network users are able to enjoy a minimum 3 bars on their cellular devices and 4 bars for Verizon users.
Conclusion.
Facing the same cellular signal problems in your residential, commercial or other complex? We have solutions for all spaces facing weak or no cellular reception across the country. Get in touch with us with the problem you're facing today and the best, efficient, tried and tested cellular booster system will be provided after an intense study and survey of the place. A quote with all the necessary equipment and installation will be provided to offer a quick solution to the problem and get your cell reception strong, up and running again.
---
Share this post
---
---