weBoost Drive Reach RV & Drive Reach OTR Cell Boosters
Nov 12, 2020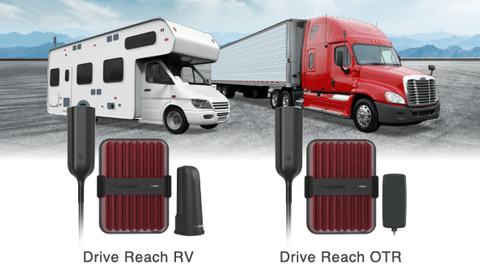 weBoost has introduced two new editions of its highly successful and its most powerful vehicle cell phone signal booster kit, the weBoost Drive Reach.
While the first original kit, the weBoost Drive Reach contained a low profile magnet mount exterior antenna, and a slim patch interior antenna, the new specialized truck (weBoost Drive Reach OTR) and specialized RV (weBoost Drive Reach RV) kits contain more truck-specific and RV-specific antenna(s), respectively. All these three cellular amplifier kits manufactured by the parent company Wilson Electronics are sold at the same price-point of $499.99.
weBoost Drive Reach RV: Cell Signal Booster for RVs.
weBoost Drive Reach RV (model 470354) with same retail cost also has an equally rugged exterior antenna but is adjustable from 7.5 inches to 20.5 inches. This outside RV antenna comes with a longer 25 feet extension cable which helps provide enough leeway to conveniently place the booster in a suitable spot inside your recreational vehicle (RV). Secondly, its more RV-conducive desktop cell tower interior antenna covers larger service coverage space (than inside patch antenna) and more convenient to place centrally so all users inside RV can enjoy stronger cellular signals simultaneously, which is excellent for RVs.
The Drive Reach RV featuring desktop interior antenna's designed to comfortably fit all motorhomes and RVs - particularly Class A and Class C vehicles, as well as tow-ables and trailers. Its toughest exterior antenna has capability to adjust from 7.5" - 20.5" and can overcome all obstacles such as low hanging tree branches and extreme weather. It is made for RVers who demand the strongest cell connection from remote roads and campsites.
weBoost Drive Reach OTR: Cell Signal Booster for Trucks.
weBoost Drive Reach OTR (model 472154) with MSRP $499.99 has the most rugged exterior antenna built by weBoost. Its all-weather, all-terrain construction meets current U.S. Military 810H and NEMA IP66 standards. It is resistant to high wind gusts, low tree branches, rain, dust, dirt, and more. It is adjustable from 7.5 inches to 40 inches. This OTR truck cell signal booster kit has the same slim patch interior antenna because truck cabins are very similar to cars, size-wise.
The Drive Reach OTR featuring exterior adjustable 7.5" -> 40" antenna's designed to fit any truck, from semis to pickups to off-road vehicles to overlanders. Originally designed for long-haul drivers, it is an excellent tool for oil fields, mines, and remote workers who spend most of their day on the road.
Features at a glance:
Meets current U.S. Military and NEMA IP66 standards for durability. Outside antenna is protected from high winds, low tree branches, rain, dirt, dust, and more.
Height-adjustable (up to 20 inches for RVs and up to 40 inches for OTRs) modular outside antenna with spring, mount, and mast extensions.
Compatible with all cellular devices on all network carriers including Verizon, AT&T, T-Mobile, and more. Every passenger can enjoy a better cell signal on any cellular-connected device.
5G-ready, it will boost cell signal for the next decade and beyond.
Summary:
weBoost Drive Reach RV and Drive Reach OTR combine weBoost's most powerful in-vehicle booster yet with the toughest outside antenna for better cell signal anywhere on the road. Both models come with a durable, redesigned outside antenna that meets current U.S military and NEMA IP66 standards, meaning it can withstand extreme shaking while being protected from dust, oil, and water.
Drive Reach RV and OTR boost cell signal for fewer dropped calls, better voice quality, faster data speeds, improved hotspot capability, and improved data streaming. The new kits reach 74 percent farther than Drive X RV and Drive 4G-X OTR to pick up cell signal in even the most remote areas.
With U.S.-based customer service, and a 2-year manufacturer's warranty, you trust that you will see an improvement in cell signal service.
Would you prefer that we install cell signal booster kit professionally in your vehicle fleet? Nationwide installation available.
1-855-846-2654
Get started with professional vehicle cell signal booster installing service by providing details to help us prepare installation quote.
---
Share this post
---
---