Why are Cell Phone Signal Boosters Essential for First Responders?
Jun 21, 2018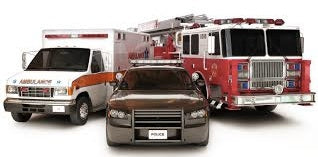 Prompt communication is crucial to paramedics' success on the job. That said, sometimes external factors get in the way.
These factors include:
Distance from the cell tower.
Terrain & tall structures.
Vegetation & weather.
Building materials & interior obstructions.
First responders sometimes experience poor cell phone coverage for one or more of above mentioned reasons. Cell phone signals consist of radiofrequency waves, and it doesn't take much to alter, disrupt, or block them altogether.
Concrete basements, mountainous roads, and stormy weather can all play a role in weakening first responders' cell phone signals. In the field, in transit, or at the base station, there're numerous obstacles that can compromise paramedics' cellular connections.
What can EMS teams do about this?
They can invest in cell phone signal boosters like our fire truck cell phone signal boosters because poor coverage hinders first response efforts.
Cell phone signal strength is measured in decibels, where -50 dB generally indicates full coverage and -110 dB points to a dead zone (that is, an area with no signal at all). These figures are consistent across all carriers and cellular devices.
When paramedics experience dropped calls and poor-quality service, they are typically near the -110 dB zone. A cell phone signal booster, however, can push their dB levels closer to the -50 dB zone for stronger 3G and 4G LTE network signals.
Signal boosters can take a 3G or 4G LTE signal and amplify it by up to 32 times before rebroadcasting it into the vicinity. The devices do require an existing signal to function; however, weak signals in -90dB to -100dB are sufficient in most cases. An important thing to keep in mind is that you can't amplify something that does not exist. But with little signal available, boosters can work wonders.
It doesn't matter if the first responder is far from the nearest cell tower, or if they are in an urban area with tall buildings that distort the cell phone signal. By leveraging a signal, cell phone signal boosters can jump over hurdles and enhance paramedics' voice and text communication so they can continue doing what they do best: address emergency situations and ultimately save lives.
Signal Boosters Are the Solution Paramedics Need.
Across United States and Canada, cities, counties, states, and provinces have their own public safety requirements. They adopt sections of International Code Council (ICC), as well as the National Fire Protection Association (NFPA) codes and their own requirements and measures.
A combined cell phone signal booster system and a public safety band signal booster installed will ensure EMS departments are equipped to meet the needs of their own team's wireless communications as well as those of their constituents, based on the requirements in each area.
But what if they could not only meet these needs, but surpass them? What if first responders could go above and beyond? In an event of an emergency, the bare minimum signal bars may not help get the job done. From speaking with dispatchers to relaying information to personnel back at the base station, prompt communication can make all the difference in a dire situation.
Therefore, regardless of whether there's a natural disaster, a medical emergency, or another incident at play, first responders cannot delay their efforts. A cellphone and/or public safety radio signal booster is the answer these professionals need.
Cell Signal Boosters for Police Patrol Cars/ SUVs.
For police patrol cars and SUVs, Fusion2Go 3.0 Fleet and Drive Reach Fleet are two great cell signal booster kits that enhance cellular communications on all mobile service provider networks in USA. Cell phone signal boosters are versatile. The two wireless signal boosters kits stated above, are no exception. They boost reception of multiple cellphones simultaneously which may help multiple police officer's cell devices simultaneously. They help first responders who rely on strong cell reception at work each day. They can boost the cell phone signals of up to four devices at a time. Both these pro-rated cellphone booster kits offer 60% greater reach to the nearest cell phone tower than other cell phone booster kits in the market. These professional-grade devices leads to fewer missed or dropped calls, less Internet buffering, and clearer conversations that allow first responders to work more efficiently.
Cell Signal Boosters for EMS Ambulances and Fire Trucks.
For EMS ambulances and fire trucks, Drive Reach OTR Fleet is a great cell phone booster kit with a tall antenna for better reach to nearest cell towers. It enhances cell communications on all mobile service networks in USA. For larger cabin of Emergency Medical Service ambulances, X6 Xtube Pro can enhance signal over larger area for multiple devices where multiple paramedics may need to use their cell devices while in transit to nearest hospital with the patient.
Consumers tell us that these signal boosters provide an additional two to four bars of service for most carriers - and that is no small feat when public safety is concerned.
Disclaimer.
Please note that signal booster models listed above are ideal for boosting consumer cell service signals in urban as well as suburban locations, along with certain remote rural locations. However, off-the-grid areas with absolutely no signal available, may not have an existing signal needed that can support the booster. The booster requires some signal to amplify it up to 32 times.
How can you determine whether these vehicle cell boosters are right for you? If the signal is usually stronger outside your vehicle than it is inside, these cellular phone boosters would work great. These kits will produce fantastic results if outside signal is -95 dB or higher. Largely due to its unmatched power, we can't recommend it enough.
Cell Phone Signal Boosters Help First Responders Save Lives.
First responders are usually the key line of defense for communities in United States. They respond to an ever-evolving range of man-made and natural threats like natural disasters, accidents, and terrorism. First responders include paramedics, law enforcement officers, firefighters, and EMTs.
Because they are usually first on the scene, first responders are often the difference between safety or disaster or life or death for those who need their services. These first responders, in turn, are entirely dependent on cell phone and mobile data technology. Reliable cellular connectivity ensures teams stay connected, wherever they may be. This connectivity is often first responders' only way of receiving timely and necessary information, boosting their ability to carry out their duties efficiently.
Being able to access strong and reliable cellular signal is of utmost importance to public safety personnel, and without it they are severely hampered in their duties. Cellular signal is ultimately just radio waves. There are a wide range of factors that can interfere and even completely block those waves, like the following:
Distance from the closest cell tower.
Tall structures.
Adverse weather conditions.
Variations in terrain.
Construction materials either inside buildings or in dense urban locations.
Heavy networks of mobile network traffic.
Any of above can be the reason first responders are unable to receive reliable cellular signal, leading to coverage interruptions. Luckily, cell phone signal boosters can compensate for these interferences, allowing first responders to access the strong signal they so desperately need.
How Does a Cell Phone Signal Booster Work?
Cellular signal boosters work by bringing the following three things together:
Donor Antenna: The donor antenna captures a signal from the closest cell tower.
Amplifier: The signal amplifier boosts cellular signal sent to and received by mobile devices.
Inside Antenna: Inside antenna distributes the boosted cellular signal inside buildings and vehicles.
Above components deliver two kinds of boost as follows:
Gain: This measurement describes how much the signal is amplified.
Downline Output Power: This measurement describes how much signal the signal amplifier is capable of re-transmitting inside a building or vehicle.
The most effective cellular signal boosters work with multiple carriers, offering flexibility to users whilst delivering the strongest combination of both gain and downlink output power. The result is a strong, reliable cellular signal for not only our first responders, but for any device user struggling to maintain a cellular connection.
With their innovative and patented digital technology, SignalBooster.com signal boosters deliver the very best mobile support for all first responders.
Cell Phone Signal Boosters Deliver 5 Main Benefits for First Responders.
When first responders have the support of reliable cellular signal, their operations can be improved in a range of important ways. Having this crucial support increases their chances of working towards a positive outcome.
Mobile phones have been instrumental in helping first responders during a number of disasters, including the 2010 Haitian earthquake, the Boston Marathon bombing, and Atlantic storms like Hurricane Maria and Hurricane Sandy. These are just a few examples; ever since the cell phone's rise to prominence, there have been countless other rescue and emergency events that have depended on cell phones for reliable communication.
Below we have listed the five major benefits for first responder teams of using mobile devices with reliable signal in conjunction with a cell phone signal booster:
No. 1: Signal Boosters Compensate for the Restrictions of Two-Way Radios.
The two-way radio is still first responders' communication tool, but the same issues that negatively impact on cell phone signal can even more dramatically interfere with radio communication. It is not unusual for first responders dealing with emergencies to find themselves working in radio "dark spots".
When this occurs, first responders resort to coordinating operations using their cell phones, which is a vital alternative to the two-way radio. Cell phone signal boosting makes all the difference, not only giving people working on the frontline peace of mind, it also helps saves lives.
No. 2: Increased Situational Awareness And Preparedness.
Mobile technology is very beneficial when used to supplement data from control rooms and radio dispatch centers. When first responders have access to multimedia and detailed reports, it helps them fully understand both the incident and the conditions they are responding to. With current information at-hand, they are better able to prepare their response strategy, thus maximizing the chances of success. Reliable cellular signal makes this possible.
In addition, first responders with access to mobile technology can utilize video analytics, file sharing, and online databases while working on-site, making it easier to improve situational awareness for both dispatchers and first responders. With quick and easy access to the latest available information, emergency response teams are able to communicate more efficiently and coordinate their efforts with accuracy.
No. 3: Reliable Access to Wireless Emergency Alerts.
The Wireless Emergency Alert (WEA) network is used during emergencies and critical events to disperse AMBER alerts, threat notifications, and other government notices. When first responders have access to strong cellular signal, they are able to access the WEA network. Being able to access WEA is critically important for first responder teams - it allows them to respond quickly and accurately to ever-changing conditions. Without access to WEA, keeping emergency teams updated on new developments, such as shelter-in-place orders, can be extremely difficult, and thus very dangerous.
No. 4: On-the-Spot Communication and Information Sharing.
Mobile devices with access to strong and reliable cellular signal allow first responders to send emails, complete reports, forward critical information, and search databases on the spot. Dispatchers can locate their first responder teams in real time when vehicles are fitted with cellular signal boosters; another bonus is that in-vehicle signal boosters keep GPS devices online.
As long as there's signal available to amplify, that signal can be enhanced using a signal booster. Teams are able to stay in touch, thus providing the best and most effective service to the public.
No. 5: Quick and Easy Access to Real-Time Digital Automation and Reporting.
When first responders are able to compile reports and complete administrative tasks while on the go, it frees up more time to manage public safety matters. With easy access to reliable cellular signal, they can compile real-time insights to enable preparation of accurate reports, photos and other data can be shared, and automated transcription tools can be used for interviews.
What is The Best Signal Booster for First Responders?
Note: It should be pointed out here that there are situations where a cellular signal booster cannot help. A booster cannot amplify signal if there's no signal to amplify. In these situations where there's no signal, or the signal is interrupted, first responders will need to resort to other options.
That said, when first responders' fleet vehicles and buildings are fitted with high-quality cellular signal boosters, they can be confident of accessing strong and reliable cellular signal. They can be assured of receiving boosted signal quality and strength and reap all the benefits cellular signal boosters deliver.
Cellular signal boosters work, and they deliver great results.
What To Look For: You need to invest in a cellular signal boosting solution that offers the following:
A long service life.
Multiple carrier support.
Powerful gain and downlink output power.
A device with these attributes can take critical public safety user operations to the next level of professionalism. First responders will have easy access to tools they normally wouldn't have access to, while on the ground. When instant communication is vital, first responders will have access to instant contact with team members, members of the public, and other stakeholders. Strong and reliable cellular signal is key to giving responders the best possible chance of maximizing positive outcomes, while minimizing risk.
SignalBooster.com.
The professionals at SignalBooster.com are the experts you need to find the right boosting solution for your needs.
Is your first responder organization considering installing cellular signal boosters in its offices and fleet vehicles? If the answer is "yes", or "perhaps", contact the experts at SignalBooster.com today to discuss your options. We can provide the information you need to make an informed decision on the right signal boosting solution for you. We will be able to work out a solution that will enhance public safety outcomes, as well as reduce stress suffered by team members when they are forced to endure unreliable communications. Why not call SignalBooster.com today? Our experienced technicians are here to help.
Conclusion.
The cell phone signal boosters from SignalBooster.com work for all cellular devices and carriers in United States of America. There are no subscription fees to be paid to use them. Simply make a one-time purchase, and they will provide the signal-boosting service you deserve. Push your cell phone signal strength to its top strength and power with a cellular booster! Browse indoor cell signal boosters and outdoor cell signal boosters today. Contact us if you have any questions or need any product selection assistance.
---
Share this post
---
---