Public Safety Signal Boosters & Installers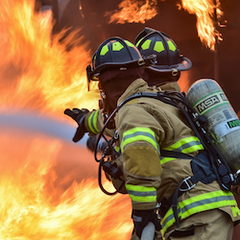 Building materials and other factors may block signal penetration in such large metal and concrete structures causing disruption of wireless communication on the new nationwide, high-speed, broadband network dedicated to public safety. Public safety DAS or bi-directional amplifier systems ensure seamless communication to, and from deep interior spaces inside such buildings. In-building signal amplifiers and repeaters meets all new existing public safety communication regulations and offer intuitive built-in features such as remote monitoring. Furthermore, they helps prepare for future mandates of emergency and disaster preparedness for advanced public safety wireless communications.
In addition to CommScope BDAs, Fiplex Duplexers and Comba Telecom's USA BDA kits, Canada BDA kits, CriticalPoint Fiber DAS, and Public Safety UHF BDA kits - We carry other brands including SureCall, Bird RF, SOLiD and Westell as listed below. Our professional installing service provides installation by certified signal booster installers to install public safety signal amplifier kits as well as preparing public safety grid test report, AHJ approvals, certifications, and annual re-certifications. 
Public Safety Land Mobile Radio (LMR) communication systems are voice-centric narrowband systems. They operate mainly in standard bandwidth of UHF, VHF, 700 MHz, or 800 MHz and 12.5 kHz. Powerful public safety signal boosters improve reception of all types of wireless networks. They include traditional LMR networks as well as the new FirstNET critical public safety First Responder Network Authority mobile communications networks inside big buildings. It can have capacity to boost reception for hundreds and thousands of simultaneous users. It can be done using this single powerful signal amplifying device (plus precise networking design of antenna framework by our installing technicians).
BUILDING CERTIFICATION.
Strong public safety signal is needed for Certificate of Occupancy. For example, our Guardian3 QR meets the code for Chapter 24 Emergency Communication System of NFPA72. It features a NEMA-4 rated amplifier housing, which eliminates the need for an additional NEMA enclosure.
IN AN EMERGENCY, COMMUNICATION SAVES LIVES.
Public Safety Signal Boosters Built to Perform when Reliability Matters Most.
Highlights:
Delivers crucial signal coverage for first responder's two-way radio communications.
Meets NFPA72 requirements for Chapter 24 Emergency Communications Systems in large buildings up to 80,000 square feet.
Supports more than 100 simultaneous users per band on 700 MHz (FirstNet Ready), 800 MHz, and 900 MHz SMRS.
CERTIFIED PUBLIC SAFETY SIGNAL BOOSTER INSTALLER AVAILABLE.
An in-building Emergency Radio Communication Enhancement System (ERCES) usually consists of a Bi-Directional Amplifier (BDA) System. FirstNet ready signal booster for all public safety bands boosts all public safety bands. Our professional public safety signal booster installation service by a certified public safety signal booster installer team can help you with your set-up, installation, approvals and certifications by Fire Department Fire Marshal's office. Contact us for a quote by a public safety signal booster installer to have it installed in your building and obtain all required certifications and approvals from your local fire department and respective cellular service carriers/ providers.
BOOSTS ALL PUBLIC SAFETY BANDS. LONG-TERM RELIABILITY. LIFETIME SERVICE LEVEL AGREEMENT (SLA) AVAILABLE.
Choose public safety signal booster below for more details or request quote for public safety signal booster installation by certified installers.
---
Why Public Safety DAS from SignalBooster.com?
SignalBooster.com offers Public Safety Distributed Antenna System (DAS) solutions and technical support second to none. Options we can offer span way more than what a single manufacturer or installer can offer. Well versed with Public Safety Signal Enhancement Regulations in all states and cities, our technical support team can fix all types of cellular and public safety radio band connectivity issues. Our team has experience needed to get systems designed, approved, and installed in the shortest time frame possible. Even where there's poor public safety frequency bands service coverage outside where Passive Public Safety DAS does not work, we have solutions such as Public Safety Hybrid DAS and Public Safety Active DAS to get the job done.
We can deliver services nationwide across all states including Florida, New York, Texas, California, and Illinois. Projects have been successfully completed in all major cities including Houston, New York, Chicago, and Los Angeles. Get it done right the first time by choosing SignalBooster.com for the right expertise from our experienced team of system designers and installers. Our team can provide technical support to all including individuals, small business owners, IT staff of medium to large companies and fortune 500 mega corporations.
If you're looking for a solution that works to fix public safety radio connectivity problem in your building, contact us for a free consultation. Let us show you how our top notch expertise can provide turnkey solution that works and gets approved by local Authority Having Jurisdiction (AHJ). Let us help make you, your family, business employees or co-workers, and especially our hard working & life risking first responders stay safe in times of an unforeseen emergency. Contact us for a free consultation or request Public Safety DAS so we can get started on preparing a proposal for Public Safety DAS installation service.