Cell Phone Signal Boosters for Building – Here's Why You Need Them.
Oct 26, 2016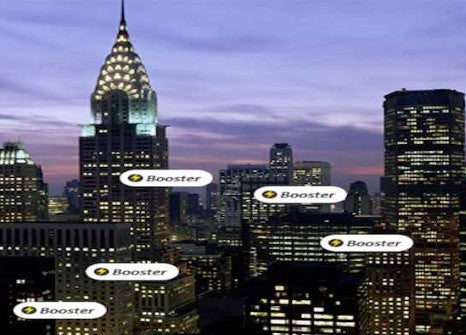 Did You Know This?
According to the new laws on public safety enacted by the National Fire Protection Association (NFPA)...
#1: All new buildings are required to have 95% to 100% in-building coverage for emergency communication services. Otherwise they cannot be granted permission for occupancy.
#2: All buildings must have 100% cellular coverage in critical areas such as the command center, exit stairs and elevator lobbies. For the other areas in the building, a 95% coverage would be acceptable. 
#3: All buildings undergoing expansion or reconstruction must have a 95% to 100% in-building coverage to be granted permission for re-occupancy. 
#4: The various frequencies mandated for public safety include 700 MHz, 800 MHz, and 900 MHz as well as VHF and UHF. The frequencies used may vary from one municipality to another and are based on instructions given by the local fire department and the police. 
#5: Any non-compliance with these laws will carry criminal or civil penalties, as determined by the local municipality. They may carry fines of up to $100,000.
Is Your Building Equipped for Emergency Communications?
When a firefighter or other first responder is in your building and trying to communicate with his or her team, reliable communication can literally become a matter of life or death. 
Understandably, first responders have become entirely dependent on their wireless communication devices, which means that when there's an emergency they simply can't afford signal loss or delays of any kind, whether it be through interference, attenuation, or reflection.
Many public safety ordinances have been enacted by the National Fire Protection Association (NFPA) that require minimum levels of signal coverage for communication inside new buildings. We have listed some of them above. 
Why not employ a SignalBooster.com solution in your building for the protection of your staff and customers, and enable functioning of critical communications during times of need? What you need is a cell phone signal booster for your building. We market, design and install these cellular and public safety band amplifying systems to perfection. 
Whether it is about making sure that the two-way radios are being operated by your security personnel function reliably or if you're meeting NFPA requirements for first responders, SignalBooster.com has a range of customizable signal amplification products that are the most reliable, cost-effective, and robust solutions available in the market.
How Cell Phone Signal Boosters for Buildings Work.
The technology on which cell phone boosters for buildings are based on is quite advanced, but the concept behind them is actually very simple. Cell phone booster systems do not read or modify the signals sent within a certain radio frequency that passes through the system. Instead, they reinforce the signal penetration of both voice and data frequencies in areas within the building that receive weak signals, or in dead spots within such structures such as the lower floors or the basement. 
These devices amplify signal penetration and thus enable cell phone subscribers to maintain 100% connectivity with their carriers with regards to both voice and data services. 
Equally important is that fact that these systems prevent any drain on the mobile handset battery, which is generally associated with overworking of internal antennas of cell phones and other cell devices like tablets because of weak or insufficient coverage. 
Please be assured that the booster systems installed by us are very secure. It is just not possible to hack into these systems and use enhanced cellular connectivity to eavesdrop on phone conversations, internet surfing or email messages. 
Why Install Cell Phone Boosters for Buildings?
Cell phone booster systems are also referred to by some as ICE systems. ICE stands for Interior Cellular Enhancement. It consists of a group of small antennas that work together to send amplified cellular signals from amplifier(s) that improve the coverage and reliability of cell phone signals in areas where the traditional cell towers belonging to the major carriers are either inadequate in number, too far away, or inefficient. 
These types of systems are perfect for any large facility, office complexes, college and university campuses and buildings of all sizes. ICE systems effectively function as "mini" cell towers that enhance the signal strength and bandwidth over the interior area being covered. Let us discuss why you need to install cell phone signal boosters for your building…
 Reason #1: Installing an ICE system increases the value of your property. Tenants or buyers expect 100% cellular connectivity before moving into a building. Knowing that you have installed cell phone and Wi-Fi boosting systems within the structure would make it more valuable. Also, better connectivity within a building means more business. Companies or businesses simply refuse to take up ownership of buildings that suffer from less than perfect cellular coverage. 
Reason #2:  LEED certified buildings generally use insulations and other green technologies that make the building more energy efficient, but that is often at the cost of the cellular coverage. Cell phone and Wi-Fi booster systems improve in-building wireless coverage within LEED certified buildings. They also improve the 4G LTE coverage within the structure.
Reason #3: Better connectivity is required by law. The National Fire Protection Association (NFPA) has made it mandatory for buildings to have 95% to 100% coverage for emergency communications services. Installing ICE systems ensures the safety of the building's occupants by allowing them to reliable use emergency services such as 911 without having to worry about the cellular connectivity in such situations. 
Reason # 4: Rich Communication Services (AKA RCS Wireless Services) is a communication protocol between mobile-telephone carriers and between phone and carrier, aiming at replacing SMS messages with a text-message system that is more rich, provide phonebook polling (for service discovery), and transmit in-call multimedia. This type of service will become essential for transmitting information in the future. It will not work without strong coverage within buildings.
How We Help Enhance Cellular Coverage for Your Building?
We install systems that increase cellular signal strength inside of a building. We offer a nationwide installation service. The installation of cell phone boosters is done by experienced professionals, who have been in the industry for several years and are capable of executing the plans to perfection.  
We offer competitive pricing with world class service and guaranteed system performance. We have been installing cell phone and Wi-Fi signal boosting systems since way back, when the technology was still new and not many had known about it. 
Now, with cell phone boosters for homes and buildings becoming popular across North America, our professional installers are much busier than they have ever been in the past. We install these devices in office buildings and commercial properties, hospitals, warehouses, apartments, hotels, universities and college campuses, large corporations, big box stores and more across the United States. 
The booster systems are designed by highly trained engineers and installed by well trained professional technicians. We make sure that your staff and customers have a perfect connectivity with all cellular carriers and in all coverage areas within your building.
 You can depend on our nationwide network of professional installers and service providers to provide you with 100% cell phone connectivity. We have got you covered, regardless of what your current requirements are.
 We excel at improving cellular connectivity even in the most challenging interior environments. Do get in touch with us for a free consultation on your cellular communication needs. 
Recommended Cell Phone Boosters For Your Building
Here's a look at some of the recommended cell phone boosters for buildings installed by us…
SureCall Industrial Public Safety Booster (PSB) Guardian3 / Force3.
SureCall Industrial Public Safety Signal Booster (PSB) Guardian-3 / Force-3 is described as a "bi-directional amplifier for three band industrial communications". It is used to enhance coverage in buildings for public safety RF radio communications and in structures such as police headquarters, hospitals and offices of other first responders. 
The device works with public safety bands such as 700 MHz and 800 MHz. It is also used to service 900 MHz SMR (Specialized Mobile Radio Service). The primary purpose of this device is to enhance first responder communications across the United States and Canada. It works with tri-band frequencies and delivers 80 decibel dB Gain and amplifies cell phone coverage over an area of up to 80,000 sq. feet. 
The device costs $4,995.00.
Wilson Pro 70 (75 Ohm) Signal Booster Kit (Wilson 463134 Pro70 Custom Installer Kit).
The Wilson Pro 70 (75 Ohm) Signal Booster Kit by Wilson Electrics is ideal for large businesses and offers coverage for large offices, establishments and buildings, as well as for factories, farms and manufacturing plants. It delivers a dB gain of +70 and covers an area of up to 25,000 sq. feet. The device costs $1,299.00. 
Wilson Pro 70 Plus (50 Ohm) Wilson Electronics (463127 Pro70-Plus Signal Booster Kit).
Wilson Pro 70 Plus (50 Ohm) by Wilson Electric is ideal for large businesses, apartment complexes and offers interior coverage to buildings of up to 50,000 sq. feet.  It delivers a dB gain of +70. Call us for details, price, and/or to place your order.
WilsonPro 4000R Booster for 100-140k sq. ft. buildings | Wilson Pro 460231.
The WilsonPro 4000R Booster is well suited to extremely large buildings, huge stand-alone establishments, factories and manufacturing plants. It improves cellular reception over an area of 140,000 sq. feet and delivers a dB gain of +70. Call us for details, price, and/or to place your order.
Wilson Pro 70 (50 Ohm) Wilson Electronics 465134 Pro70 Signal Booster Kit.
The Wilson Pro 70 (50 Ohm) is perfect for large office spaces, buildings, factories and manufacturing plants. It improves cell phone reception over an area of 25,000 sq. feet and offers a dB gain of +70. This device costs $1,299.99.
---
Share this post
---
---