Cellular Connectivity with Boat Cell Phone Signal Booster
Jul 13, 2017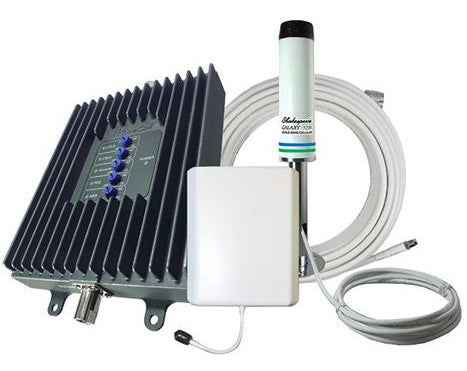 Even though we've mastered the art of making phone calls to the top of Mount Everest and the international space station, there are great sections of Planet Earth where you can have trouble getting cell service. A lot of this area is on the ocean — on the high seas you can face problems like phone calls that disconnect without warning, text messages that are slow to download, emails that don't go anywhere, Web pages that take forever to load, and reception that fades in and out.
The ocean is a great place to sail on, but it's got some problems when it comes to cell phone and Internet reception.
One reason is that when you're far from shore you're also far from cell towers, which amplify and transmit cell signals. Another is that various things can interfere with cell signals, including mountain ranges, so if you're cruising along offshore and admiring a row of majestic peaks, you could also have a hard time receiving a call from your teenage son who's on the other side of those peaks and wants to tell you he just crashed your car.
What do you do about weak cell signals on your boat?
You get a Shakespeare SuperHalo 2G, 3G, 4G, and LTE RV & Marine Cellular Signal Booster kit part # CA-VAT-10-R. This handy gadget boosts cell reception for all US and Canadian mobile networks on all wireless devices such as air cards or personal hotspots/cell spots, Android and iPad tablet computers, and all smartphones.
Why Shakespeare Halo Signal Booster?
The Shakespeare cell phone signal booster stops weak mobile reception that causes dropped calls, static, and delayed or unsuccessful text messages for every cell phone and cellular device on board. You'll never have to miss a call from your accountant again (That is, if you really want to talk to your accountant about your tax bill this year).
Benefits.
The Shakespeare booster works for all North American cell carriers including Verizon, Sprint, T-Mobile, AT&T, Bell, Telus, and Rogers. You can even use this gadget in recreational vehicles when you're exploring remote rural areas, and marine vessels that venture up to 50 miles off the coast from the nearest cell tower!
With the Shakespeare cell signal booster you'll get 50 db 5 band signal boosting off-shore for voice and text messages, and it improves 3G, 4G, and LTE data and connectivity for all mobiles and devices within its range.
Unique Feature.
One of the best features about the Shakespeare cell signal booster compared to other brand cellular boosters is that it is extremely weather-resistant — which means it will stand up to rugged use on the high seas or remote areas on land.
Conclusion.
This is a connected world we live in, and people don't take it kindly when you get out of reach of their cell signals. You want to be able to access the Internet and talk or text wherever you are — even if it's out at sea. Get the Shakespeare Super Halo 2G, 3G, 4G and LTE RV & Marine Cellular Signal Booster kit part # CA-VAT-10-R and you'll stay connected no matter where you are!
---
Share this post
---
---