Georgia Church Chooses SureCall Sig. Booster Installation.
May 19, 2017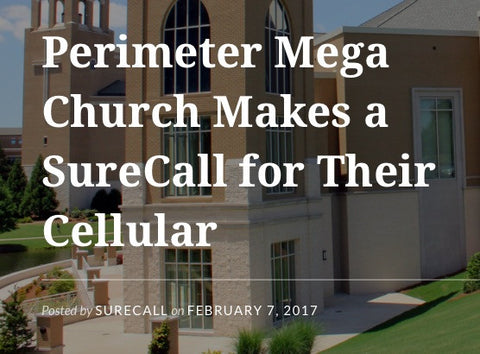 Perimeter Mega Church in Atlanta, Georgia chooses SureCall Force 5 cell phone signal boosting system to improve cellular reception inside their church.
A Case Study.
The Perimeter Mega Church used the SureCall Force5 signal booster with various antennas purposefully placed in the premises as a workable solution that does not interfere with AT&T cell tower or any other.
SureCall Booster Buyer Details.
Perimeter Church had tried resolving their mobile reception issues years earlier to ensure all areas of the church grounds from the coat closet, corridors, and classrooms to the cathedral had a clear working wireless phone signal whether one was on Verizon, AT&T or any other cellular service provider.
This was not only for public safety reasons, but also to ensure the church offices, lay and clerical staff were checking mails and making calls on office telephones and computers without hindrances.
Even an AT&T cellular tower on their brick bell house didn't help make the signal sufficiently better. After finding a repeater online AT&T indicated the repeater's antennas were interfering with their coverage and needed to be shutdown.
Therefore, they needed to find a working signal booster that didn't interfere with AT&T signals as well as other cell service providers.
Major Concern.
Find a replacement for their booster system and indoor antenna interfering with cell carrier's network that enhances their cell coverage in all areas of the Mega Church.
SureCall, the best solution to improve cell coverage.
Around 20,000 square foot of the mega church needed a solution that would offer coverage in every area. SureCall Force5 signal booster was chosen to be a perfectly working solution and antennas strategically placed would improve the coverage.
Most importantly, the Force5's gain controls have ability to be fine-tuned for all areas. In that process, it was easy to deal with the problem of interfering with the AT&T cell tower.
About Perimeter Mega Church.
Perimeter Church is a Johns Creek, Atlanta, Georgia mega church affiliated to the American Presbyterian Church. The modern facility was first used in 1996 with a magnificent architecture of impressionable intransience and tradition, with nursery and offices on its lower floors.
About SureCall.
A multi-patented cell phone signal boosters manufacturer and leader in the industry, SureCall blends top-tech and innovation to manufacture award winning cellular booster systems. SureCall cellular signal boosters improve 4G LTE and 3G data networks, including voice networks dramatically. Its boosters are used in commercial, residential, vehicles and in marine vessels.
Post Installation Results.
SureCall system offers enhanced coverage than earlier efforts.
No complaints so far from AT&T on system interference.
A weak coverage area was found post-installation and an antenna was added improving coverage.
Conclusion.
Facing similar cell phone coverage problems within your place of worship, business, home or vehicle? Give SignalBooster.com a call, a SureCall authorized installer, dealer and retailer by providing your location information and requirements.
A perfect cellular signal enhancing system will be designed and prepared for you. Proposal also includes a quote on installation and equipment for resolving reception issues in your building at a great offer within reasonable cell phone booster system installation time frame.
SOURCE: Originally posted at SURECALL.COM. Modified to highlight SureCall signal boosting products were used for installation. SignalBooster.com was not the installer of signal booster system in this case study.
---
Share this post
---
---