No Cell Phone Signal in Hospital? There's a Cellular Booster for that.
Jan 30, 2019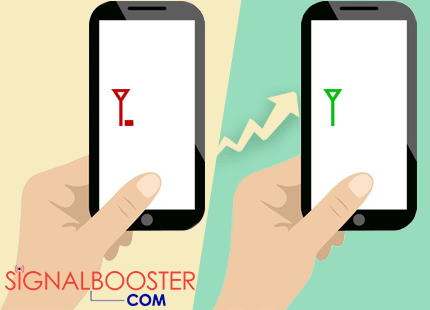 Hospitals can invoke a variety of emotions, from joyfulness at a new arrival to worry, concern, or even heartache to an unwanted diagnosis. But regardless of the reason for the visit, the majority of people visiting a hospital will have some need to reach out to family and friends to share vital information and to keep everyone updated. Whether you're communicating an updated diagnosis with out-of-town family or announcing a new arrival on social media, most people visiting a hospital will have some need for a good cell phone signal.
Unfortunately, hospitals are well known for weak or even non-existent signal coverage, making the process of getting online or making / receiving a phone call or text message a difficult one. While there are a number of different reasons why this is often the case, the most common reason comes down to the materials used in the construction of hospital buildings themselves. Hospitals tend to be created with steel, concrete, and other thick, strong materials that hamper cell phone signals more so than other construction materials.
It is understandable that those constructing hospitals will be more concerned with protecting the hospital's patients and staff from hurricanes, floods, fires, and other types of natural disasters, but this still makes it very difficult for people to access cellular signals that originate from outdoor cellular signal towers. While the importance of protecting the hospital's patients and staff should not be understated - particularly in a building filled with flammable materials such as oxygen, the resulting poor cell phone signals can be a cause of extreme frustration for staff members, visitors, and hospital patients themselves.
Staff at a hospital can often get by with workarounds such as hospital Wi-Fi systems integrated with VoIP (voice over IP) equipment so they can get on with the business of doing their job, but this doesn't help patients, their friends and family, and even other employees without access to VoIP equipment who may need to gain access to a patient database on a cloud-based server. Patients and visitors alike increasingly rely on their mobile devices to communicate with those outside and inside the hospital, while the necessity of staff to have reliable access to the Internet to properly do their jobs continues to increase.
Call Restricted Zones.
To make matters more difficult, some areas of hospitals expressly forbid cellular devices from being used. For this reason, there is little incentive for those involved in the design and construction of hospitals to actively work towards improving cell phone signals in the hospital building as a whole. In the radiology department, for example, cellular devices could negatively impact operations and other procedures, making restricted cellular signals beneficial from the point of view of hospital staff in these restricted zones. After all, a patient or visitor couldn't surreptitiously use their cellular device in a call restricted zone if the cell phone signal was poor or non-existent.
The question, then, comes down to this: As the manager or building owner of a hospital, how can you improve signal coverage in areas where visitors, patients, and staff need it most while maintaining the important device restrictions inherently necessary in certain zones? Luckily, there is a healthcare setting solution for poor cellular reception.
Using Passive DAS to Improve Signals on a Zone by Zone Basis.
The answer to the above question is to look at each zone within the hospital separately. To do this, you will be using passive DAS (Distributed Antenna System) technology, which allows for signals to be boosted in certain zones but not in others. While active DAS technology would require the installation of complex and expensive networks of fiber-optic cables throughout the entirety of the hospital, passive DAS technology relies on a much simpler method of bringing existing signals from outside into the hospital itself. Passive DAS technology, also known as cell phone signal boosters, often carries a price tag of half the cost of active DAS, or less.
When it comes to a hospital situation, passive DAS technology is seemingly the ideal solution, allowing signals to be boosted on a zone by zone basis as necessary. In this way, cell phone signals can continue to be restricted in zones where procedures and processes could be adversely affected by cellular signals, yet simultaneously boosted in common areas such as cafeterias and waiting rooms, and even in some patient wards.
By making good use of passive DAS technology, you can make the process of boosting and fine-tuning cellular signals within your hospital a simple process. Integration starts with a site survey by an experienced professional, who will use a cellular signal meter to determine the places where signals are weakest and strongest within the hospital. With this information, hospital zones can be identified and cellular signal boosters installed in relevant zones to improve cellular signals as appropriate.
Wilson is a leading manufacturer of passive DAS technology equipment, with solutions designed to fit the needs of spaces of any size, from tiny waiting areas to full-sized cafeterias and beyond. To find out more about selectively boosting cell phone signals within your hospital on a zone by zone basis, contact us for more information.
Boosting and Improving Cellular Signal Strength with a Zone by Zone Approach.
Did you know that weak cellular signals can be improved on a great number of projects by properly installing and optimizing a passive DAS (distributed antenna system) with one or more signal amplifier kit(s) and one or more indoor antenna(s)? Larger or more complicated projects and buildings may, on the other hand, require the installation of more robust technology such as active DAS.
Integrators encounter challenging set up on an ongoing basis and know how to use the tools and technology at their disposal to optimize the technological setup. In fact, many integrators take a zone by zone approach to effectively install a passive DAS system that meets all the requirements but without approaching the hefty price tag of an active DAS set up.
Given the benefits of a zone by zone approach, let us look at how it works and the situations it can best be applied to.
Understanding the Zone by Zone Approach.
The zone by zone approach can effectively improve cell phone signal coverage and spaces of almost any size, providing optimal connectivity over all networks and carriers, simply by using numerous boosters in each larger area. By utilizing multiple cables and boosters in each zone, you will be creating systems that are independent of each other and that can be installed one at a time, ensuring consistently strong and high-quality cell phone signals throughout the entire premises.
Ideally suited for buildings between 25,000 square feet and 45,000 square feet, the zone by zone approach solves the problem of single passive DAS setups covering a maximum of 25,000 square feet to 35,000 square feet. By using multiple boosters within the same area, you can dramatically increase the coverage range as needed.
By way of example, hospitals are ideally suited for the zone by zone approach, particularly those hospitals with wings and campuses that can span 150,000 square feet to 200,000 square feet and beyond. By using a zone by zone approach and adding additional systems, you can increase the 25,000 square feet to 35,000 square feet coverage area that would ordinarily be achieved with a single amplifier kit.
As cellular signal boosting technology continues to evolve, robust amplifiers are easier to obtain. In fact, depending on the building's layout and the specifications of the amplifier itself, one amplifier could potentially cover an area of as much as 100,000 square feet.
However, it is more commonly the case that projects and buildings are more complicated, and a bespoke strategy needs to be created. Multi-story buildings, complex layouts, and restrictive budgets can cause a zone by zone approach to be the ideal solution.
Best Practices of a Zone by Zone Approach.
It remains the integrator's responsibility to ensure the efficient deployment of systems when using a zone by zone approach. As with the setup and installation of any cellular boosting system, the system's losses and gains will be the ultimate determiner of the performance of the system overall.
For maximum and optimal performance, you must consider splitter and cable loss, antenna and amplifier gain, along with outdoor signal strengths. By way of example, if a single amplifier and its connected antennas could effectively cover a radius of 40 feet, that radius can be multiplied out as the working space increases.
By choosing the best running cables and indoor antennas, you can affect the performance of the system to a significant degree. For example, panel antennas are typically wall mounted and can effectively cover small areas with their focused pattern signals. Dome antennas, on the other hand, provide signal in a 360-degree pattern, and their blanket coverage is best suited to spaces with an open plan.
Given that cellular signal weakens as it passes through cable, it makes sense that optimum cable placement will be determined by considering the placement of indoor and outdoor antennas and determining the shortest route between them. Signal losses caused by necessarily long runs of cable can be rectified by the installation of additional boosters or antennas.
No two buildings are alike, and no two signal boosting technological setups will be the same. When it comes to custom solutions to suit any building, SignalBooster.com has the experts to design and deploy systems that are most suitable for most appropriate in-hospital cellular signal coverage.
---
Share this post
---
---