Texas Manufacturing Facility Signal Booster Installation Case Study
Feb 06, 2019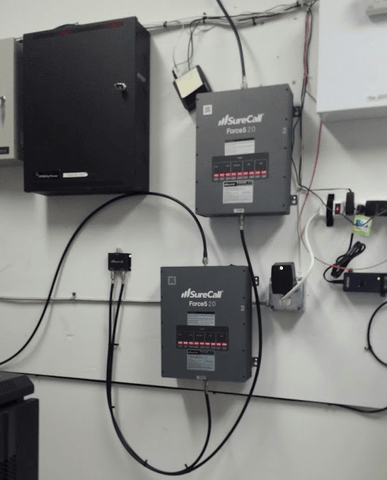 Being a Texas signal booster installer, SignalBooster.com was approached by a Conroe, Texas manufacturing facilty management personnel to help fix weak cellular reception inside building due to its metal roof and concrete walls.
Location Details.
A Conroe, Texas factory needed a reliable working cellular signal inside its facility. Two SureCall Force 5 2.0 systems in two floors completely transformed the facility resulting in quality and reliable cell phone coverage around the manufacturing establishment.
Major Concern.
This manufacturing facility required a reliable and quality cell phone signal service to efficiently run their business, access data, voice and text services, reliably. A cellular coverage problem meant the facility couldn't run smoothly even with some kind of signal on the outside. Considering a proper and efficient running manufacturing unit with safety and communication dependent upon a proper cellular reception inside the facility, a solution was highly needed. A complete site survey established that the manufacturing facility's main cellular signal problem was largely due to its thick concrete walls and metal roof resulting in a very poor interior cell reception.
Solution.
A detailed site survey established the problem. The building construction and structural integrity of the manufacturing facility, while laudable, was the reason for the poor cellular reception. After the survey and tests two systems were recommended for the first and second floor. The two systems included 2 x SureCall Force 5 2.0 amplifier with a 4-dome antennas on the first floor and 5-dome antennas on the second floor. Examination around the facility indicated the two systems and accompanying accessories would be efficient to alleviate the cell phone coverage issues.
Results.
After the completion of the installation around the manufacturing facility, a test was done. The result was a highly satisfying, reliable cellular signal around the complex. An excellent coverage in both floors where the signal was extremely weak or almost non-existent was attained. Now the manufacturer is able to carry out its duties and activities without having to worry about dropped calls, low to no data and text services and a risk to its safety.
Conclusion.
Whether in a home, vehicle, boat, business establishment or office of any size, you don't really need to suffer the consequences of a poor cellular signal. Safety and communication is key in any place, anywhere. We can help you deal with any cellular coverage issue in your premises, home or business (with solutions for your vehicle or boat as well) within United States and Canada. Get in touch today with the main details of your cell phone signal problem. A site survey, if needed, will be carried superbly and intensively. Then an affordable proposal will be generated, which will include both equipment and installation details to speedily correct your cellular reception problems immediately.
Coupler Connecting Cables:
Omni-Directional Roof-Mounted Antenna:
---
Share this post
---
---