Public Safety Grid Test Reporting & Compliance Verification Service
Jan 12, 2018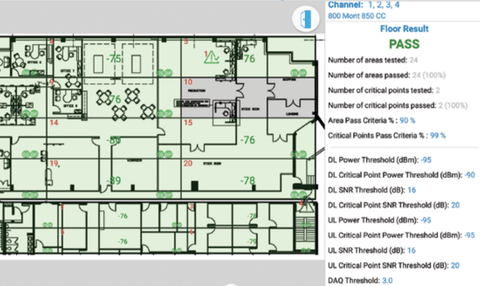 Public Safety wireless network coverage testing service is our forte. We provide quick, on-call, top-notch public safety coverage grid reports for our clients that need ERRC testing right away for urgent certification and approval. Our public safety grid test reporting and compliance verification service includes grid-based public safety network P25 SINR testing which is far superior than DAQ (Delivered Audio Quality) due to the latter's inconsistency of results and time-consuming nature.
Indeed, relying on SINR is a way of ensuring that coverage test results are significantly more reliable and efficient than old methods. This leads to enhanced signal quality standards and the ultimate in reliable means of communication for first responders and other similar personnel involved in public safety. Request Public Safety Grid Test Report Service now, that features measurements to the P25 SINR standard and fully in compliance with local codes, as well as codes specified by the IFC and the NFPA.
Public Safety RF Coverage System Design, Optimization, and Validation.
When it comes to the design, implementation, and testing of both Public Safety and Commercial Cellular DAS, nobody does it better than SignalBooster.com. Recognized today as a market leader in DAS and RF systems, SignalBooster.com has extensive experience in all aspects of Public Safety DAS. Our fully Certified and experienced staff are highly qualified in the design, operation, and implementation of RF systems and are experts in identifying and quantifying interference sources. Therefore, you can trust us with your RF coverage verification.
Testing for Public Safety Network Coverage.
The SignalBooster.com advantage is that our highly qualified technicians provide comprehensive testing based on their extensive knowledge of RF design, installation, and optimization. Using our automated reporting system, we provide our customers with fast, tailored, and accurate performance maps and summary reports.
Our thorough knowledge and expertise of RF systems ensures that our highly experienced staff can accurately assess performance whilst quickly identifying in advance any potential issues, thus saving time and money in maintaining compliance.
At SignalBooster.com, we offer a number of client services from compliance testing right through to full RF design, implementation, and optimization. The necessary equipment for performing testing services is typically provided by SignalBooster.com.
Who Do We Serve?
At SignalBooster.com our comprehensive customer base is wide-ranging - from major Neutral Host DAS companies to building owners, cellular carriers, general contractors, and Public Safety DAS deployment companies. The detailed and accurate reports provided by SignalBooster.com contain vital information used by emergency responder organizations to improve their performance and ability to defend life and property. These critically important services deliver detailed result analysis and are provided by fully certified and highly qualified technicians at SignalBooster.com to ensure that, at the completion of any project, engineers can readily review results with clients.
Testing for Public Safety Compliance.
In compliance with NFPA (National Fire Protection Association) requirements regarding documentation and testing, Signal Booster.com uses expert, certified technicians to provide full RF grid testing using P25 SINR (previously DAQ - Delivered Audio Quality) measurement services. Our comprehensive, detailed reporting system provides a thorough analysis of any queries or concerns to ensure that performance requirements are not only met, but exceeded.
NIST Recommendations Following 9/11.
In 2009, two standards were issued as a direct result of 9/11 and the subsequent NIST Recommendation No. 22. These now form the national standard basis of uniformity and have been designed to promote widespread implementation and guarantee the effectiveness of these standards. An important lesson learned from 911 is that in-building radio coverage is critically important to saving lives.
Recommendation No. 22 of the World Trade Center Report.
In response to the devastating events of the 9/11 terrorist attack, Recommendation No. 22 of the World Trade Center Report was issued by the NIST (National Institute of Standards and Technology). The overriding concern was to ensure that radio communications, emergency communications systems, and other communication protocols can be reliably used to locate, track, and identify emergency responders both in the field and within indoor building environments, and that these Public Safety systems are dependable in emergencies in buildings where the radio frequency is unreliable. Recommendation No. 22 covers the installation, testing, and inspection of all emergency communication systems to ensure the safety of the public, and of the buildings themselves.
International Building Code.
One of the outcomes of this code-change are that the International Building Code requires that existing buildings currently failing to provide reliable radio coverage must do so within a set period of time, as stated by the adopting authority. There are specific requirements for system design, and this includes the requirements for signal boosters, signal strength, the requirements for installation, and compliance and field testing. Hard wired communications systems are to be replaced with an Emergency Responder Radio Communication System, thus providing the necessary radio coverage throughout the building. In addition, bi-directional amplifiers (BDA) or distributed antenna systems (DAS) are necessary to ensure that the frequencies used by local emergency responder agencies can be handled. In short, emergency responder radios must have reliable coverage throughout both new and existing buildings.
The two published standards are:
The IFC (International Fire Code) Section 510; part of the IBC (International Building Code); and
NFPA 1; NFPA Annex 0 to the Fire Code. Annex O provides clear instructions for the performance, monitoring, and testing of the RES. The term RES (Radio Enhancement System) is used in Annex O; However, within the industry this system is typically known as a DAS (Distributed Antenna System) or a BDA (Bidirectional Amplifier System).
Over the past decade we have seen a number of fire jurisdictions in United States adopting standards to ensure reliable indoor radio coverage for public safety workers including firefighters, during emergency situations. Today, in order to be granted a Certificate of Occupancy (CO) by the relevant authority, compliance of these standards is often becoming a requirement. However, it should be noted that there are a number of signal coverage and RF-related issues that must be considered when aiming to achieve and maintain compliance. These might include the builder's use of absorbing or RF reflective construction materials, the source of the external signal, and localized interference. Once installed, reconfiguring a sub-standard design can be very costly, requiring expert design, and implementation of the RF system.
Request Public Safety Grid Test Report Service today.
---
Share this post
---
---