Review of SureCall Fusion5s 3G & 4G Signal Booster for Medium Areas
Sep 20, 2017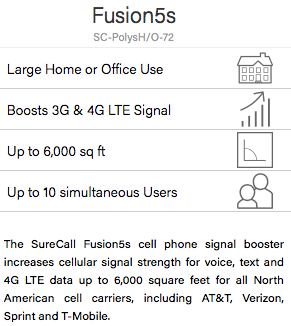 Review of SureCall Fusion5s 3G & 4G Cell Phone Signal Booster (5,000 to 6,000 sq. ft.) confirms the following unique features of this medium area (home or office) cellular signal booster or amplifier.

Fusion5s - All Carrier, Voice, and Data Cell Phone Booster. Available with 1 outside, and up to 2 indoor antennae.
Unique Features:
Separate lanes increase the number of simultaneous users up to 8 per amplifier.
Optional Yagi or Omni outdoor and dome or panel indoor antennas.
Provides all carrier enhanced cellular and data reception for areas of 5000 sq. ft. to 6000 sq. ft.
Adjustable attenuation dials for each band (industry exclusive configurability).
Remote Monitoring Sentry System Compatible.
Lifetime Tech. Support.
FCC & IC Certified and Carrier Approved.
3 Years Warranty and 60 Days Money Back Guarantee. 
Sentry Remote Monitoring feature available.
View Details
---
Share this post
---
---