SureCall Cell Signal Booster installed in Ontario, Canada.
May 08, 2017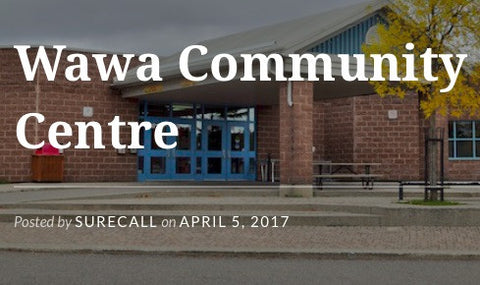 The Michipicoten Community Centre in Northern Ontario, Canada recently chose Surecall Force5 cell phone sig. boosters as the best solution to provide maximum coverage.
Case Study.
The Michipicoten Community Centre recently chose Surecall Force5 as the best solution to provide maximum coverage and better signal strength throughout the centre, including enhanced LTE capability within the 700 MHz Bell spectrum saving the facility from revisiting the signal issue later on if more bandwidth was required.
Customer Details.
The Michipicoten Community Centre in Wawa town, Northern Ontario, Canada with 3,000 residents has a space of 65,000 square feet. It is a structure with metal sides and metallic roof. Cell phone signals across the facility were hugely disappointing and the Centre needed a solution with 4G LTE capability for the entire structure. It also needed improved HSPA/3G network enhancements in all zones. The building required 24/7 supervision and poor signal strength put the security and safety of visitors and staff at risk due to pockets of dead zones in the building with a general -100 dbm on HSPA+.
Major Concern.
Enhance the overall poor cell phone signal strength in the facility and remove signal dead zones already in the facility with a robust solution to completely spread cellular coverage across the entire Michipicoten Community Centre.
Proposed Solution.
Due to the huge 65,000 square feet size of the centre, a really strong and highly reliable solution was needed to guarantee cellular device signal coverage reached across the facility. After weighing up all the available manufacturer products, Surecall Force5 immediately stood out. Surecall Force 5 cell phone sig booster was seen as the best solution due to the Michipicoten Community Centre's need for LTE capability solution within the 700MHz Bell spectrum. With installation of Force5, the facility was also ensuring they wouldn't have to revisit the problem a couple of years down the line if extra bandwidth would be necessary.
About Michipicoten Community Centre.
Michipicoten Community Centre's 65,000 square feet large space has a curling rink, ice arena and a gym. It serves over 3,000 people living in the Wawa town in Northern Ontario. The centre is the central venue for diverse events and festivities within the small town.
About SureCall.
Surecall is a leader in cell phone signal booster manufacturing and a multi-patented cellular device maker. Its signal boosters blend innovative designs and top-notch tech for reliable and top class performance. SureCall cellular device boosters enhance the 4G LTE, 3G and voice cell phone signals radically for use in cars and trucks, businesses and homes.
Post Installation Results.
Force 5 installation enhanced signal strength to five bars with average -83 dbm signal across the centre.
4G LTE Bell reception improved to an impressive -80 dbm across the centre.
700 MHz Bell network speeds now hit download speed highs of 30 Mbps and upload speeds of 10 Mbps with a 50 ms latency.
Strong cell phone signal coverage now in every part of the facility.
Cost-effective and affordable solution for a huge local public facility.
Conclusion.
Are you facing comparable cell phone signal challenges in your public facility or building? SignalBooster.com is a SureCall authorized retailer, installer and dealer. Send us requirements and location details and the most perfect cellular device signal amplification system will be prepared for your building. In the proposal, we will include installation and equipment quote capable of resolving your signal strength needs.
SOURCE: Originally posted at SURECALL.COM. Modified to highlight SureCall signal boosting products were used for installation. SignalBooster.com was not the installer of signal booster system in this case study.
---
Share this post
---
---