Nationwide SureCall Installers for Cell Phone Signal Boosters
Jul 08, 2014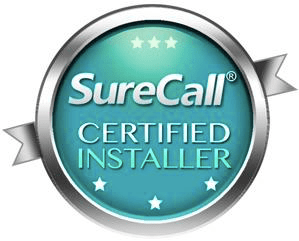 How can you get a quote or schedule a site survey?
Submit SureCall installation questionnaire and we will promptly respond with a quote if it is a straightforward installation, or contact you to schedule a suitable time for performing site survey to determine cost and timeframe for SureCall cell phone signal booster system installation. This installation service by SignalBooster.com is available nationwide so you need not worry about your location in United States and Canada. If we don't have certified installers in your local area, city, state/province, we will promptly dispatch our trusted SureCall install team for site survey at a moments notice.
Why choose SureCall Certified installers?
The reason to choose a SureCall Certified installer is that they have been trained to install SureCall signal boosters. This also means that they can troubleshoot that specific manufacturer boosters more precisely to save you time, and extra costs. They are professionals and they will design the system in the best way possible to ensure satisfactory cellular coverage in all required areas. Furthermore, they will select the most cost efficient system to provide coverage needed. They will design the system in such a way that it is utilized to its maximum capacity and capability to make it an affordable, yet extremely effective solution for you.
Why SignalBooster.com for SureCall Installations?
If you are looking for someone to install your SureCall signal booster system, then you're obviously looking for someone with experience, a good reputation, and an installer who will deliver a high-quality, cost-effective installation. Being the top SureCall installer, our team has performed countless installations. Our long list of satisfied customer reviews and case studies prove our dedication and expertise in solving the most complex mobile reception problems across the nation. Feel free to call SureCall, the manufacturer itself, for our excellent reference. SureCall refers clients to us on a regular basis because our trusted installation experts go above and beyond the extra mile to perform their task very diligently and to the complete satisfaction of our clients. We offer turnkey solutions from start to finish. Along with wall to wall coverage guarantee, we provide swift installations at low cost - thanks to our experienced installation team.
Local Installers Available Near You.
In many cases, we can provide a local installer who can be trusted to deliver a safe installation; someone with the necessary skills and expertise to handle all types of residential and commercial wireless telecommunication amplifying equipment. Your local installer, whether they be in Canada or the USA, will be licensed, insured, and fully trained to install your new cellular amplifier system.
Need a quote? Contact us Today!
If you need a quote for the required site survey, design and installation of a signal booster system, then contact us today and we will respond promptly. A certified installer will perform a detailed site survey to determine the appropriate installation specific to your needs. Your SureCall installer will have the latest up-to-date equipment and a full understanding of all SureCall products to ensure you achieve maximum performance throughout your commercial building or private residence from your new signal boosting system.
Why Do I Need a Site Survey?
This is a common question so let us address that here. The objective of a site survey is to pinpoint the most effective placement for outside antenna/s and to identify the requirements for both internal and external antenna/s. This information will be used to determine the correct industrial or commercial booster for your particular situation. Using specialized equipment, our certified installers are trained to install external antennas and run the coaxial cable to gain maximum signal strength, thus keeping communication options strong and reliable.
Our Customer Service is Second-to-None.
We understand that it is simply not enough to design the most innovative, high-quality and effective signal booster system; we must also provide a network of professional, reliable, and trusted installation partners who have the appropriate training and equipment to ensure the signal booster system is correctly installed. You can rest assured that our SureCall installers are highly trained, have the right equipment, and are fully certified to ensure you receive the most cost-effective and professional installation experience.
---
Share this post
---
---