SureCall 5X Max | SC-5XMax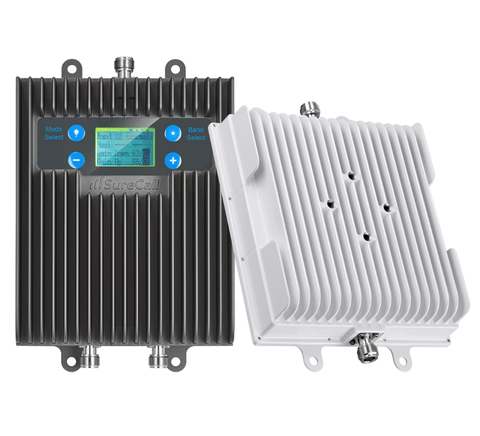 SureCall 5X Max | SC-5XMax
Best Price Guarantee. [1, 2, 3]
Buy Now, Pay Later with No Interest if paid in full within 6-12 months. Choose Klarna payment option at the checkout for details of this, and other long-term low-interest financing options.
Free Lifetime Support. SKU / Model: SC-5XMAX-Y2U+2U+OMNI
Best Price Guarantee [1 2 3]
Call for FREE consultation:
1(855)846-2654
Need installation quote, or help with designing a custom solution? Submit a request for quote.
Description
Reviews
Questions & Answers
Make An Offer
Warning
Description
Product Description
SureCall 5X Max Commercial Grade Signal Booster scalable for up to 75K Ft² | SC-5XMax
Requires professional Installation.
SureCall 5X Max Commercial Grade Cell Phone Signal Booster is scalable for up to 75,000 square feet depending on outside signal strength and interior components used.
Instantly improve 5G/4G LTE cellular signal indoors for all carriers and devices with the most powerful commercial cell phone signal booster equipped with EXTENDED RANGE TECHNOLOGY (ERT) designed for large offices, residential MDUs, industrial and enterprise buildings along with educational and business campuses. 5X Max significantly boosts voice, text and data signals on all 5G and 4G phones delivering enhanced coverage for all North American carriers, including Verizon AT&T and T-Mobile.
The performance-leading 5X Max wireless solution combines multiple patented technologies to create the most advanced booster delivering fastest data speeds, largest coverage area and improved connectivity for all mobile users inside large buildings in the weakest signal areas. The kit with two internal antennas covers up to 20,000 sq ft and is scalable with additional components that can accommodate up to 12 internal antennas for coverage up to 75,000 sq ft.
Includes industry-leading customer satisfaction suite with lifetime US-based tech support and industry best 3-year warranty. An optional 5-year extended warranty is also available.
SureCall Fusion 5X MAX is the newer professional grade version version of SureCall Fusion 5X 2.0 signal booster kit. The main functionality difference between the original Fusion5X 2.0 and the Max is that the latter has more uplink power (16 dBm versus 26 dBm, which is a huge upgrade). Having more uplink power means that when the outside signal is weak, the Fusion5X Max can reach out farther with its second EXTERIOR amplifier to capture more signal using exterior antenna. 5X MAX has advanced dual amplifier technology components unlike any other cell phone booster system.
Up to 75000 sq. ft. cellular boosted coverage Fusion5X Max MSRP: $5999.99 (great value proposition over the more expensive / under-performing competitors). SureCall IQ ensures Fusion5X Max will not overpower or shut down due to a strong outside signal.
SureCall Fusion 5X MAX Features & Highlights:
EXTENDED RANGE TECHNOLOGY — 5X Max is the first commercial booster to feature SureCall's proprietary ERT which overcomes signal loss in the outdoor cable by amplifying cell signals at the strongest point outside the building. This revolutionary innovation provides maximum performance and connectivity for a larger indoor coverage area, max tower range and fastest data speeds when compared to the closest competitor.
FULL IOT CLOUD ACCESS — 5X Max includes complete remote monitoring to manage while off-site with the option of recurring monthly revenue. The SureCall Cloud interface indicates signal strength in real-time providing installation feedback and troubleshooting.
DUAL INTERIOR PORTS — The indoor host unit features two high-power interior antenna ports– which is like having two boosters in one housing– delivering double the gain and power over a single booster. 5X Max is scalable with additional components that can accommodate up to 12 internal antennas for coverage up to 75,000 sq ft.
LCD DISPLAY SCREEN — The integrated LCD displays booster status and information that is helpful in setting up and optimizing the booster for best performance. With the system parameters displayed in real-time the installer is always aware of current status and helps with troubleshooting steps to re-position antennas and improve overall performance.
BEST-IN-CLASS PERFORMANCE — Patented 2XP technology DOUBLES uplink transmission power back to the cell tower ensuring a strong phone-to-tower connection even in weakest signal environments. Exclusive SureIQ automatically optimizes incoming signals, preventing shutdown and ensuring 24/7 uptime with continuous peak performance in both urban and rural areas.
For configurations to boost coverage for all sizes of indoor environments, kits are available with Omni or Yagi outdoor antenna and either 1 or 4 indoor Dome or Panel antenna options as shown in above drop-down menu.
This Cellphone Mate/ Sure Call Fusion-5X Max kit extends capabilities of SureCall Force 5 2.0 kit and does not include knobs! Instead, sophisticated software automatically controls the gain ensuring the Sure Call booster is operating at max performance at all times. It also provides up to 72 dB Gain in signal reception. Sure Call Fusion 5 Max cell phone signal booster kit encompasses and boosts signals on five bands. It provides tens of thousands of square feet of coverage based on antenna combinations chosen, structure of building, and outside signal strength. It boosts reception for all American carriers voice, text and 5G / 4G LTE signals including ATT Wireless, Verizon Wireless, T-Mobile plus all the rest of Carriers in USA.
It is very reasonably priced to boost maximum possible area for lowest cost per square foot when compared to other booster kits or DAS (Distributed Antenna Systems). It boosts reception to up to 15 simultaneous users or mobile connections. It works just the same for all cell phone brands like Apple iPhone, Samsung, LG, HTC, OnePlus, ZTE, Motorola (Moto), Google Pixel XL/ Nexus models, Kyocera, Blackberry, Microsoft Lumia, and Nokia.
Which type of interior antenna(s) to choose?
Dome internal antennas are suggested when coverage needed inside the home or building is in a circular fashion as in an elliptical, round dome shaped, or a square room. Therefore, in-building omnidirectional dome antennas are best suited for a central location. They radiate in a linear horizontal fashion and are best for single floor level boosting. See diagram image of installation sketch provided showing 4 dome antennas installed.
Panel internal antennas are suggested when coverage needed inside the home or building is across long rectangular spaces like a corridor and/or multi levels. For covering long rectangular spaces, the panel antenna can be mounted on the wall facing the length such long narrow spaces. For covering multiple floors, the panel directional antenna can be mounted on the ceiling facing downwards so it boosts reception to the spaces on the floors below as well. In-building unidirectional panel antennas allow for optimum reception to targeted areas. See diagram image of installation sketch provided showing 4 panel antennas installed.
Signals being able to penetrate walls depends on the strength of incoming signal to the booster and the construction material of the walls.
Which type of exterior antenna to choose?
Omni external antenna (360 degree beam-width) is best used used when the outside signal strength is -85 dBm or stronger. It catches signal from all cell towers of all cell carriers from all directions but it is not as powerful as the Yagi antenna. Therefore, it is ideally used in places with existing good to strong cell phone signal signal strength.
Yagi external antenna (60 degree beam-width) is best used when the outside signal strength is -86 dBm or weaker. It catches signal from one specific direction where it is pointed to. It focuses signal attraction from a particular cell tower much farther away than omni antenna can attract. Therefore, it is ideally used in places with existing weak cell phone signal signal strength.
The closer the signal is to 0, the stronger the signal. For example -75 dBM is a stronger signal than -85 dBM.
Should I choose kit with one or four interior antennae?
Booster kits with multiple indoor antennas are best used to increase coverage on multiple floor levels, expansive single story and/or densely constructed buildings. i.e. internal concrete walls.
SureCall Fusion 5X-MAX boosts 2G, 3G, 4G, 5G LTE indoor cell signal booster and is are compatible with all U.S.A. wireless service providers.
Fusion5X Max Signal Amplifier Specifications:
| | |
| --- | --- |
| Uplink Frequency Range (MHz): | 698-716 / 776-787 / 824-849 / 1850-1915 / 1710-1755 (G Block Included). |
| Downlink Frequency Range (MHz): | 728-746 / 746-757 / 869-894 / 1930-1995 / 2110-2155 (G Block Included). |
| Supported Standards: | 4G, LTE, 5G, CDMA, WCDMA, GSM, EDGE, HSPA+, EVDO, LTE and all cellular standards. |
| Input/Output Impedance: | 50 Ohm. |
| Maximum Gain: | 72 dB. |
| Noise Figure: | <8 dB. |
| VSWR: | ≤2.0. |
| AC Input: | Input AC 110 V, 60 Hz / Output DC 12-15 V. |
| Maximum Output Power: | 1 Watt EIRP. |
| Uplink Power: | +26 dBm. |
| Cable: | SC-400 (100 ft for exterior antenna). |
| RF Connectors: | N-Female (both ends). |
| Power Consumption: | <25W |
| Outside Amplifier Operating Temperature: | 4°F to +158°F |
| Outside Amplifier Dimensions: | 8.63 x 6.83 x 2.18 inches |
| Outside Amplifier Weight: | 4.6 lb |
| Inside Host Unit Operating Temperature: | -4° to +104° |
| Inside Host Unit Dimensions: | 9.63 x 6.50 x 1.98 inches |
| Inside Host Unit Weight: | 4 lb |
| Cerifications: | FCC ID: RSN-FUSION5XMAX; IC : 7784A-5XMAX |
SureCall Fusion5X Max Bands and Frequencies.
FREQUENCY
BAND 12/17
700 MHz
 
BAND 13
700 MHz
 
BAND 5
850 MHz
 
BAND 4
1700/2100 MHz
 
BAND 25/2
1900 MHz
This SureCall booster supports 4G and 5G devices.
SureCall signal boosters are 5G compatible, which means they support both 4G and 5G devices. All SureCall's current vehicle and home boosters amplify any modulation (4G, 5G) that operates on the five most common up and down cellular frequencies bands. This makes SureCall current signal boosters compatible with 5G devices as carriers begin to transmit 5G signals over the existing frequency bands and towers.
Cable length customization.
For most practical purposes, included cable lengths will suffice for installation. However, in rare situations longer cable(s) may be needed due to very long distance between antenna, and signal amplifier unit. Secondly, in some cases where signal that exterior antenna can capture happens to be very weak to provide enough interior improved coverage space, a customized shorter cable will be best to minimize signal loss. The reason for this is that cables incur signal loss so longer the cable, more the loss of signal incurred. Therefore, see below for optional longer or shorter custom cable purchase suggestion to facilitate installation and/or better performance.
Optional Cables and Accessories Available.
Cables incur signal loss. Therefore, shorter the cables, the better the performance. While this kit may include LMR400 equivalent 100 ft. exterior antenna cable, and same type 75 ft. cable for each interior antenna (interchangeable), you can buy different size cable(s) as needed for tight installation to minimize signal loss. Buy either from the list of Black Type 400 cables or White Type 400 cables (must be purchased separately).
Although this purchase has all the components required to install the system, the following accessories may make the installation easier and help protect the system in the future:
J-Bar Pole Mount For Outdoor Antennas: Adjustable 20" J-bar outdoor antenna mounting pole is a universal mounting pipe that allows you to position your exterior antenna higher for optimal reception. The bracket attaches to any flat surface including a roof, fascia, side of house, or deck rail.
Lightning Surge Protector (50 Ohm): In-Line Surge Arrestor with connectors for SC-400 coaxial cables protects signal booster from damaging electrical surges. Or choose aftermarket 50 Ohm surge protector.
Grounding kit helps ground the surge protector to disperse lightning surge.
Kitting Options:
SC-5XMAX-Y2U — 5X Max indoor host unit with power supply, outdoor Yagi antenna, outdoor amplifier with ERT, 2 Ultra-Thin antennas, 3 x 100 ft SC-400 cable.
SC-5XMAX-Y2P —5X Max indoor host unit with power supply, outdoor Yagi antenna, outdoor amplifier with ERT, 2 panel antennas, 3 x 100 ft SC-400 cable.
Consumer Alert:
Reviews
Questions & Answers
QUESTIONS & ANSWERS
Have a Question?
Be the first to ask a question about this.
Ask a Question
Data Sheet / User Guide
Make An Offer
Warning
Note: For any signal booster to help, outside signal strength must be at least -110 dB or there must be a clear line of sight to a cell tower that is within twenty miles. Before ordering, please check outside signal level in decibels or ensure that you can make and hold a phone call at any good spot outside where you can mount an exterior antenna. Square footage stated in signal booster listings is based on good signal outside. If it is any weaker, the boosted sq. ft. area will be considerably lower, accordingly.
Kevin K. of Anderson, California gave the following review:
Website is easy to use with plain straight forward info but could have had more on testing signal strength to make sure you get a strong enough booster.
Therefore, please note that stated sq. ft. coverage is based on good signal outside. For best results: If outside signal is weak, we suggest choosing the next higher sq. ft. coverage kit. If outside signal is very weak, we suggest choosing the kit with even more higher sq. ft. range bracket. Basically, higher the sq. ft. bracket, the more powerful the signal amplifier with greater Gain as well as higher uplink and downlink output power.
If outside signal is too weak (weaker than -110 dB), submit request for cell coverage solution assessment. Upon receipt of questionnaire, we will perform residential or business site survey. This will help us determine the system that is needed to improve cell coverage. Then, we will create system design using that system such as femtocell, active or hybrid distributed antenna system (DAS), or other carrier feed signal enhancing method available that will work at your signal-challenged location. Finally, we will schedule for installation after equipment and installation service quote has been approved by you, or your company.
For non installation-included kits: Most home / office / building cell signal booster kits only include bracket to mount exterior antenna on outside wall, edge of roof, or existing pipe up to 2 inches in diameter. Mounting pole not included with most kits, unless stated specifically that it is included for free. Therefore, a mounting post must be purchased separately if you will require it to mount exterior antenna.
---
Related Products