5 in 1 Lightning to Ethernet Adapter (Apple iPhone to RJ45, 3.5mm, USB, etc.)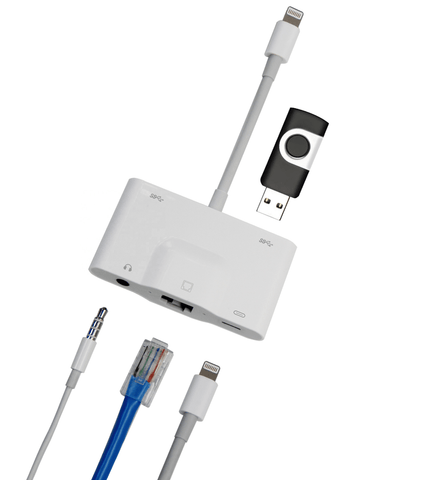 5 in 1 Lightning to Ethernet Adapter (Apple iPhone to RJ45, 3.5mm, USB, etc.)
Regular price

$75.00 USD

Sale price

$49.95 USD
Best Price Guarantee. [1, 2, 3]
Buy Now, Pay Later with No Interest if paid in full within 6-12 months. Choose Klarna payment option at the checkout for details of this, and other long-term low-interest financing options.
Free Lifetime Support. SKU / Model: LIGHTNING-ETHERNET-ADAPTER
Best Price Guarantee [1 2 3]
Call for FREE consultation:
1(855)846-2654
Need installation quote, or help with designing a custom solution? Submit a request for quote.
Description
Reviews
Questions & Answers
Make An Offer
Warning
Description
Product Description
5 in 1 Lightning to Ethernet Adapter (Apple iPhone to RJ45, 3.5mm, USB, etc). If you want to bypass your wifi signal and connect your Apple SmartPhone, or iPad directly to high speed ethernet connection, this adapter is what you need. Eliminates weak wi-fi problem quickly and eliminates electric and magnetic (electromagnetic) field (EMF) radiation concerns if holding your tablet computer or cell phone for a long time.
How can you receive cell phone calls?
With cell phone (Apple iPhones) connected to this adapter and its "Airplane mode" turned on, you will enable you phone to access Internet through office / home internet cable connection. However, your incoming cell phone calls will go directly, straight to voicemail without ringing on your phone. If you need to receive phone calls, you can turn on cell phone call forwarding to forward all cell phone calls to your home or office phone depending on whichever or wherever you will be, to answer those calls.
How to forward cell phone calls to landline?
Call your cell phone provider to find out the cell calls forwarding code sequence, or try this: Open phone calling keypad in your iPhone and type *21*(10 digit landline phone number)#(Send or Call button). Please note that cell phone call forwarding service may be a feature that costs money through your cell phone carrier so you can subscribe to it if you wish or they may charge exorbitant fees leaving you with a huge bill to pay. Some cell carriers may charge per cell phone call forwarded to landline phone. Some cell service providers may charge by the minute for the duration of those forwarded calls. Therefore, please ensure you have a satisfactory agreement with your cellular carrier before deciding to forward your cell phone calls to home or office telephone.
Includes Other Useful Connectors:
With this cable attached to multiple adapters, you can connect your smartphone or tablet to several other devices. The cable has a connector for your phone, and several other connectors exist on unit for networking connectivity of your phone with, for example, a camera, Internet through cabled broadband modem, etc.
This lightning to Ethernet adapter is specifically designed to solve the problem of Apple iOS devices that can only connect to cellular and Wi-Fi - both of which can be unstable due to weak signals inside homes, offices, and buildings. In lieu of an expensive cell signal booster system installation, this adapter can get the phone or tablet PC to use fast cable wired data via the RJ-45 port of this adapter. This facilitates use of cell phone's Internet accessing capability through highest speed cable Internet.
USB On-The-Go (OTG):
In addition to RJ45 port and ability to charge your device simultaneously, this adapter offers multiple USB interfaces. These can support peripherals that require 500mA power. Examples of such devices and gadgets that can be directly connected include USB flash drive, USB keyboard, USB earphone / headset, or USB camera whereby you can import photos to, and from your iOS devices.
There're current limits on USB peripherals when using USB ports supplied. To make sure that an accessory can be used normally on your iPhone / iPad / iPod Touch, please confirm that operating current of respective accessory is less than, or equal to 500mA, otherwise the device will display a message stating "excessive power consumption".
When USB peripherals with high power consumption need to be used, you can plug in the charging cable simultaneously to solve or overcome the problem of message that states USB cannot be used due to high power consumption.
Operation of devices with earlier than iOS 13.0 operating system:
When using "Photos", to import pictures from USB flash drive to your device, the name of the pictures should follow "file naming rules" (showed in respective "non-digital camera photo naming rules") or the pictures may not get recognized.
Operation of devices with iOS 13.0 and later operating system version:
1. When using "Photos" to import photos from USB flash drive to your device, the naming of photos should follow the "file naming rules" (as shown in respective "Non-digital camera photo naming rules") or the photos may not get recognized by the device.
2. For iOS 13.0 and above, you need to open "Photos" manually, then import option will appear.
3. "File" App can identify storage devices. Through that application, you can browse and transfer data in both directions to, and from the devices.
4. USB interface can use the computer mouse. Connect it to the device through adapter first, and then in your device choose: Settings > Accessibility > Touch Assist > Touch On. When the mouse is moved, the dots in the device will also move which means it has synced and started working.
Operation for Ethernet:
Turn off the cellular and WLAN before connecting ethernet cable through this adapter.
Open "Settings" and find "Ethernet" option. If ethernet choice does not pop-up, please remove and plug-in adapter again. Click "Ethernet" and then click "USB10 / 100 / 1000 LAN". When the "router" gets the address, you can then access Internet.
Operation for lightning charging interface:
The charging interface can be used with any device that supports charging through that type port.
When USB peripherals with high power consumption need to be used, you can plug in the charging cable simultaneously to solve or overcome the problem of message that states USB cannot be used due to high power consumption.
When you re-plug adapter to your device, you also need to unplug and replug the charging cable again or it may not resume charging.
Non-digital camera photo naming rules.
Pictures taken by non-digital cameras are stored on the memory card. Therefore, you need to rename the photos and change their storage location. Only then will your iPhone / iPad / iPod Touch device will automatically recognize the card. For cards removed from digital camera, the digital device processes photos according to this naming rule, and storage location. Thus, you can directly insert imported data. If the data in your memory card is not taken directly by camera, but copied in, the following conditions must be met:
If the copied photos and videos were taken outside the camera, they must be placed in a folder named after the photos and videos taken with the digital camera. For example, if a photo taken on a mobile phone needs to be imported, you need to create a camera folder (Canon) 100CANON. Then put the photos in. Then save 100CANON folder in the DCIM folder. Then save that DCIM folder in the memory card's root directory. The path for it would then be: SD Card > DCIM-100CANON > Photos and videos.
The photos and videos in the folder need to be renamed. The naming rule is "IMG_XXXX", where the "XXXX" (4 digits) is the unique numeric code in that folder and cannot be repeated.
Ethernet RJ45 Connector High Data Speed:
This adapter has a high speed RJ45 ethernet connection that offers high transfer speed to support 10/100Mbps. Actual speeds may vary depending on network modem being used.
iOS Lightning Connector High Transfer Speed:
12M/s-16M/s transfer speed enables you to to surf at high speed on your Mac phones and tablets. Actual speeds may vary depending on networking devices being used.
High Power Lightning Charging Current:
500-2100mA charging power charges your iOS device fast. Actual speeds may vary depending on powering devices being used.
Reviews
Questions & Answers
I bought this to live stream fitness classes with my iPhone. Connected directly to ethernet - that part works but the audio does not connect. I'm using a Rode wireless mic and have tried plugging it into the 3.5mm audio input and it won't sync. Any recommendations on how to fix this?

Only suggestion would be to twist / rotate the connection to ensure that it is making proper contact. If it still does not work, please return for refund and buy another because it seems you may have a defective unit as we do not see why it should not work.

Does the headphone jack work on online call if using trrs cable coming out of my mixer into the adapter to chat or do livestream?

Sorry, we have not tried that so we do not know for sure but since there's an audio jack in the device there's no reason it would not work. If in event it does not work, you can return for full refund within 60 days of receipt.

An overview of types of such cables for those that don't know.

When it comes to cables, there are three important abbreviations you need to know: TS for tip/sleeve, TRS for tip/ring/sleeve, and TRRS for tip/ring/ring/sleeve. These abbreviations are in reference to the number of contacts that can be found on the end of a cable - whether a quarter-inch or auxiliary. The fastest way to identify the type of cable you're working with is simply to count how many black rings can be seen on the cable head. If you can see three rings you have a TRRS cable, two rings for a TRS cable, and only one ring for a TS cable.

TS cables give a sound signal that is solid, owing to its one point of contact. TS cables are sometimes referred to as mono cables.

TRS cables provide right and left audio channels thanks to the additional ring, as compared to a TS cable. As such, they are often referred to as stereo cables.

TRRS cables include right and left audio channels just like a TRS cable, but also include a microphone channel. Most commonly located on earbuds or headsets, TRRS cables include inbuilt microphones which allow you to speak into the inline controller.

Does this work with iPads as well?

Yes, it will work the same when iPad models which also have the same type lighning port adapter.

I wanna use this for connecting an external hard drive and also connect an sd card reader. The end goal would be to dump footage from the SD card through the I pad into the External.

As long as you need ports that are included in description of this item, it should work - otherwise, it is not what you seem to need.

I'm looking for something to reduce my exposure to EMF while using my iPhone. On another similar product a reviewer said the adaptor dropped the connection unless it was hooked up to the charging cable, which I would not want to do while using the phone. Any idea whether this unit would function purely as a Ethernet to iPhone passthrough, without the need to charge the phone simultaneously?

Yes, this is designed to work as pass-through enabling use of Category 5, 6, 7 cables on iPhones with lightning adapter. It does not need charging cable connected simultaneously.

Does the aux 3.5mm port work as an audio input so I can use a microphone for my iPhone?

Yes, it converts a standard 3.5mm headset jack to lightning connector which you can connect to your compatible iPhone with std. lightning port at the bottom.
Data Sheet / User Guide
Make An Offer
Warning
Note: For any signal booster to help, outside signal strength must be at least -110 dB or there must be a clear line of sight to a cell tower that is within twenty miles. Before ordering, please check outside signal level in decibels or ensure that you can make and hold a phone call at any good spot outside where you can mount an exterior antenna. Square footage stated in signal booster listings is based on good signal outside. If it is any weaker, the boosted sq. ft. area will be considerably lower, accordingly.
Kevin K. of Anderson, California gave the following review:
Website is easy to use with plain straight forward info but could have had more on testing signal strength to make sure you get a strong enough booster.
Therefore, please note that stated sq. ft. coverage is based on good signal outside. For best results: If outside signal is weak, we suggest choosing the next higher sq. ft. coverage kit. If outside signal is very weak, we suggest choosing the kit with even more higher sq. ft. range bracket. Basically, higher the sq. ft. bracket, the more powerful the signal amplifier with greater Gain as well as higher uplink and downlink output power.
If outside signal is too weak (weaker than -110 dB), submit request for cell coverage solution assessment. Upon receipt of questionnaire, we will perform residential or business site survey. This will help us determine the system that is needed to improve cell coverage. Then, we will create system design using that system such as femtocell, active or hybrid distributed antenna system (DAS), or other carrier feed signal enhancing method available that will work at your signal-challenged location. Finally, we will schedule for installation after equipment and installation service quote has been approved by you, or your company.
For non installation-included kits: Most home / office / building cell signal booster kits only include bracket to mount exterior antenna on outside wall, edge of roof, or existing pipe up to 2 inches in diameter. Mounting pole not included with most kits, unless stated specifically that it is included for free. Therefore, a mounting post must be purchased separately if you will require it to mount exterior antenna.
---
Related Products