Wireless Extender & Router (2.4 & 5.8 GHz, 1200 Mbps) - WiFi Signal Booster, Amplifier, Repeater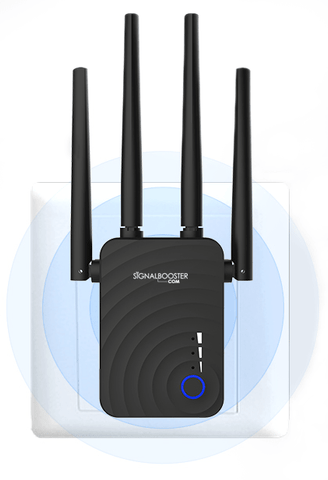 Wireless Extender & Router (2.4 & 5.8 GHz, 1200 Mbps) - WiFi Signal Booster, Amplifier, Repeater
Regular price

$75.00 USD

Sale price

$59.99 USD
Best Price Guarantee. [1, 2, 3]
Buy Now, Pay Later with No Interest if paid in full within 6-12 months. Choose Klarna payment option at the checkout for details of this, and other long-term low-interest financing options.
Free Lifetime Support. SKU / Model: WIFI-SIGNAL-BOOSTER
Best Price Guarantee [1 2 3]
Set-up is easy: Plug & play design makes it easy to install anywhere.
Covers both wifi frequencies: 5 GHz & 2.4 GHz networks covered.
Wide compatibility: Compatible with any router, modem and AP.
Multiple Modes: Choose Repeater mode, AP mode or Router mode.
Universal compatibility: Extend wi-fi to all devices that can connect to wifi - Apple iPhone, iPad, MacBook, IBM PC and all Android devices such as phones and tablet computers.
Call for FREE consultation:
1(855)846-2654
Need installation quote, or help with designing a custom solution? Submit a request for quote.
Description
Reviews
Questions & Answers
Make An Offer
Warning
Description
Product Description
High speed 1200 Mbps wifi signal booster, amplifier, repeater, extender covers both 2.4 GHz as well as 5.8 GHz frequencies used across USA and Canada for wifi transmissions. Equipped with four omnidirectional dual frequency high gain antennas, this wifi booster has strong wi-fi signal receiving and transmitting capability. It works with any brand Internet router such as Netgear, Asus, D-Link, Linksys or TP-Link. Easy to install - all you do is plug it into an electrical outlet.
Extend wifi coverage to every corner of your home and office.
Now extend wifi coverage to every corner of your home and office because this device has ability to transmit signals through interior walls within houses, apartments, offices, etc. It can help extend wireless coverage to corners and areas where reception would not reach normally due to obstructions. For best placement and optimal reception, all 4 antennas can be rotated 180 degrees.
If placed in area of good wifi reception, it will project that same strong wifi signal up to 1,200 sq. ft. farther into the home/office - across walls and all other obstructions. 1200 sq. ft. is just a rough estimate, so coverage space can be much larger in many cases. In addition to all interiors of building structure, it can even project strong wi-fi signals hundreds of feet outside your office/home on patio, lawn, garden, etc.
Easy Plug & Play Installation.
Most in North America now use fiber broadband and gigabit dual band router for their wireless connectivity needs. Enjoy high speed WiFi for smooth wireless network experience with this wonderful partner of your gigabit router. It acts as a satellite to extend coverage of your current wifi router. Simply plug it into wall electrical outlet in any area between current router and the farthest corner where your wireless coverage will not reach and see the difference.
Flexible to use, and easy to set up with multi-functions that help with easy plug and play installation. It has a unique toggle function for mode setting - It can switch to repeater mode (for wifi extending and wifi transformation to wired network), AP mode (for wired network conversion to wireless network), and router mode (for using as a mini router) per requirements of user's different applications.
Features:
Intelligent signal indicator helps find the best placement of the wifi repeater according to the change in bright signal indicator lights. 3 lights mean strong signal, 2 lights mean medium strength signal, and 1 bright light means weak signal (wifi booster must be moved closer or farther from main router for better wireless range).
Excellent system design helps keep it cool and provide stable performance consistently with good heat dissipation from both sides, left and right. Isolated side heat dissipating design also prevents dust from accumulating in the vent holes provided on both sides of the wifi boosting unit that plus into any wall outlet in USA and Canada.
Other design features include power light switch and WPS button, WAN and LAN ports, Power Switch, Reset Button (press for 5 seconds for reset function), scientifically designed dissipating heat holes on both sides of the unit to keep it cool at all times. 
Automatic setting memory feature makes this is truly plug and play device with no maintenance required once set up correctly. After the first successful setting, there's no need to repeat the settings even if you move it to a different room or office cubicle because it detects the distance from main router and adjusts accordingly. Transferring to bedroom, living room, kitchen, balcony, or even restroom becomes as easy as plugging off from one place and plugging it in at another place.
Only 3-Step Set-Up:
Only three steps to complete the setup using a cell phone or laptop / desktop / tablet computer. The factory default mode is "repeater mode".
Step 1: Use your cell phone or any Internet to connect to the wifi repeater.
Step 2: Enter 192.168.10.1 in any browser like Chrome, Internet Explorer, or Safari and set up a secure password.
Step 3: Select "Repeater Mode", and choose SSID you want to repeat, and finally input password of your main Internet router to finish set up.
Shipped Contents Include:
Wi-Fi repeater unit that plugs into any wall outlet.
A network cable, if needed, to connect directly using hard wire connection from this device to any hardwire capable Internet device.
An installation guide.
Specifications:
| | |
| --- | --- |
| Antenna: | 4 External 2 dBi Omni-Directional Antennas. |
| Buttons: | WPS, RST, 3 Mode Switch (Repeater + Router + AP), Power Switch. |
| RF Parameters: | Output Power (Max): 100 mW (20 dBm), Receiving Sensitivity (Max): -96 Bm, Frequencies 2.412 to 2.472 GHz and 5.180 to 5.825 GHz. |
| Standard: | IEEE 802.11ac/a/b/g/n. |
| Physical Ports: | 10/100 Mbps WAN RJ45 Ethernet Port and 10/100Mbps LAN RJ-45 Ethernet Port. |
| Indicators: | Three color lights: Red light to indication signal extension failure, Yellow light indicating too far or too close from main router, Blue light meaning optimum signal range expansion in progress or Router Mode / AP Mode. |
| Transmission Rate: | 11b: 1/2/5.5/11Mbps, 11g: 6/9/12/18/24/36/48/54 Mbps, 11n: 300 Mbps, 11ac: 867 Mbps. |
| Security: | WPA-PSK/ WPA2-PSK; WPA/ WPA2. |
| Working Mode: | AP/ Repeater/ Router Mode. |
| Dimensions: | 7 inches x 3 inches x 2 inches. |
| Working Environment: | Working temperature: 0 to 40 degrees celsius, Storage temperature: -40 to +70 degrees celsius, Operating humidity: 10% to 90% RH non-condensing, Storage humidity: 5% to 90% RH non-condensing. |
WiFi Booster Video:
Feature Summary:
Set-up is easy: Plug and play design makes it easy to install anywhere indoors.
Covers both wifi frequencies: Boosts signal on both 5 GHz & 2.4 GHz wireless networks.
Wide compatibility: Compatible with any router, modem and access point (AP).
Multiple Modes: Versatile with 3 modes to choose from - Repeater mode, AP mode or Router mode.
Universal compatibility: Extend wi-fi to all devices that can connect to wifi - Apple iPhone, iPad, MacBook, IBM PC and all Android devices such as phones and tablet computers.
Reviews
Questions & Answers
Will this product boost cell phone signal in the home?

No, this works only for expanding wifi coverage. Get cell phone signal booster for what you need to do.

Will this boost the signal to my furthest Arlo camera?

As long as distance is within range of this wifi booster, in can improve your Arlo camera's connectivity.

Please note this needs to be placed where there's some signal so that it can project that signal farther.

It will not amplify signal if there's none.

Please view animated image of how this wifi extender works.

That will help you understand that you must not place this extender outside the coverage area, but well within the current wi-fi coverage area.

Does this keep and repeat the current SSID or give a new ID? Example: modem ssid: our wifi will the repeater give me ourwifi.ext ?

It will give a new SSID which is on the wifi extender.

See sample image below how it appears:

 

I currently use a Verizon T1114 router with voice. I have 2 questions. 1. Will this unit increase the distance and signal strength of wireless accessories such as wireless wifi video camera signals between the camera and the router? 2. Will this unit improve the strength of the Verizon cellular 4g service signal to our cell phones? Thank You

The wireless transmission devices you have seem to work on cellular frequencies (600 MHz - 2700 MHz / 2.7 GHz) which are slightly different from wifi freq. of 2.4 GHz & 5 GHz that this booster works on. You would need a cellular booster to improve reception, not this wifi booster.

Are cables included with the wireless Router?

No. For using as wifi booster, it only requires a wall electrical outlet so this unit can be plugged in. If you want to use it as a router, you must use your own ethernet cable. This wireless extender purchase comes only with the main unit that plugs into home/office 110V power outlet and user manual that provides all instructions on ways it can be used.

How far (distance) will this extender reach?

If placed in area of good wifi reception, it will project that same strong wifi signal up to 1,200 sq. ft. farther into the home/office - across walls and all other obstructions.

Does the wireless extender and router need to be by the main router to boost WiFi signal?

No, it can be anywhere there's some wifi signal reaching already, so it can amplify it and send it farther.
Data Sheet / User Guide
Make An Offer
Warning
Note: For any signal booster to help, outside signal strength must be at least -110 dB or there must be a clear line of sight to a cell tower that is within twenty miles. Before ordering, please check outside signal level in decibels or ensure that you can make and hold a phone call at any good spot outside where you can mount an exterior antenna. Square footage stated in signal booster listings is based on good signal outside. If it is any weaker, the boosted sq. ft. area will be considerably lower, accordingly.
Kevin K. of Anderson, California gave the following review:
Website is easy to use with plain straight forward info but could have had more on testing signal strength to make sure you get a strong enough booster.
Therefore, please note that stated sq. ft. coverage is based on good signal outside. For best results: If outside signal is weak, we suggest choosing the next higher sq. ft. coverage kit. If outside signal is very weak, we suggest choosing the kit with even more higher sq. ft. range bracket. Basically, higher the sq. ft. bracket, the more powerful the signal amplifier with greater Gain as well as higher uplink and downlink output power.
If outside signal is too weak (weaker than -110 dB), submit request for cell coverage solution assessment. Upon receipt of questionnaire, we will perform residential or business site survey. This will help us determine the system that is needed to improve cell coverage. Then, we will create system design using that system such as femtocell, active or hybrid distributed antenna system (DAS), or other carrier feed signal enhancing method available that will work at your signal-challenged location. Finally, we will schedule for installation after equipment and installation service quote has been approved by you, or your company.
For non installation-included kits: Most home / office / building cell signal booster kits only include bracket to mount exterior antenna on outside wall, edge of roof, or existing pipe up to 2 inches in diameter. Mounting pole not included with most kits, unless stated specifically that it is included for free. Therefore, a mounting post must be purchased separately if you will require it to mount exterior antenna.
---
Related Products