An item you're pre-ordering is on backorder so it will take few days to ship - are you sure you want to proceed to order it?
Close
Multi-Polarized WiFi Antenna Signal Booster (2.4 GHz)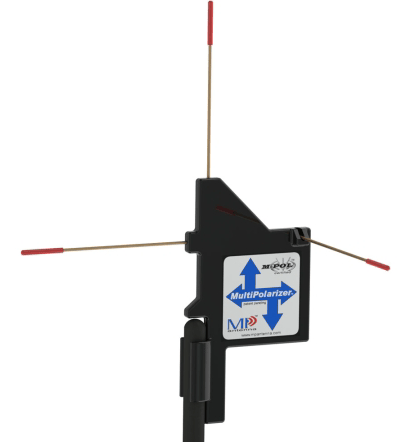 Multi-Polarized WiFi Antenna Signal Booster (2.4 GHz)
Regular price

$75.00 USD

Sale price

$46.99 USD
Best Price Guarantee. [1, 2, 3]
Buy Now, Pay Later with No Interest if paid in full within 6-12 months. Choose Klarna payment option at the checkout for details of this, and other long-term low-interest financing options.
Free Lifetime Support. SKU / Model: 08ANT0882AFC/378191AFC
Best Price Guarantee [1 2 3]
Call for FREE consultation:
1(855)846-2654
Need installation quote, or help with designing a custom solution? Submit a request for quote.
Description
Reviews
Questions & Answers
Make An Offer
Warning
Description
Product Description
Multi-polarized wi-fi antenna signal booster operates on 2.4 - 2.5 GHz or 2400-2500 MHz. Each of the three UV stabilized whip lengths are 5 inches long. Slips on to any existing wifi antenna to boost wireless connectivity. Excellent for any 2.4GHz connection set-up such as wifi access points (AP), wifi routers, USB and PCI adapters.
What is a Multi-Polarizer Signal Booster? And why you might need one?
Do you have a poor wifi signal? Or decreased data throughput? A miss-match of polarized waves might be the problem. A multi-polarizer antenna attachment might be able to help you with that. This WiFi signal booster is a multi-polarized (MP) Antenna. It is an easy slip on version that can slip on or attach to any pre-existing WiFi antenna because most range from sizes .28" to .30" in diameter. It does not require power or battery to work. Utilizing this multi-polarizer booster will help improve your wi-fi signal and performance by utilizing a three-dimensional antenna design that helps to improve voice and wireless communications, as well as data applications. This 2.4 GHz amplifier helps to increase sound quality and voice clarity, with multi-path mitigation. It also helps with better reliability, while increasing data throughput.
A Multi-Path Problem Solution.
This type of multipolarizer antenna is specifically designed to eliminate and mitigate multi-path waves through receiving and transmitting signals on spatially diverse planes and in numerous polarizations.
What does this mean?
This means that you get a clearer signal with better voice clarity. If you're ready to stop asking your friends and family to repeat what they said again and again when wifi calling or using cordless phone, this can help with improving the overall sound quality.
Offers Better Data Throughput.
If you're looking for something that can help you get more of a consistent signal, this multipolarized antenna might be able to help. It is a high-efficiency antenna that can eliminate jitter, and end slow throughput speeds, giving you better and more consistent signal strength that is more reliable.
The Basics on Antenna Polarization and Why It Matters.
When you're looking for a good antenna, understanding or simply being aware of an antenna's polarization is important. What is Antenna polarization? Since energy will travel in 2-dimensional waves - not like the 3-dimensional planet we live on, antenna polarization is required. Because of the wave propagation and its physical property, horizontally polarized antennas can run into trouble when it comes to communicating with vertically polarized signals.
Basically, the waves from both types are traveling in different directions, making them incompatible and inefficient. Imagine a vertical coin slot. If you try to put a quarter into it horizontally, it is not going to fit, right? Or vise-versa... If you're trying to put a quarter into a horizontal coin slot, you can't push it in vertically either. This is the way the transmission happens when a horizontal signal wave tries to be received by a vertical polarized antenna.
When does this become a problem?
If you have an antenna that is different than another person's antenna, you're likely going to have trouble communicating, unless you have matching antenna polarizations. While it is not impossible for the different polarized antennas to be able to communicate, it will simply be very limited since it has to rely on reflection of the signal and refraction.
Many of today's antennas receive and transmit through vertical polarization. Making things harder, the waves from those will reflect off of common objects in our real world, and as they bounce, the wave changes polarization. Every time it bounces off an object and changes polarization, you get a decreased signal strength in your receiving antenna.
This is where multi-polarized antennas can come in handy. They solve the mismatch problem and make it easier for you to receive both vertical or horizontal wave transmissions. This means you get a stronger signal strength and better sound clarity and quality.
Features:
MultiPolarized.
Obstruction Penetrating Send and Receive.
Enhanced Connectivity and Throughput.
Built In Spatial Diversity.
Easy slip on Installation.
M-POLTM Quality and Performance.
Applications:
2.4 GHz ISM WiFi Band Applications.
802.11b,g,n Wireless Systems.
Wireless Broadband Systems.
WiFi Access Point, Router, Bridge, CPE.
USB and PCI Wireless cards.
VoIP phone systems.
Wireless Camera Systems Cordless Phones.
Wireless Video Game Adapters.
Wifi Antenna Booster Improvement Test:
Summary:
This revolutionary MultiPolarizer antenna booster 08-ANT-0882 is an easy to install WiFi signal harvester that improves the connectivity of any stick antenna. Much like gutters on a house that direct collected rain into a continuous concentrated stream, it collects and directs normally missed WiFi radio waves into a focused stream of information that it then transfers to the stick antenna of the wireless device. Based upon the combined theories of electromagnetic field coupling, energy harvesting and multipolarization, this MP Antenna empowers anyone to quickly and easily improve WiFi performance. No Batteries or power required. Simply slip it onto any standard WiFi antenna to experience faster throughput and stronger signals in weak coverage areas.
Please note: This antenna does not directly connect to smartphone, or any wifi device. This is a passive system that is placed on existing antenna, if any. It is not connected to any power supply. It subtly transfers signal available to antenna that it is placed on, to slightly improve reception. This should technically benefit all devices inside the home, office, or vehicle, albeit slightly. This is not a powered wifi signal amplifier system so you will only see subtle reception improvement. This wifi passive antenna signal repeater is similar to our passive cell signal repeater which helps improve cellular signals only slightly if only slight improvement will help get the job done. Both these may not help if major improvement and data speed are needed. In summary, this is a very low cost simple solution for only a slight improvement in wi-fi reception, instead of none at all.
Reviews
Questions & Answers
I'm looking for a product that will boost the signal output of my bluetooth/wifi (Air) game & trail cams that are around my property all within 60-75 yards from my house to be picked-up by my iPhone and the trail camera app. The device supposedly puts out a signal that can be received by iPhone within 150 yards, but I have to get within 15 yards for my iPhone to successfully connect to download digital images and manage the device settings. I was wondering if this is the item that will work best for my application: "Multi-Polarized WiFi Antenna Signal Booster (2.4 GHz)" to allow me to connect from my house even if right outside my house in the 60-75 yard range they are away or if you think another device would do what I'm want to do better. Which of your items will work best for my application to allow me to connect from my house even if right outside my house in the 60-75 yard range they are away. These devices have a standard wifi antenna on them. I keep seeing the little easy A/C plug-in extender booster for the household being sold everywhere but I suspect they will boost the wifi signal of my house/PC wifi instead of boosting the signal from my game cameras outside on my property to allow my phone to pick up the signal... Please advise, I'm a little confused as to what till work for me and suspect I will buy something that won't do me any good whatsoever... There is no intermediary Wifi connection. My cell phone app just for these cameras communicates directly with the cameras that have their own wifi/Bluetooth signal output. I can connect with them either while my phone making connection with my home wifi; inadvertently by standing in my yard close to one of them and close enough to my house to still be connected to my house wifi, and when I'm further away from the house and not connected thru my my home wifi, but while the phone is only connected with its AT&T cellular signal. These trail cameras put out their own wifi "network" and come with passwords that have to be input in the smartphone app to connect with the cameras. The smartphone app recognizes them by their serial number and asks me if I want to connect with them individually to join their network. That could be an interactivity between my AT&T iPhone's IOS wifi processing and the app, but it is NOT connecting with my household wifi from my PC internet connectivity thru my Verizon DSL when I connect with the cameras. This is what prompts me to think a plug-in wifi signal booster at my house may not reach them and boost their signal but will instead just boost my household wifi signal. Like I said these trail cameras have their own wifi/bluetooth standard antenna like the one pictured in the image for your "Multi-Polarized WiFi Antenna Signal Booster (2.4 GHz)" product that it is attached-to. I'm probably over explaining this and confusing you... And if I'm wrong about a household plug-in signal repeater/booster being helpful, I'd probably want one that is weatherproof to place on the outside of my house at one of my external/outside electrical outlets that could pick up the weak signal from the trail cameras that are outside and relay it successfully to my iPhone if at all possible... I guess the optimum performance I would wish for if possible were to be able to sit in my house and receive a stable strong signal from my trail cams on my iPhone app for those trail cams. They are made by brand called Wildgame Innovations. They are the new "Insite Air" models.

What we have are products that will take a weak WiFi signal and boost it to surrounding devices by way of creating a new WiFi hotspot. Basically long range repeaters to repeat an existing weak WiFi signal to other devices. It sounds like you are looking for a more intermediary repeating device to boost the signal from your cameras to the iPhone. Is this direct connection between the iPhone and your cameras, or do both devices connect to an intermediary WiFi network first before they can communicate with each other? Other than the "passive wifi booster" you referred to (may not give a huge boost like a "powered wifi booster" may give), we're not sure what else we have would work in your case.   

What we mostly have are products that will take a weak WiFi signal and boost it to surrounding devices by way of creating a new WiFi hotspot. If your cell app communicates directly with the cameras, we do not see how your system would interact with most of our systems then, since it is a direct connection and not going through a separate WiFi network that could be boosted. Maybe we can look around online to see if we can find out what other camera owners that have that brand and model cameras may be doing to boost the range.  

We had a chance to check further into this and found that the product communicates back to your phone via Bluetooth technology. Hence you would need a Bluetooth signal booster to extend the distance between your device and the phone. This is a bit out of our wheelhouse. We looked around on Amazon and some other places and found some devices called Bluetooth extenders, but they were indoor/non-portable with AC power supply, and most all said they were for audio devices only. We suggest reaching out to Wild Game Innovations to see if they know of an outdoor and portable way to extend the Bluetooth coverage area.
Data Sheet / User Guide
Make An Offer
Warning
Note: For any signal booster to help, outside signal strength must be at least -110 dB or there must be a clear line of sight to a cell tower that is within twenty miles. Before ordering, please check outside signal level in decibels or ensure that you can make and hold a phone call at any good spot outside where you can mount an exterior antenna. Square footage stated in signal booster listings is based on good signal outside. If it is any weaker, the boosted sq. ft. area will be considerably lower, accordingly.
Kevin K. of Anderson, California gave the following review:
Website is easy to use with plain straight forward info but could have had more on testing signal strength to make sure you get a strong enough booster.
Therefore, please note that stated sq. ft. coverage is based on good signal outside. For best results: If outside signal is weak, we suggest choosing the next higher sq. ft. coverage kit. If outside signal is very weak, we suggest choosing the kit with even more higher sq. ft. range bracket. Basically, higher the sq. ft. bracket, the more powerful the signal amplifier with greater Gain as well as higher uplink and downlink output power.
If outside signal is too weak (weaker than -110 dB), submit request for cell coverage solution assessment. Upon receipt of questionnaire, we will perform residential or business site survey. This will help us determine the system that is needed to improve cell coverage. Then, we will create system design using that system such as femtocell, active or hybrid distributed antenna system (DAS), or other carrier feed signal enhancing method available that will work at your signal-challenged location. Finally, we will schedule for installation after equipment and installation service quote has been approved by you, or your company.
For non installation-included kits: Most home / office / building cell signal booster kits only include bracket to mount exterior antenna on outside wall, edge of roof, or existing pipe up to 2 inches in diameter. Mounting pole not included with most kits, unless stated specifically that it is included for free. Therefore, a mounting post must be purchased separately if you will require it to mount exterior antenna.
---
Related Products