USB Wi-Fi adapter 802.11n Wireless-N 2.4 GHz w/5 dBi Gain Antenna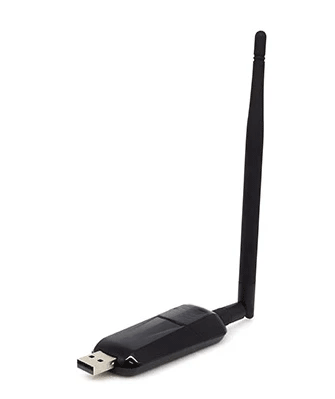 USB Wi-Fi adapter 802.11n Wireless-N 2.4 GHz w/5 dBi Gain Antenna
Regular price

$50.00 USD

Sale price

$39.94 USD
Best Price Guarantee. [1, 2, 3]
Buy Now, Pay Later with No Interest if paid in full within 6-12 months. Choose Klarna payment option at the checkout for details of this, and other long-term low-interest financing options.
Free Lifetime Support. SKU / Model: AFCAWUS036NEH
Best Price Guarantee [1 2 3]
Call for FREE consultation:
1(855)846-2654
Need installation quote, or help with designing a custom solution? Submit a request for quote.
Description
Reviews
Questions & Answers
Make An Offer
Warning
Description
Product Description
USB WiFi adapter 802.11n Wireless-N 2.4 GHz with 5 dBi Gain Antenna can achieve a maximum power output of 1000 mW (1 watt). Achieving transfer speeds and a maximum of 150 Mbps, this 2.4 gigahertz single band 1T1R 802.11n USB adapter is wireless and features an antenna with a gain of 5 dBi. It has no need for a cable and is a smaller unit than similar products on the market today. You will also receive a CD with installation software in your retail box.
Provided your PC uses an operating system that is compatible with the driver software and you have a spare USB port, this Wi-Fi USB adapter will be an excellent choice, allowing you to achieve connectivity of 802.11n over impressive long ranges. Ideally suited for desktops, laptops, and netbooks, this Wi-Fi USB adapter includes an external connector (RP-SMA), making it the ideal fully powered Wi-Fi USB receiver to facilitate a connection to an existing outdoor high gain antenna. This device is most popular with boaters and RV enthusiasts looking to make the most of their connection while away from home.
Product Features:
Fully compatible with 802.11n, 802.11g, and 802.11b wireless standards and IEEE 802.11n.
Full support by WPS by S/W.
A wide range of coverage.
Compatible with systems running Windows 10, Windows 8, Windows 7, Vista, and Windows XP.
Full compliance with Europe's ETS 300 328 standards and Part 15.247 of the FCC in the United States.
Enjoy high-speed data transfer rates as high as 150 Mbps.
Full compliance with specifications for USB 2.0.
2.4 gigahertz MIMO frequency band.
Full support for data encryption including AES, TKIP, WPA2, WPA, and 128- and 64-bit WEP.
Product Specifications:
Standard IEEE 802.11n, 802.11g, and 802.11b.
Standard USB 2.0.
As much as 150 Mbps on an 802.11n connection.
Frequency range between 2.412 and 2.483 gigahertz.
Receiving sensitivity of -70 dBm at HT40 and -73 dBm at HT20 on 11n; -76 dBm on 11g; and -92 dBm on 11b.
Frequently Asked Questions:
Can the output power be manually adjusted?
Output power is under internal control by the adapter and is not adjustable by the user. We admit that it is possible to find a utility that will allow you to adjust the output power yourself, however, this is not recommended.
Is it true that the 1000 mW output means that this product will provide strong signals and a longer range than similar products with a lower amount of power?
It is not uncommon for retailers to promote certain attributes as if they were the only important attributes of the product. Indeed, higher output is an important product feature - however, it is not the only factor that will determine the signal strength and range that you can achieve. It is also important to keep in mind that while 1000 mW is quoted as the maximum output, it is simply that - a maximum, and not a typical average operating figure. Indeed, many users may never achieve this maximum output.
What is the maximum distance that this product will pick up signals?
Unfortunately, there is no exact answer to this question, as wireless signal range is an imperfect and relatively unknown science. Many factors will contribute to the maximum distance from which signals can be achieved, including the quality and strength of the relevant wireless access point, interference and obstacles in the way, and other factors. Note that while obstacles will be visible and physical, interference can be invisible. On other hand, it is worth noting that this product is the highest-powered standalone signal adapter on the market at this time, so if this set up doesn't achieve the results you're looking for, it is not recommended to buy a similar product - you should instead consider setting up an outdoor high gain system.
Superior Wi-Fi Performance:
Equipped with wide-coverage wireless capability, and years of field-proven experiences, it provides 2.4GHz 150Mbps Wi-Fi data transfer speeds for outstanding peformance.
Professionally Tuned Wireless, Better Range & Coverage.
It comes with hardware-based WiFi optimization, plus a high gain antenna, resulting in extra-ordinary signal range.
2.4 GHz Increased Bandwidth, More Applications.
It supports Max. 150 Mbps 2.4GHz wireless access. Making it ideal for large traffic and lag-free HD video streaming for more devices in your living space.
Increased Wireless Fidelity (Wi-Fi) Signal Penetration.
With unmatched Wi-Fi signal strength and coverage. It not only has maximum WiFi range, it helps to penetrate walls, and eliminate Wi-Fi dead spots in your living space easily.
Specifications:
| | |
| --- | --- |
| Chipset | Ralink RT3070. |
| WiFi Standards | IEEE 802.11/b/g/n. |
| WiFi Frequency. | 2.4GHz. |
| Antenna Connector | RP-SMA female x 1. |
| Antenna Type | 2.4GHz 5dBi dipole antenna. |
| Wireless Performance | 802.11b: up to 11Mbps; 802.11g: up to 54Mbps; 802.11n: up to 150Mbps. |
| Wireless Security | WEP, WPA, WPA2, WPA Mixed, WPS. |
| Interface | USB 2.0, type A, male connector. |
| OS Requirement | Windows XP, Vista, 7, 8/8.1 and Windows 10 32/64bit; macOS 10.5 to 10.14 or later; Linux. |
Reviews
Questions & Answers
Need help to set up Asus 802 high-powered USB adapter.

Sorry, we do not carry that brand and may not be able to help much. However, please call us during business hours to see the best we can do for you. It would be best if you would contact the manufacturer Asus for support on that product. Thank you.

I just plan to plug this into tablet and phone thru a j5 creat USB adapter. Do I need any network info for this to work?

No network info needed. This device requires a direct connection to a USB port. It cannot interface with a device through a conversion to Ethernet piece.

WILL THIS WORK WITH JBL LINK10 TO CONNECT TO MY PC WITH WINDOWS 10?

This is wireless lan 11n USB adapter that need to install the driver with Windows PC.

JBL LINK 10 need to work with Google Home app:

https://www.lifewire.com/how-to-use-google-home-app-pc-4427667

https://www.memuplay.com/how-to-use-com.google.android.apps.chromecast.app-on-pc.html
Data Sheet / User Guide
Make An Offer
Warning
Note: For any signal booster to help, outside signal strength must be at least -110 dB or there must be a clear line of sight to a cell tower that is within twenty miles. Before ordering, please check outside signal level in decibels or ensure that you can make and hold a phone call at any good spot outside where you can mount an exterior antenna. Square footage stated in signal booster listings is based on good signal outside. If it is any weaker, the boosted sq. ft. area will be considerably lower, accordingly.
Kevin K. of Anderson, California gave the following review:
Website is easy to use with plain straight forward info but could have had more on testing signal strength to make sure you get a strong enough booster.
Therefore, please note that stated sq. ft. coverage is based on good signal outside. For best results: If outside signal is weak, we suggest choosing the next higher sq. ft. coverage kit. If outside signal is very weak, we suggest choosing the kit with even more higher sq. ft. range bracket. Basically, higher the sq. ft. bracket, the more powerful the signal amplifier with greater Gain as well as higher uplink and downlink output power.
If outside signal is too weak (weaker than -110 dB), submit request for cell coverage solution assessment. Upon receipt of questionnaire, we will perform residential or business site survey. This will help us determine the system that is needed to improve cell coverage. Then, we will create system design using that system such as femtocell, active or hybrid distributed antenna system (DAS), or other carrier feed signal enhancing method available that will work at your signal-challenged location. Finally, we will schedule for installation after equipment and installation service quote has been approved by you, or your company.
For non installation-included kits: Most home / office / building cell signal booster kits only include bracket to mount exterior antenna on outside wall, edge of roof, or existing pipe up to 2 inches in diameter. Mounting pole not included with most kits, unless stated specifically that it is included for free. Therefore, a mounting post must be purchased separately if you will require it to mount exterior antenna.
---
Related Products