WiFi USB Dongle Signal Booster: Long Range AC1200 2.4 & 5 GHz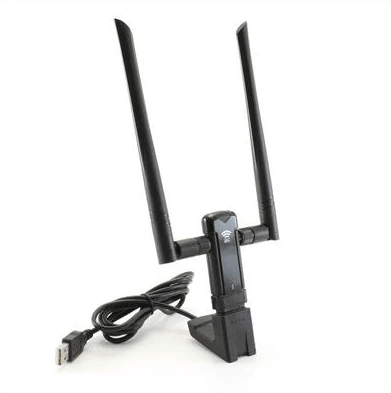 WiFi USB Dongle Signal Booster: Long Range AC1200 2.4 & 5 GHz
Regular price

$75.00 USD

Sale price

$57.94 USD
Best Price Guarantee. [1, 2, 3]
Buy Now, Pay Later with No Interest if paid in full within 6-12 months. Choose Klarna payment option at the checkout for details of this, and other long-term low-interest financing options.
Free Lifetime Support. SKU / Model: AWUS036ACAFC
Best Price Guarantee [1 2 3]
Call for FREE consultation:
1(855)846-2654
Need installation quote, or help with designing a custom solution? Submit a request for quote.
Description
Reviews
Questions & Answers
Make An Offer
Warning
Description
Product Description
Long Range 1,200 Mbps Dual Band 2.4 & 5 GHz USB Wi-Fi Dongle Signal Booster is an affordable way of bringing 802.11ac capabilities to personal computers. Fully compatible with PCs running operating systems including Windows 10, Windows XP, and other major Windows releases, this dongle offers 867 Mbps dual antenna, long-range capabilities and features two dual-band 5 Mbps antennas and two antenna ports (RP-SMA). Both antennas are fully upgradable and detachable.
Capable of transmitting and receiving on the 5 gigahertz and 2.4 gigahertz bands, this dongle can achieve a maximum of 867 Mbps throughput speed by way of its 802.11 standard router. To achieve the greatest possible throughput the 802.11 router is recommended, however, backward capabilities ensure that this dongle adapter will also work on the 802.11n and 802.11 networks.
Newer laptops may feature an internal Wi-Fi card with 802.11ac capabilities, however, the high sensitivity and dual antennas of this USB Wi-Fi dongle allow Wi-Fi signals from as much as twice the distance to be concentrated and received.
What does it include?
Your new USB Wi-Fi dongle includes a docking base (USB), driver CD, two dual-band 2 dBi antennas, and the adapter.
If your personal computer has a USB 3.0 port, you can achieve a maximum connection speed of 867 Mbps. The specially designed USB dock allows for the antenna to be placed in an optimal position to ensure the greatest possible range and connection speed. If your PC doesn't feature a USB 3.0 port you can still use the USB Wi-Fi dongle, however, your maximum connection speed will be limited to 480 Mbps.
Compatibility:
This USB Wi-Fi dongle is suitable for all computers running Windows 10, Windows 8 or Windows 8.1, Windows 7, Vista, and Windows XP. Your PC also needs to have a spare USB port, preferably a USB 3.0 port. If you are running version 2017.1 of Kali Linux, it is also possible to use this USB Wi-Fi dongle on your system.
If you use a Microsoft Surface Pro system, you will be able to use this USB Wi-Fi dongle provided your system is running Windows 10 or Windows 8. You will need to download a driver to set up the antenna. Please note that this antenna is not suitable for tablets running Windows Surface RT. Although Windows RT may appear to function in a similar way to Windows 8, it does not support drivers originating from third parties.
Product Features:
Fully compatible with the 5 gigahertz and 2.4 gigahertz Wi-Fi networks.
Suitable for use on 5 gigahertz DFS channels.
Support for 802.1X, WPA2, WPA-PSK, WPA, and 128 and 64 WEP encryption.
Maximum transfer rate of 867 Mbps on 867 802.11ac.
Compliant with USB 3.0.
Backward capabilities support USB 2.
Full 12-month manufacturer's warranty.
Superior Wi-Fi Performance:
Equipped with lastest 802.11ac wireless standards, and years of field-proven experiences, it provides 2.4GHz 300Mbps or 5GHz 867Mbps Wi-Fi data transfer speeds for outstanding peformance.
Giga-Fast 802.11ac Wireless, Better Range & Coverage.
It comes with lastest 802.11ac standards with hardware-based WiFi optimization, plus two external high gain antennas, resulting in extra-ordinary signal range.
2.4GHz + 5GHz, Increased Bandwidth, More Applications.
It supports Max. 300Mbps 2.4GHz or 867Mbps 5GHz wireless access. Making it ideal for large traffic and lag-free HD video streaming for more devices in your living space.
Increased WiFi Signal Penetration.
With unmatched Wi-Fi signal strength and coverage. It not only has maximum WiFi range, it helps to penetrate walls, and eliminate Wi-Fi dead spots in your living space easily.
Specifications:
| | |
| --- | --- |
| Chipset | Realtek RTL8812AU. |
| WiFi Standards | IEEE 802.11ac/a/b/g/n. |
| WiFi Frequency. | Dual Band 2.4GHz or 5GHz. |
| Antenna Connector | RP-SMA female x 2. |
| Antenna Type | 2.4/5 GHz Dual-Band 5dBi dipole antenna. |
| Wireless Performance | 802.11a: up to 54Mbps; 802.11b: up to 11Mbps; 802.11g: up to 54Mbps; 802.11n: up to 300Mbps; 802.11ac: up to 867Mbps. |
| Wireless Security | 64/128 bit WEP, WPA/WPA2 ,WPA-PSK/WPA2-PSK, WPS. |
| Interface | USB 3.0. |
| OS Requirement | Windows XP, Vista, 7, 8/8.1 and Windows 10 32/64bit; MacOS 10.5 to 10.14 or later; Linux. |
| LED ON/Slow Blinking | Applied driver. |
| LED Fast Blinking | Associated Wi-Fi Network. |
Reviews
Questions & Answers
Can I use this for a cell phone?

Sorry, the frequencies covered are specifically for Wi-Fi trnsmissions, not current cellular bands in USA.

Will this USB wifi booster model help if I'm using public wifi, and the building next to me (and its wall), as well as multiple other signals are causing issues? Will this product beat, override, push through, or otherwise make sure that my signal and receiving of router signal is enough to stop issues? I am getting 3 bars regular. Low speed. Not many dropped connections. The main complaint would be low speed, and I personally assigned the reasoning as being many many wifi signals from different stores all around me. As well as multiple in-store signals as they run multi terminals as well. It was my thinking that a stronger signal from my end, etc, would be affected less if its signal was stronger. I have a 2016 laptop, that is considered powerful with the "killer" (brand) parts internally, and all the a,b,c,n,g,ac capabilities, etc.

This is a good upgrade if your computer has an older pre-802.11ac WiFi card inside.

In terms of range boost, it can increase your range due to the antennas being higher gain and external, but it is not our most powerful booster.

The WiFi dongle AWUS036ACAFC will work great if you have 3 bars and low speed using your PC's internal WiFi card. However, here's even more powerful wifi booster for public WiFi:

For indoor use, we would suggest the AWUS036ACHAFC which is High Power Wide Range WiFi USB Adapter (2.4 & 5 GHz, 802.11ac, AC1200) listed at: https://www.signalbooster.com/products/high-power-wide-range-wifi-usb-adapter-2-4-5-ghz-802-11ac-ac1200 - it is similar to this one (WiFi USB Dongle Signal Booster: Long Range AC1200 2.4 & 5 GHz) that can offer some small benefit vs your onboard card - but has more output power for longer range.

If you have the capability to put something outside, this product would be a good choice:

https://www.signalbooster.com/products/2000-mw-usb-wi-fi-booster-2-4-ghz-w-14-dbi-direc-indoor-outdoor-antenna

But this product at preceding link boosts only 2.4 Ghz network frequencies, so it does not cover the 5 GHz like the indoor product above, but because FCC allows for more power on 2.4 GHz-only devices, it does get the longest overall range of the devices we sell.
Data Sheet / User Guide
Make An Offer
Warning
Note: For any signal booster to help, outside signal strength must be at least -110 dB or there must be a clear line of sight to a cell tower that is within twenty miles. Before ordering, please check outside signal level in decibels or ensure that you can make and hold a phone call at any good spot outside where you can mount an exterior antenna. Square footage stated in signal booster listings is based on good signal outside. If it is any weaker, the boosted sq. ft. area will be considerably lower, accordingly.
Kevin K. of Anderson, California gave the following review:
Website is easy to use with plain straight forward info but could have had more on testing signal strength to make sure you get a strong enough booster.
Therefore, please note that stated sq. ft. coverage is based on good signal outside. For best results: If outside signal is weak, we suggest choosing the next higher sq. ft. coverage kit. If outside signal is very weak, we suggest choosing the kit with even more higher sq. ft. range bracket. Basically, higher the sq. ft. bracket, the more powerful the signal amplifier with greater Gain as well as higher uplink and downlink output power.
If outside signal is too weak (weaker than -110 dB), submit request for cell coverage solution assessment. Upon receipt of questionnaire, we will perform residential or business site survey. This will help us determine the system that is needed to improve cell coverage. Then, we will create system design using that system such as femtocell, active or hybrid distributed antenna system (DAS), or other carrier feed signal enhancing method available that will work at your signal-challenged location. Finally, we will schedule for installation after equipment and installation service quote has been approved by you, or your company.
For non installation-included kits: Most home / office / building cell signal booster kits only include bracket to mount exterior antenna on outside wall, edge of roof, or existing pipe up to 2 inches in diameter. Mounting pole not included with most kits, unless stated specifically that it is included for free. Therefore, a mounting post must be purchased separately if you will require it to mount exterior antenna.
---
Related Products