An item you're pre-ordering is on backorder so it will take few days to ship - are you sure you want to proceed to order it?
Close
3 Ft. CB Unity Gain Antenna with 7 ft. RG-58 cable (RV/Marine)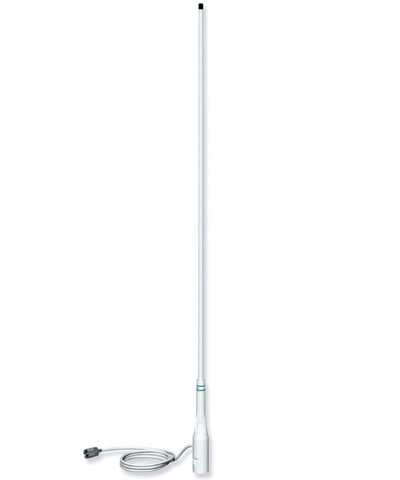 3 Ft. CB Unity Gain Antenna with 7 ft. RG-58 cable (RV/Marine)
Regular price

$49.99 USD

Sale price

$29.99 USD
Best Price Guarantee. [1, 2, 3]
Buy Now, Pay Later with No Interest if paid in full within 6-12 months. Choose Klarna payment option at the checkout for details of this, and other long-term low-interest financing options.
Free Lifetime Support. SKU / Model: AFC4051
Best Price Guarantee [1 2 3]
Call for FREE consultation:
1(855)846-2654
Need installation quote, or help with designing a custom solution? Submit a request for quote.
Description
Reviews
Questions & Answers
Make An Offer
Warning
Description
Product Description
3 Ft. Marine CB Antenna with nylon ferrule and 7 ft. RG58 cable.
3 feet tall CB Antenna is Unity Gain Marine Antenna. It is great for bass boats and other boats where fishing with 3 ft. antenna is more desirable for greater range. Coil is permanently sealed in white fiberglass. Marine antenna mount suggested (not included).
This is a one-piece, continuous-load, end-fed 1/2-wave CB Marine antenna with supplied cable. This 3' (0.9 m) antenna comes with a 1"-14 thread nylon ferrule.
This CB Antenna Kit includes:
Marine CB Antenna Assembly 4051 with Rubber Grommet.
Nylon ferrule with 1 inch - 14 thread.
Includes 7 ft. cable and a PL-259 connector. The cable cannot be cut, but can be lengthened using an extension coax with suitable connectors (each sold separately).
Suggested mount (not included): Nylon Marine Ratchet Mount
Tools required (not included): Drill and 3/4" drill bit.
Technical Specifications:
| | |
| --- | --- |
| Band: | CB Marine. |
| Frequency: | 27 MHz Citizens Band (CB). |
| Bandwidth: | 440 KHz. |
| Mounting type: | Marine Ratchet Mount. |
| Antenna Gain: | Unity Gain. |
| Max. Input Power: | 25 watts. |
| Impedance: | 50 Ohm. |
| SWR: | 2.0:1 or less at Channel 19. |
| Ferrule: | Polycarbonate. |
| Coax Supplied: | 7 ft. of RG-58. |
| Connector Supplied: | PL259, not installed. |
| Height: | 3 Feet. |
| Color/finish: | White. |
| DC Ground: | Yes, DC Grounded. Note: Antenna will read shorted on continuity test - disregard. |
| Polarization: | Vertical. |
| Radiation pattern: | Omni-Directional. |
| Limited Warranty: | 2 years. |
| Dimensions: | 45 x 3 x 3 inches. |
| Weight: | 1.75 pounds. |
| Shipping Weight:: | 1.8 pounds. |
Installation Instructions.
Choose a mounting location that is as high as possible, as free as possible from obstructions, and as far as possible from other antennas and strong sources of RF, but within reach of the antenna's coax cable.
IMPORTANT: DO NOT CUT THE CABLE OR REMOVE THE CONNECTOR.
Mount the antenna using a Deck Mount (sold separately) or similar mount. Follow the instructions included with the mount you choose.

Route the cable to your CB radio, keeping it as far as possible from other electrical equipment and cables. Do not cut or alter the antenna's cable. Drill a 3/4 inch hole for passage of the cable and connector, and seal the hole with the included rubber grommet.
Any excess cable should be rolled in a coil of at least 8 inch diameter and stowed in an out-of-the-way place, away from other electrical cabling.
Included cable can be lengthened using suitable connectors and 50-ohm RG-58 or RG-8 coax (each sold separately), without detrimental effect to antenna performance.
No need for elaborate grounding systems. This antenna works equally well on fiberglass, wood, or metal boats.
Cleaning Instructions.
To clean antenna, use mild dishwashing liquid (one that is not harsh to the hands and without ammonia) in lukewarm water.
WARNING: Do not let paint solvents, cleaning solvents, or adhesive caulking come in contact with antenna. Chemicals in these materials might destroy or damage the finish.
Reviews
Questions & Answers
QUESTIONS & ANSWERS
Have a Question?
Be the first to ask a question about this.
Ask a Question
Data Sheet / User Guide
Make An Offer
Warning
Note: For any signal booster to help, outside signal strength must be at least -110 dB or there must be a clear line of sight to a cell tower that is within twenty miles. Before ordering, please check outside signal level in decibels or ensure that you can make and hold a phone call at any good spot outside where you can mount an exterior antenna. Square footage stated in signal booster listings is based on good signal outside. If it is any weaker, the boosted sq. ft. area will be considerably lower, accordingly.
Kevin K. of Anderson, California gave the following review:
Website is easy to use with plain straight forward info but could have had more on testing signal strength to make sure you get a strong enough booster.
Therefore, please note that stated sq. ft. coverage is based on good signal outside. For best results: If outside signal is weak, we suggest choosing the next higher sq. ft. coverage kit. If outside signal is very weak, we suggest choosing the kit with even more higher sq. ft. range bracket. Basically, higher the sq. ft. bracket, the more powerful the signal amplifier with greater Gain as well as higher uplink and downlink output power.
If outside signal is too weak (weaker than -110 dB), submit request for cell coverage solution assessment. Upon receipt of questionnaire, we will perform residential or business site survey. This will help us determine the system that is needed to improve cell coverage. Then, we will create system design using that system such as femtocell, active or hybrid distributed antenna system (DAS), or other carrier feed signal enhancing method available that will work at your signal-challenged location. Finally, we will schedule for installation after equipment and installation service quote has been approved by you, or your company.
For non installation-included kits: Most home / office / building cell signal booster kits only include bracket to mount exterior antenna on outside wall, edge of roof, or existing pipe up to 2 inches in diameter. Mounting pole not included with most kits, unless stated specifically that it is included for free. Therefore, a mounting post must be purchased separately if you will require it to mount exterior antenna.
---
Related Products