CommScope Public Safety BDA Class-A 0.5W AC 700+800 MHz (7831758-0013)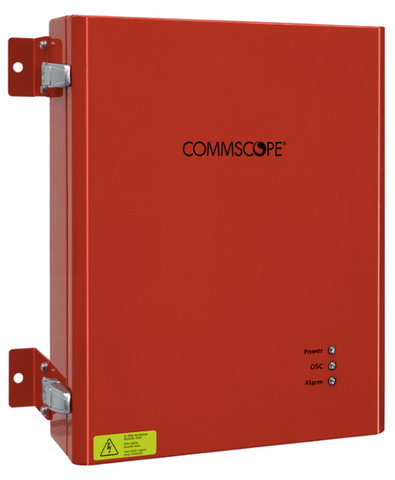 CommScope Public Safety BDA Class-A 0.5W AC 700+800 MHz (7831758-0013)
Regular price

$19,423.99 USD

Sale price

$8,675.00 USD
Best Price Guarantee. [1, 2, 3]
Buy Now, Pay Later with No Interest if paid in full within 6-12 months. Choose Klarna payment option at the checkout for details of this, and other long-term low-interest financing options.
Free Lifetime Support. SKU / Model: 7831758-0013
Best Price Guarantee [1 2 3]
Call for FREE consultation:
1(855)846-2654
Need installation quote, or help with designing a custom solution? Submit a request for quote.
Description
Reviews
Questions & Answers
Data Sheet / User Guide
Make An Offer
Warning
Description
Product Description
Public Safety BDA, Class A, 0.5 Watt, AC Powered, Dualband 700 & 800 MHz.
CommScope 7831758-0013 Specs.:
Dual band.
Class A.
32 channels.
Public safety BDA model 78317580013, UPC 888063179501.
Support for frequencies of both 700 and 800 megahertz.

Upgrade composite power to 2 watts from 0.5 watt by buying a license key for the software.

Full support for Band 14 (FirstNet).
Supports standard analog and P25 digital frequencies.
Powered by 110 volts AC.
Utilizing output and input connections between 4.3 and 10.
Fully complaint with UL2524 and NFPA.
Composite downlink power of 27 dBm (0.5 watts).
Providing gain of 90 decibels.
Product Benefits:
Signal source for public safety that is economical, high performing, and compact.
Full compliance with all necessary specifications for public safety.
Support for as many of 32 channels for each band thanks to the digital architecture that is high performing and fully programmable.
Between 0.5 watts and 2 watts of output power.
Ensure clear and strong voice communication by way of the uplink squelch channelization and AGC (automatic gain control).
Use a license key to upgrade your band capacity and output power as needed.
Achieve intelligent monitoring and configuration with web-based SNMP and GUI support.
Category:
RF public safety repeater unit.
Broad Description:
Repeater 4.3 to 10 antenna interface.
Optional inside omnidirectional antenna with 4 dBi gain sold separately.
Typical values of performance node unless stated differently.
Features remove ethernet for control and supervision to alarm contacts.
Measurements and Packaging:
18.898 inches high (480 millimeters).
15.748 inches wide (400 millimeters).
3.543 inches long optional antenna (90 millimeters).
6.693 inches depth (170 millimeters).
41.888 lbs. net (19 kilos).
Electrical Specs.:
13 dB return loss.
Fully compliant with United States FCC part 90, part 20, UL 62368, UL 2524, and Electrical Safety Standards number 62368-1, CSA-C22.2/CAN.
90 dB gain.
30 dB range of gain adjustment.
Maximum group delay of 90 µs at 12.5 kilohertz and 3 µs at full band.
Including FirstNet, 700, 800 license band.
110 volts AC local power.
60 Hertz, 110 volts AC mains power.
160 watts power consumption.
Uplink Rx Electrical Specs.:
FirstNet Frequency Band for Operation between 788 and 798 Megahertz, between 788 and 805 Megahertz, and between 796 and 824 Megahertz.
One carrier output capability of 27 dBm.
Two carrier output capability of 24 dBm.
Downlink Tx Electrical Specs.:
FirstNet Frequency Band for Operation between 758 and 768 Megahertz, between 758 and 775 Megahertz, and between 851 and 869 Megahertz.
One carrier output capability of 27 dBm.
Two carrier output capability of 24 dBm.
Compliance and Environmental Specs.:
Temperature between -22 degrees Fahrenheit and +122 degrees Fahrenheit (-30 degrees Celsius to +50 degrees Celsius).
Tested with ingress method IP66, NEMA 4X, IEC 60529:2001.
Distributed, manufactured, and designed in accordance with ISO 9001:2015.
CommScope 7831758-0013 Data Sheet.
CommScope always aims to build the most advanced wireless technological systems the world has ever seen, and it does so by maintaining its position as industry leaders in the communications technology world. CommScope Solutions' mission is to take another look at our definition of connectivity, shaping the innovation for tomorrow, and unlocking the challenges of today. RUCKUS and ARRIS were bought by CommScope in 2019. These combined companies provide improved innovation, results, and expert talent, with improved access to new and emerging industries. This union created a communications corporation with incomparable breadth, skill, and depth.
Through the air, in buildings, or in the ground, SignalBooster.com knows that networks must be powerful and dependable, while also growing to meet the requirements of our increasingly connected society. With countless experience with communications, SignalBooster.com solutions bring the flexibleness, modernization, and perfection that companies need to answer the growing requirements and expectations of seamless communications. We shape the wireless communication systems of the future.
Beginning with material design through to working out the most sophisticated of radio band challenges, we proudly deliver incomparable know-how in fiber, copper, and wired and wireless frameworks that underpin today's wireless communications networks and makes ready the networks of tomorrow. Facilitating 5G, Gigabit speeds, and private communications networks all over, CommScope's forever forecasting what's next to ensure you're always one step ahead. SignalBooster.com's Public Safety DAS design and installation service can bring CommScope technology into your business property effectively ensuring constant connectivity as required by Authority Having Jurisdiction (AHJ).
WARNING:
Per FCC laws and regulations, INDUSTRIAL GRADE distributed antennas system (Fiber DAS) master and/or remote units must not be installed by consumers. It is designed for installation by QUALIFIED INSTALLERS only. You MUST have an express consent in writing from all Carriers in your service area to operate this device. Unauthorized use may result in significant forfeiture penalties, including penalties in excess of $100,000 for each continuing violation. Please submit public safety DAS installation service questionnaire for a quote if you require professional installation and assistance with consent and approval process.
Reviews
Questions & Answers
QUESTIONS & ANSWERS
Have a Question?
Be the first to ask a question about this.
Ask a Question
Data Sheet / User Guide
Make An Offer
Warning
Note: For any signal booster to help, outside signal strength must be at least -110 dB or there must be a clear line of sight to a cell tower that is within twenty miles. Before ordering, please check outside signal level in decibels or ensure that you can make and hold a phone call at any good spot outside where you can mount an exterior antenna. Square footage stated in signal booster listings is based on good signal outside. If it is any weaker, the boosted sq. ft. area will be considerably lower, accordingly.
Kevin K. of Anderson, California gave the following review:
Website is easy to use with plain straight forward info but could have had more on testing signal strength to make sure you get a strong enough booster.
Therefore, please note that stated sq. ft. coverage is based on good signal outside. For best results: If outside signal is weak, we suggest choosing the next higher sq. ft. coverage kit. If outside signal is very weak, we suggest choosing the kit with even more higher sq. ft. range bracket. Basically, higher the sq. ft. bracket, the more powerful the signal amplifier with greater Gain as well as higher uplink and downlink output power.
If outside signal is too weak (weaker than -110 dB), submit request for cell coverage solution assessment. Upon receipt of questionnaire, we will perform residential or business site survey. This will help us determine the system that is needed to improve cell coverage. Then, we will create system design using that system such as femtocell, active or hybrid distributed antenna system (DAS), or other carrier feed signal enhancing method available that will work at your signal-challenged location. Finally, we will schedule for installation after equipment and installation service quote has been approved by you, or your company.
For non installation-included kits: Most home / office / building cell signal booster kits only include bracket to mount exterior antenna on outside wall, edge of roof, or existing pipe up to 2 inches in diameter. Mounting pole not included with most kits, unless stated specifically that it is included for free. Therefore, a mounting post must be purchased separately if you will require it to mount exterior antenna.
---
Related Products