In-Vehicle Patch Antenna 698-2700 MHz w/FME Female Connector (SC-110W)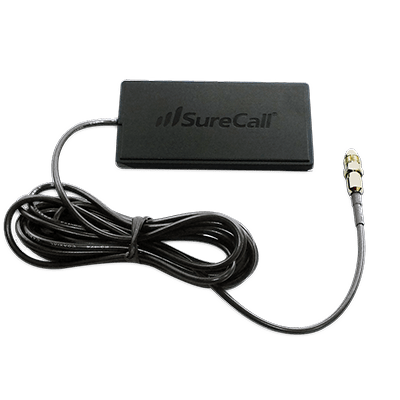 In-Vehicle Patch Antenna 698-2700 MHz w/FME Female Connector (SC-110W)
Regular price

$14.99 USD

Sale price

$7.75 USD
Best Price Guarantee. [1, 2, 3]
Buy Now, Pay Later with No Interest if paid in full within 6-12 months. Choose Klarna payment option at the checkout for details of this, and other long-term low-interest financing options.
Free Lifetime Support. SKU / Model: SC-110W
Best Price Guarantee [1 2 3]
Call for FREE consultation:
1(855)846-2654
Need installation quote, or help with designing a custom solution? Submit a request for quote.
Description
Reviews
Questions & Answers
Make An Offer
Warning
Description
Product Description
SureCall SC-110W Vehicle Patch Interior Antenna with FME connector connects directly to SureCall amplifier. It offers 3 dBi of gain and should be placed as close as possible to the cell phone. It is a wide band frequency antenna spanning frequencies from 698 MHz to 2700 MHz. Therefore, it works for all carriers in USA and Canada. United States carriers include T-Mobile, Sprint, AT&T, Verizon, and all the rest. Canadian carriers include Bell, Roger, Telus, and all the rest. It works on all wireless service platforms such as 2G Voice, 3G Data, 4G LTE and 4G HSPA+. This is newer version of older SC-100-W/ SC-100W/ SC100-W/ SC100W.
One of SureCall's extremely lightweight and portable interior car antenna (SC110W), it is a highly convenient directional antenna you can use inside your vehicle. It is lightweight and wide-band capable of amplifying cell signals such as 3G, 4G LTE and 2G voice with boosters from SureCall. It comes with a nine feet and 10 inches cable to provide a gain of 3 dB. This patch antenna is capable of supporting diverse users in the same vehicle in the rear and front seats. A velcro backing kind of strip is included for installation purposes. The five inches long patch antenna has an impedance of 50 ohm and uses an RG174 cable type. Alternate part #'s: Cellphone-Mate CM-110W/ CM-110-W. UPC: 697691005294.
Sure-Call SC-110-W Interior Vehicle Antenna Set-Up.
Clean the mounting surface (can be on the side of the seat, or on the dash, etc.)
Remove 3M backing to expose adhesive on antenna base.
Mount antenna to side of driver's seat.
Finally, attach your antenna's cable to connector of booster marked, "Inside".
Note: Do not place magnet antenna within one and a half feet of other antenna or the 

cradle that phone is sitting in.
SC-110W Specifications.
| | |
| --- | --- |
| Frequency | 698-960/1710-2700MHz |
| Input Impedance | 50 ohm |
| Antenna Gain | 1 to 3 dBi |
| Beamwidth | N/A |
| VSWR | ≤2:0 |
| Polarization Type | Vertical |
| Radiation | Directional |
| Maximum Power | 25W  |
| Connector type | FME Female |
| Cable type | RG174 |
| Height (inches) | 5" |
| Weight | 2 oz |
| Ground Plane | Built in ground plane |
| Mount | to interior of vehicle |
| Cable Length | 9 ft. 10 in. |
| Operating Temperature | -40 F to 176 F (-40 Celsius - 80 Celsius) |
| Color | Black |
Reviews
Questions & Answers
I have velcro on the back of my phone that secures it to my old slim antenna will I be able to do the same with this newer slim antenna

Yes, you can technically do that but we recommend only using phone via its speakerphone. Thank you.

How directional is this antenna, and is it safe to mount overhead in the underside of a Jeep roll bar so that front and rear seat passengers can take advantage of the signal? Also, is it safe to be near your head? Does the patch antenna need to be facing the phone? For example, if I mounted it on top of the sport bar so it is hidden, it would be facing the sky. Would it still work? Or if I installed it on the front of the center console facing the dash, it would be low (and would rear seat passengers still get a signal)?

The patch antenna is polarized and you can have it near the roll bars. The radiation is non-ionizing so it is safe. It is non-directional so you don't need to face the patch. You can mount it anywhere you like but just so long as you know it is polarized. For best results keep it out on the open without hiding it or putting it way below your seat. People tend to put this on their dashboards. We're a bit confused about keeping this in a sports bar, we thought this was about your jeep. Do mind this is just a vehicle booster and signal would not go very far - up to 4 feet from antenna only.

Will the work with a Wilson 801201?

Yes, it seems so. Upon searching online for Wilson 801201, it seems that it has FME-Male connector which means that this inside antenna with FME-Female connector should fit fine.

On another note, instead of interior antenna, you could opt for a phone cradle type antenna instead which is both a phone holder and interior antenna. The drawback, however, is that it cradle antenna will only boost signal to the single cell phone placed in the cradle. The patch antenna will boost reception to all devices in its up to 4 ft. range. If you only need to enhance signal to one cell device, then this option may be more convenient for you because the same unit will serve as a phone holder too, in addition to being an antenna. If you like this idea, you can buy antenna cradle instead, here:

https://www.signalbooster.com/products/universal-cell-phone-cradle-plus-antenna-kit-with-fme-male-connector

Data Sheet / User Guide
Make An Offer
Warning
Note: For any signal booster to help, outside signal strength must be at least -110 dB or there must be a clear line of sight to a cell tower that is within twenty miles. Before ordering, please check outside signal level in decibels or ensure that you can make and hold a phone call at any good spot outside where you can mount an exterior antenna. Square footage stated in signal booster listings is based on good signal outside. If it is any weaker, the boosted sq. ft. area will be considerably lower, accordingly.
Kevin K. of Anderson, California gave the following review:
Website is easy to use with plain straight forward info but could have had more on testing signal strength to make sure you get a strong enough booster.
Therefore, please note that stated sq. ft. coverage is based on good signal outside. For best results: If outside signal is weak, we suggest choosing the next higher sq. ft. coverage kit. If outside signal is very weak, we suggest choosing the kit with even more higher sq. ft. range bracket. Basically, higher the sq. ft. bracket, the more powerful the signal amplifier with greater Gain as well as higher uplink and downlink output power.
If outside signal is too weak (weaker than -110 dB), submit request for cell coverage solution assessment. Upon receipt of questionnaire, we will perform residential or business site survey. This will help us determine the system that is needed to improve cell coverage. Then, we will create system design using that system such as femtocell, active or hybrid distributed antenna system (DAS), or other carrier feed signal enhancing method available that will work at your signal-challenged location. Finally, we will schedule for installation after equipment and installation service quote has been approved by you, or your company.
For non installation-included kits: Most home / office / building cell signal booster kits only include bracket to mount exterior antenna on outside wall, edge of roof, or existing pipe up to 2 inches in diameter. Mounting pole not included with most kits, unless stated specifically that it is included for free. Therefore, a mounting post must be purchased separately if you will require it to mount exterior antenna.
---
Related Products