Portable Cell Phone Signal Booster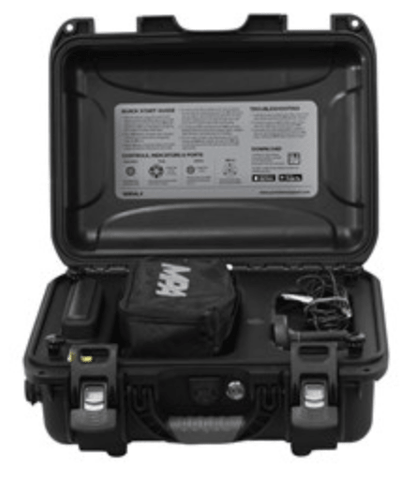 Portable Cell Phone Signal Booster
Regular price

$2,000.00 USD

Sale price

$1,899.00 USD
Best Price Guarantee. [1, 2, 3]
Buy Now, Pay Later with No Interest if paid in full within 6-12 months. Choose Klarna payment option at the checkout for details of this, and other long-term low-interest financing options.
Free Lifetime Support. SKU / Model: AFCMMMPDH000002
Best Price Guarantee [1 2 3]
Call for FREE consultation:
1(855)846-2654
Need installation quote, or help with designing a custom solution? Submit a request for quote.
Description
Reviews
Questions & Answers
Make An Offer
Warning
Description
Product Description
Portable Cell Phone Signal Booster for any Carrier is a quick deploy emergency signal booster for cellular signal enhancement inside building or vehicle. It is easy to transport in vehicles. Emergency responders can have this wireless signal amplifier up-and-running and engaging in crucial communications in emergency situations, in just minutes.
Designed for all Carriers, ir covers bands 1, 2, 3, 4, 5, 7, 8, 12, 13, and 20.
Comes in a sturdy, portable, closed case "go-kit" network-enhancement solution for improving cellular and digital data communications.
It is very easy to transport in vehicles, which means this amplifier is the perfect tool for enhancing cellular connectivity in both planned event situations and emergency situations. With this portable amplifier you have the ability to boost cellular signal wherever it is required by simply connecting to the amplifier using its free app for iOS and Android tablets and smartphones (instructions included with purchase).
It improves cellular communications within minutes, keeping single and/or multiple users connected in areas of poor or unreliable signal. Rated NEMA-4, the amplifier is water and dust resistant, and capable of withstanding harsh conditions.
It has an innovative internal smart cellular amplifier so that in fringe network coverage areas end-users can access and push-pull digital data and cellular connectivity.
This is ideal for those seeking network improvement due to either an absence of cellular signal or blocked network coverage caused by buildings or the terrain.
Performance.
This is carrier approved for 3G/4G/LTE data and voice signal booster.
Rated NEMA-4 against harsh conditions, including resistance to dust and water.
Provides industry leading up to 100 dB gain.
Switch in less than a minute from mobile to stationary mode. Up to 65 dB Gain output power "mobile mode" for use inside moving vehicles in motion. Up to 100 dB Gain higher power "stationary mode" for use inside stationary places like homes, cabins, parked RVs.
High extreme operating temperature range: 0 to 40°C (32° to 204°F); storage 0° to 60°C (0° to 130°F).
Use for T-Mobile, AT&T, Sprint, Verizon and their MVNO's.
Optimize performance of the booster by using the Antenna Pointing Application to locate the best donor signal.
This portable amplifier only communicates with the desired signal, ignoring other interference and eliminating the Near-Far effect.
Network and product feedback and support is backed by cloud-based analytics and diagnostics.
This is the only TSA friendly signal booster and suitable for carry on in airplanes.
How It Works.
This portable amplifier comes already assembled. It contains all the required software and hardware ready to initialize and boost cellular connectivity while on-the-go in challenging and remote areas.
Connect to your booster with Bluetooth by going to the Apple App Store or Google Play and downloading app shown in instruction manual to your iOS or Android smart device.
Activating It.
On the side of the portable booster case, there's a SMA female jack; use this to connect the magnetic mount donor antenna.
Next, the antenna should be positioned to receive the best available cellular signal.
Plug the portable signal booster into your power source – AC or DC.
To indicate that the unit is active, you need to press the power button near the handle, thus illuminating the button.
The portable signal amplifier will automatically boot up and self-calibrate, displayed as a blinking green color in the LED status window.
Once the system is completely booted and is boosting, this will turn into solid green color.
Your portable cell signal amplifier will be ready to amplify carrier band needed or chosen within just minutes, improving cellular signal wherever connectivity is available.
Portable Cell Phone Signal Booster Specifications:
Case Material:
Injected molded polypropylene based NK-7 resin enhanced with several performance additives.
Case Performance:
Weather-worthy, impact resistant, and light weight—similar to IP65 rating when case and ports are closed. Automatic pressure release system valve. Micro vent for air while preventing water from entering.
Case Weight:
Approx. 11.0 lbs.
Case Dimensions:
15.8" x 12.1" x 6.8".
Case Security:
Nylon PowerClaw latches, TSA combination padlock capable.
Environmental Temperatures:
Operating Temperature: 0°C to 65°C (32°F to 149°F), Convection Cooling, Relative Humidity: 0% to 95%.
Power Input Voltage:
120/110v AC external port for operating; NEMA 5-15P (3-prong) 3 ft. cord included.
12v DC external port for operating; 2 SAE cords included (12v auto and 2.5mm barrel connector).
App Interface:
App (free download) available in your Android and iOS app store.
Status, Settings, Reporting, Diagnostics, Alarms and Notifications, Software Updates, Carrier Switching.
Features:
Supports two bands simultaneously from a single carrier at a time (3G/4G/LTE) up to 100dB gain per band with no interference to other cellular devices or WiFi. Covers up to 15,000 sq. ft. per booster in stationary mode, and full all sizes vehicles in mobile mode.
Antennas:
Model MMMPDH000002 SMA Connectors: (Server & mag-mount donor) | Impedance: 50 Ohm.
Supported Bands:
Multiple configuration profiles supported. Depending on the configuration of the MPA, it can support Bands 2,4,5,12,13 | 791-2690 MHz or Bands 1,3,5,7,8,20 | 699-2180 MHz.
Airline Compatible:
Yes (Checked Bag and Carry-On).
Consumer Alert:
Reviews
Questions & Answers
QUESTIONS & ANSWERS
Have a Question?
Be the first to ask a question about this.
Ask a Question
Data Sheet / User Guide
Make An Offer
Warning
Note: For any signal booster to help, outside signal strength must be at least -110 dB or there must be a clear line of sight to a cell tower that is within twenty miles. Before ordering, please check outside signal level in decibels or ensure that you can make and hold a phone call at any good spot outside where you can mount an exterior antenna. Square footage stated in signal booster listings is based on good signal outside. If it is any weaker, the boosted sq. ft. area will be considerably lower, accordingly.
Kevin K. of Anderson, California gave the following review:
Website is easy to use with plain straight forward info but could have had more on testing signal strength to make sure you get a strong enough booster.
Therefore, please note that stated sq. ft. coverage is based on good signal outside. For best results: If outside signal is weak, we suggest choosing the next higher sq. ft. coverage kit. If outside signal is very weak, we suggest choosing the kit with even more higher sq. ft. range bracket. Basically, higher the sq. ft. bracket, the more powerful the signal amplifier with greater Gain as well as higher uplink and downlink output power.
If outside signal is too weak (weaker than -110 dB), submit request for cell coverage solution assessment. Upon receipt of questionnaire, we will perform residential or business site survey. This will help us determine the system that is needed to improve cell coverage. Then, we will create system design using that system such as femtocell, active or hybrid distributed antenna system (DAS), or other carrier feed signal enhancing method available that will work at your signal-challenged location. Finally, we will schedule for installation after equipment and installation service quote has been approved by you, or your company.
For non installation-included kits: Most home / office / building cell signal booster kits only include bracket to mount exterior antenna on outside wall, edge of roof, or existing pipe up to 2 inches in diameter. Mounting pole not included with most kits, unless stated specifically that it is included for free. Therefore, a mounting post must be purchased separately if you will require it to mount exterior antenna.
---
Related Products