Truck Cell Phone Signal Booster (Fusion2Go 2.0 + Trucker Antenna - USA)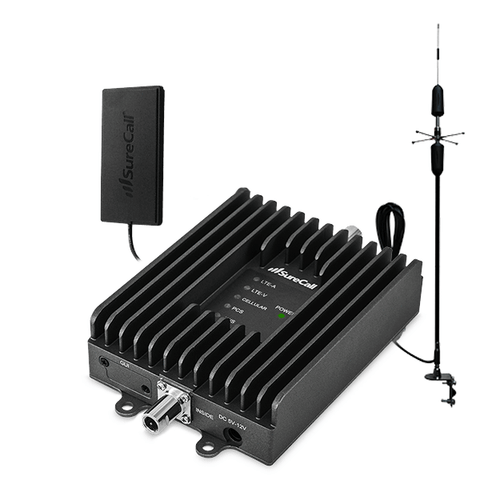 Truck Cell Phone Signal Booster (Fusion2Go 2.0 + Trucker Antenna - USA)
Regular price

$499.99 USD

Sale price

$399.99 USD
Best Price Guarantee. [1, 2, 3]
Buy Now, Pay Later with No Interest if paid in full within 6-12 months. Choose Klarna payment option at the checkout for details of this, and other long-term low-interest financing options.
Free Lifetime Support. SKU / Model: SC-Fusion2go2+SC-130W
Best Price Guarantee [1 2 3]
SureCall Fusion2Go 2.0 Truck Cell Phone Booster Highlights:
Version 2.0 has robust improvement in talk, text, data 3G, 4G, LTE Internet vs. Version 1.0.
Highest signal booster +50dB Gain allowed by FCC for moving vehicles.
High uplink power averaging at 17.9 dBm.
DC car plug-in power cord included. Optional electrical outlet AC power supply can be purchased separately.
Included Wideband Trucker Antenna can be used for maximum range in remote areas and highways for OTR trucks.
Optional DC hardwire kit can be bought separately to connect booster directly to vehicle battery for constant power.
Call for FREE consultation:
1(855)846-2654
Need installation quote, or help with designing a custom solution? Submit a request for quote.
Description
Reviews
Questions & Answers
Data Sheet / User Guide
Make An Offer
Warning
Description
Product Description
Truck cell phone signal booster kit consists of SureCall Fusion2Go 2.0 cellular amplifier kit plus 30 inches SureCall Wide-Band Trucker Antenna Kit. Optional mirror-mount Wide Band Truck Antenna is included with this kit for maximum range in remote areas and highways for larger vehicles such as over-the-road (OTR) trucks and big rigs.
It is excellent when compared to other brands and models but do consider the best and the most powerful Fusion2Go Max offering almost twice the uplink power at 29 dBm for greatest signal boost in weakest cell signal coverage areas.
With up to maximum +50 dB Gain allowed by FCC for cellphone boosters on moving vehicles, this is the most powerful truck signal booster in its class. It is trusted and used in police vehicles in patrol trucks and SUVs. It is newer version than earlier Cellphone-Mate SureCall CM2000.
Sending texts, videos, images, or using mobile apps is reliant on a strong 3G or 4G LTE signal. It boosts cellular connection strength for talking, texting, and data for all USA wireless carrier networks. This is the newer 2.0 version of the earlier "Fusion2Go Version 1.0" (USA).
Fusion2Go 2.0 "RV" USA also available for large recreational vehicles - It has omnidirectional solid and durable exterior antenna.
ALL CARRIERS. ALL SIGNALS. ALWAYS COVERED.
SureCall Fusion2Go 2.0 works with every cellular provider in USA, supports all signals within each cellular provider's range, and, once installed, you can have the power of the best vehicle booster in its class on the market at your side. We stand by the performance and quality of the Fusion2Go 2.0 and all other SureCall products so much that we offer the industry's best customer satisfaction suite; 60-day money back guarantee, 3-year warranty, and lifetime support.
About the SureCall Fusion2Go 2.0.
SureCall Fusion2Go 2.0 is the newer generation to a line of in-vehicle signal boosters that has kept drivers and riders connected in areas with critically low cellular signal strength. This cell phone signal booster kit is purpose-built for mobile users who often find themselves on the edge of their cellular network.
Fusion2Go 2.0 is a powerful piece of technology that installs in your truck to provide multiple simultaneous users with reliable access to calling, text, and mobile data through 3G and 4G LTE. Playing well with all cellular carriers in United States, the Fusion2Go 2.0 kit includes: low-profile magnetic antenna and optional 30" trucker antenna, interior patch antenna, cables and DC power adapter.
Amplifier unit to be placed in vehicle has a small footprint and automatically adjusts gain control. It provides maximum gain and maximum power possible within FCC limits. It has the next generation four inches high-gain exterior antenna that has a very strong magnet base which can hold antenna in place despite harsh environmental conditions such as bad weather including high winds. Optional trucker antenna can be used for even better reception due to its increased height and higher capacity.
SureCall Fusion to Go 2.0 reduces dropped and missed calls and extends battery life for multiple simultaneous users. No more dropped calls with SureCall FusionToGo 2.0! Enjoy clear and consistent mobile coverage for all smartphones and tablets inside vehicles. This 12 volts input amplifier kit includes an easy plug-in power adapter that is a standard for all trucks worldwide. Installation is easy with quick installation guide. 
Highlights:
Improve talking, texting, 3G & 4G LTE Internet signals for all service providers.
Reduces missed calls and disconnects.
Enjoy increased signal strength with extended battery life on all mobile devices.
Speeds 4G LTE Internet with robust connectivity for more miles of uninterrupted coverage.
Automatically gain optimization feature ensures the booster is always operating at max. performance.
No smartphone cradle or phone docking station required.
Sets up in minutes. Very simple plug-and-play installation.
DC car plug-in power cord included. Optional electrical outlet AC power supply can be purchased separately.
How is Fusion2Go 2.0 different from previous version?
Following are similarities and differences between SureCall Fusion2Go 3.0 and earlier versions Fusion2G & Fusion2Go 2.0:
More robust improvement in Talk, Text, 3G, 4G LTE Internet on all cell carrier phones than version 1.0.
Just like version 1.0, it can be installed in minutes - Simple plug and play installation.
Increased uplink power at average 21.2 dBm per band in this version 2.0 versus 17.9 dBm in version 1.0).
Auto adjusting gain automatically optimizes gain ensuring the booster is always operating at max performance (no manual adjustment option knobs like in version 1.0).
4" low profile exterior antenna versus standard 12" antenna in version 1.0. Shorter antenna also has strong & wide magnet base keeping it secure on vehicle roof despite high winds & extreme weather.
Higher transmit power than version 1.0. This allows the F2Go 2.0 to stay connected to distant cell towers where other, less powerful boosters simply cannot.
Within just minutes you can have the Sure Call Fusion 2 Go installed in your vehicle, and provide every mobile carrier's cell phone, tablet, hotspot, or other mobile device with extra signal. 
What does the signal booster kit include?
USA Kit Part # SC-Fusion2go2 with UPC 697691006116 includes: Fusion2Go 2.0 cell phone signal booster, 4" large magnetic base vehicle roof-mount antenna, 30" trucker antenna, internal patch antenna (with Velcro mounting tape), standard 12V DC power adapter, and American English instructions.
This 2G, 3G, 4G LTE cell phone signal booster for car is compatible with following USA cellular service providers:
American Service Providers
AT&T Wireless
Boost Mobile
C Spire
Cricket Wireless
Metro PCS
Net10
Shentel
Simple Mobile
Sprint
Straight Talk
T-Mobile USA
Ting
TracFone
US Cellular
Verizon Wireless
Virgin Mobile USA
Fusion2Go 2.0 Specifications.
| | |
| --- | --- |
| Frequency | Uplink: 698-716 / 776-787 / 824-849 / 1850-1915 / 1710-1755 (G Block Included); Downlink : 728-746 / 746-757 / 869-894 / 1930-1995 / 2110-2155 (G Block Included). |
| Standard Supported | CDMA, WCDMA, GSM, EDGE, HSPA+, EVDO, LTE and all cellular standards. |
| Input/ Output Impedance | 50 ohm. |
| Maximum Gain | 50dB |
| Noise Figure | ≤ 5 dB |
| VSWR | ≤2.0 |
| Gain Adjustment | 20 dB (Automatic). |
| DC Car Charger | 6V - 15V |
| Maximum RF Output Power | 1 Watt EIRP |
| Cable Type | RG-174 |
| Exterior Antenna Cable Length | 10 ft. |
| Interior Antenna Cable Length | 10 ft. |
| RF connectors | FME Male Connectors on both ends. |
| Power Consumption | < 10 Watts |
| Dimensions | 5.625" x 4" x 1.125" |
| Weight | 1.43 lbs |
SureCall Fusion2Go 3.0 Bands and Frequencies.
FREQUENCY
BAND 17
700 MHz
 
BAND 13
700 MHz
 
BAND 5
850 MHz
 
BAND 4
1700/2100 MHz
 
BAND 25/2
1900 MHz
Alternate Part Numbers:
USA
This SureCall booster supports 4G and 5G devices.
SureCall signal boosters are 5G compatible, which means they support both 4G and 5G devices. All SureCall's current vehicle and home boosters amplify any modulation (4G, 5G) that operates on the five most common up and down cellular frequencies bands. This makes SureCall current signal boosters compatible with 5G devices as carriers begin to transmit 5G signals over the existing frequency bands and towers.
Consumer Alert:
Reviews
Questions & Answers
QUESTIONS & ANSWERS
Have a Question?
Be the first to ask a question about this.
Ask a Question
Data Sheet / User Guide
Make An Offer
Warning
Note: For any signal booster to help, outside signal strength must be at least -110 dB or there must be a clear line of sight to a cell tower that is within twenty miles. Before ordering, please check outside signal level in decibels or ensure that you can make and hold a phone call at any good spot outside where you can mount an exterior antenna. Square footage stated in signal booster listings is based on good signal outside. If it is any weaker, the boosted sq. ft. area will be considerably lower, accordingly.
Kevin K. of Anderson, California gave the following review:
Website is easy to use with plain straight forward info but could have had more on testing signal strength to make sure you get a strong enough booster.
Therefore, please note that stated sq. ft. coverage is based on good signal outside. For best results: If outside signal is weak, we suggest choosing the next higher sq. ft. coverage kit. If outside signal is very weak, we suggest choosing the kit with even more higher sq. ft. range bracket. Basically, higher the sq. ft. bracket, the more powerful the signal amplifier with greater Gain as well as higher uplink and downlink output power.
If outside signal is too weak (weaker than -110 dB), submit request for cell coverage solution assessment. Upon receipt of questionnaire, we will perform residential or business site survey. This will help us determine the system that is needed to improve cell coverage. Then, we will create system design using that system such as femtocell, active or hybrid distributed antenna system (DAS), or other carrier feed signal enhancing method available that will work at your signal-challenged location. Finally, we will schedule for installation after equipment and installation service quote has been approved by you, or your company.
For non installation-included kits: Most home / office / building cell signal booster kits only include bracket to mount exterior antenna on outside wall, edge of roof, or existing pipe up to 2 inches in diameter. Mounting pole not included with most kits, unless stated specifically that it is included for free. Therefore, a mounting post must be purchased separately if you will require it to mount exterior antenna.
---
Related Products