An item you're pre-ordering is on backorder so it will take few days to ship - are you sure you want to proceed to order it?
Close
SureCall Fusion4Home 3.0 CA Yagi/Whip Canada | SC-PolyH3-72-YRA-CA-Kit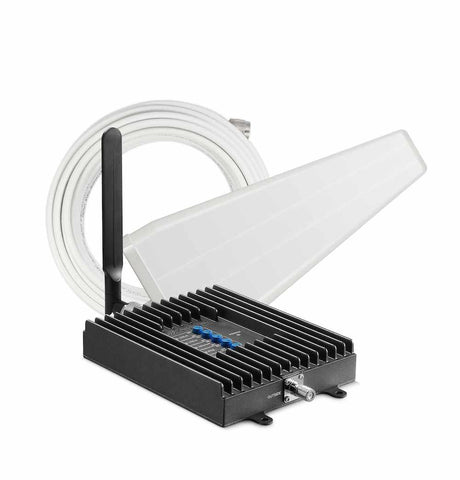 SureCall Fusion4Home 3.0 CA Yagi/Whip Canada | SC-PolyH3-72-YRA-CA-Kit
Regular price

$461.53 USD

Sale price

$422.31 USD
Best Price Guarantee. [1, 2, 3]
Buy Now, Pay Later with No Interest if paid in full within 6-12 months. Choose Klarna payment option at the checkout for details of this, and other long-term low-interest financing options.
Free Lifetime Support. SKU / Model: SC-PolyH3-72-YRA-CA-Kit
Best Price Guarantee [1 2 3]
Call for FREE consultation:
1(855)846-2654
Need installation quote, or help with designing a custom solution? Submit a request for quote.
Description
Reviews
Questions & Answers
Data Sheet / User Guide
Make An Offer
Warning
Description
Product Description
SureCall Fusion4Home 3.0 CA Yagi/Whip Canada Cell Booster for 3k sq. ft.
SureCall Fusion4Home 3.0 CA cell phone signal booster kit with Yagi exterior antenna & Whip built-in amplifier internal antenna. Fusion4Home Max YRA or YW kit is Canadian version with instructions in English and French. It is a 4G LTE Canada Cell Booster for up to 3,000 sq. ft. cellular coverage boost indoors in homes and offices across all cities and provinces of Canada, for all mobile carriers in Canada.
It works for all 2G, 3G, 4G cellular devices. SureCall Fusion4Home Max 3.0 includes Log Periodic or Yagi external antenna and interior Whip antenna that is built-into amplifier unit for easy installation. No need to wire and install a separate inside antenna! Canada version quick install guide part # SC-PolyH3-72-YRA-CA (previously SC-PolyH-72-YRA-CA-Kit) also has 1 Watt Power Output which is maximum allowed by Innovation, Science and Economic Development Canada (ISED). This ISED approved cell phone booster kit can enhance wireless phone coverage acrodd 2 to 4 rooms, up to 3,000 square feet.
Whether your cell phone reception problems are due to the fact that you're located far from a tower, or buildings or topography are blocking signals, the SureCall Fusion4Home All-Carrier Cellular Signal Booster Yagi/ Whip Kit can help you enjoy better talk, text and Internet!
Sure Call Fusion 4 Home Yagi/Whip Kit provides powerful signal boosting for phone calls, texts, and 3G and 4G LTE wireless internet. Once installed, you will experience a reduction in the number of missed or drop calls, faster data performance, and increased signal across all mobiles and devices within range.
The external Yagi antenna ensures maximum signal boosting, even when our existing signal is as weak as one bar outside, while the internal antenna transmits the signal to a range of 2 to 4 rooms within your home and office.
The booster device is contained within a sturdy metal housing, for added durability and lasting performance. With the lowest noise figures in the industry, you can guarantee that the Fusion4Home boosters give the clearest calls possible.
Ideal for use in 2-4 rooms in a home or small office, and with incredibly signal boosting strength even for weak signal, the SureCall Fusion-4-Home Yagi/ Whip Kit is an extremely useful piece of technology.
Top Features.
Enhances cell phone signal strength in 2 to 4 rooms of a home. Increases voice, 3G and 4G LTE signals by up to 72 decibels. Lowers frequency of dropped calls and improves call clarity. Receives signals from towers up to 30 miles away. Speeds up Internet, email, text and streaming. Allows multiple users to utilize devices at once. For homes where outdoor signal strength is poor. Whip antenna provides 360 degree coverage. Easy DIY installation
Who It Is For?
The SureCall Fusion 4Home All-Carrier Cellular Signal Booster Yagi Whip Kit is best for homes or small offices where coverage is needed in 2 to 4 rooms. Even in areas where outdoor cell phone reception is less than 3 bars, the SureCall Fusion4HomeAll-Carrier Cellular Signal Booster Yagi Whip Kit can be used.
How It Works.
With the SureCall Fusion4Home All-Carrier Cellular Signal Booster Yagi Whip Kit, a Yagi antenna is mounted on the roof pointing in the direction of the strongest cell phone signal. Then, the antenna picks up all of the signals transmitted by the tower. The signals are passed through to a signal amplifier indoors to increase their intensity by as much as 72 decibels before they are distributed across 360 degrees by a whip antenna attached to the amplifier. Your smartphones and tablets then receive the signals from their carriers much more strongly for instant improvements in data speed and voice performance.
What It Works With.
You can use the SureCall Fusion4Home All-Carrier Cellular Signal Booster Yagi Whip Kit with:
Any smartphone or tablet model that has 3G & 4G LTE connectivity. Any Canadian cellular carrier. Poor outdoor reception with less than 3 bars on phones and tablets but 1 or more bars required. Some signal outside is required for this booster kit to amplify signals inside. The system works with 700 MHz, 850 MHz, 1900 Mhz, and AWS 1700/2100 MHz frequencies.
Why It Is Unique.
The SureCall Fusion4HomeAll-Carrier Cellular Signal Booster Yagi Whip Kit is the best system of its kind on the market today because of its many unique features. Some of the things that separate it from the competition include:
Fast 4G LTE data speeds compared to other brand boosters. Energy conserving design automatically goes into a dormant stealth mode when not in use. Meets or exceeds all Innovation, Science and Economic Development Canada (ISEDC) standards respectively for compatibility with all Canadian country carriers. Auto Gain Control allows for easier antenna installation. Constructed out of durable metal for longevity. Everything required for installation in most homes is provided. Guaranteed by a 3-year warranty from SureCall.
Other Product Information.
The set comes in brand new retail packaging. The package dimensions are 20" x 12" x 8". The package weighs 10 pounds. Alternate part #'s: SC-PolyH3-72-YRA-CA-Kit, PolyH3-72-YRA-CA, PolyH372YRACA, SCPolyH372YRACAKit, PolyH3-72-YRA-CA-Kit, PolyH372YRACAKit, SC-PolyH3-72-YRA-CA, SCPolyH372YRACA. ASIN: B01AWGY57U (Yagi/Whip option). It is comparable to weBoost/ Wilson Electronics Connect 4G 470103.
SureCall Fusion4Home Yagi & Whip Antenna Kit Bands and Frequencies.
FREQUENCY
BAND 17
700 MHz
 
BAND 13
700 MHz
 
BAND 5
850 MHz
 
BAND 4
1700/2100 MHz
 
BAND 25/2
1900 MHz
Alternate Part #'s (Canada):
SC-PolyH-72-YRA-CA-Kit
SCPolyH72YRACAKit
PolyH-72-YRA-CA-Kit
PolyH72YRACAKit
SC-PolyH-72-YRA-CA
SCPolyH72YRACA
PolyH-72-YRA-CA
PolyH72YRACA
SC-PolyH3-72-YRA-CA
SCPolyH372YRACA
PolyH3-72-YRA-CA
PolyH372YRACA
SC-PolyH3-72-YRA
SCPolyH372YRA
PolyH3-72-YRA
PolyH372YRA
Fusion4Home Yagi / Whip Signal Amplifier Specifications:
| | |
| --- | --- |
| Uplink Frequency Range (MHz): | 698-716 / 776-787 / 824-849 / 1850-1915 / 1710-1755 (G Block Included). |
| Downlink Frequency Range (MHz): | 728-746 / 746-757 / 869-894 / 1930-1995 / 2110-2155 (G Block Included). |
| Supported Standards: | CDMA, WCDMA, GSM, EDGE, HSPA+, EVDO, LTE and all cellular standards. |
| Input/Output Impedance: | 75Ω donor port / 50Ω server port. |
| Maximum Gain: | 72 dB. |
| Noise Figure: | 8 dB. |
| VSWR: | ≤2.0. |
| AC Input: | Input AC 110V, 60 Hz / Output DC 5-15 V. |
| Maximum Output Power: | 1 Watt EIRP. |
| Cable: | RG-6. |
| RF Connectors: | N-Female (indoor) & F-Female (outdoor). |
| Power Consumption: | <15W |
| Operating Temperature: | -4ºF to +158ºF. |
| Dimensions: | 7.9" x 5" x 1.2" |
| Weight: | 2 lb 3 oz |
This 2G, 3G, 4G LTE cellular signal booster kit is compatible with following Canadian wireless service providers:
Canadian Service Providers
Bell Mobility
Chatr
Fido
Ice Wireless
Koodo Mobile
Mobilicity
Tbaytel
MTS
NorthernTel
Public Mobile
Rogers Wireless
SaskTel
Telus Mobility
Videotron
Virgin Mobile Canada
Wind Mobile

5-band home booster with outdoor directional yagi antenna and indoor right-angle whip antenna. Includes 50 ft. of RG-6 coax cable, and everything else needed to perform complete installation.
For Canada:
This is a consumer device.
BEFORE USE, you must meet all requirements set out in CPC-2-1-05.
You MUST operate this device with approved antennas and cables as specified by the manufacturer. Antennas MUST NOT be installed at least 20 cm (8 inches) from any person.
You MUST cease operating this device immediately if requested by ISED or a licensed wireless service provider.
WARNING. E911 location information may not be provided or may be inaccurate for calls served by using this device.
In addition, Consumer Zone Enhancers certified for fixed operation such as this may operate in a fixed location only, for in-building use.
Reviews
Questions & Answers
I have only one bar on my iPhone , will this boost my signal?

Yes, if you get one bar on your iPhone inside your house, then you probably get more bars outside which this system will amplify and broadcast inside to give you 3-5 bars inside. For your assurance, we offer 60 days refund guarantee if it does not meet your expectations.
Data Sheet / User Guide
Make An Offer
Warning
Note: For any signal booster to help, outside signal strength must be at least -110 dB or there must be a clear line of sight to a cell tower that is within twenty miles. Before ordering, please check outside signal level in decibels or ensure that you can make and hold a phone call at any good spot outside where you can mount an exterior antenna. Square footage stated in signal booster listings is based on good signal outside. If it is any weaker, the boosted sq. ft. area will be considerably lower, accordingly.
Kevin K. of Anderson, California gave the following review:
Website is easy to use with plain straight forward info but could have had more on testing signal strength to make sure you get a strong enough booster.
Therefore, please note that stated sq. ft. coverage is based on good signal outside. For best results: If outside signal is weak, we suggest choosing the next higher sq. ft. coverage kit. If outside signal is very weak, we suggest choosing the kit with even more higher sq. ft. range bracket. Basically, higher the sq. ft. bracket, the more powerful the signal amplifier with greater Gain as well as higher uplink and downlink output power.
If outside signal is too weak (weaker than -110 dB), submit request for cell coverage solution assessment. Upon receipt of questionnaire, we will perform residential or business site survey. This will help us determine the system that is needed to improve cell coverage. Then, we will create system design using that system such as femtocell, active or hybrid distributed antenna system (DAS), or other carrier feed signal enhancing method available that will work at your signal-challenged location. Finally, we will schedule for installation after equipment and installation service quote has been approved by you, or your company.
For non installation-included kits: Most home / office / building cell signal booster kits only include bracket to mount exterior antenna on outside wall, edge of roof, or existing pipe up to 2 inches in diameter. Mounting pole not included with most kits, unless stated specifically that it is included for free. Therefore, a mounting post must be purchased separately if you will require it to mount exterior antenna.
---
Related Products