An item you're pre-ordering is on backorder so it will take few days to ship - are you sure you want to proceed to order it?
Close
TV Signal Booster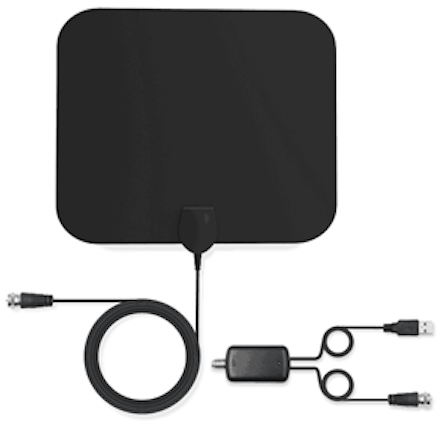 TV Signal Booster
Regular price

$49.99 USD

Sale price

$24.99 USD
Best Price Guarantee. [1, 2, 3]
Buy Now, Pay Later with No Interest if paid in full within 6-12 months. Choose Klarna payment option at the checkout for details of this, and other long-term low-interest financing options.
Free Lifetime Support. SKU / Model: TV-SIGNAL-BOOSTER
Best Price Guarantee [1 2 3]
Call for FREE consultation:
1(855)846-2654
Need installation quote, or help with designing a custom solution? Submit a request for quote.
Description
Reviews
Questions & Answers
Make An Offer
Warning
Description
Product Description
HDTV antenna with amplifier kit / TV signal booster. Suitable for both high-definition and analog televisions, you can make the most of HD shows, a huge variety of TV channels, and crystal-clear digital reception.
Everyone would love to have access to the unlimited world of cable TV, but not everyone has room in the family budget for an ongoing cable TV subscription. If you have ever longed for free access to cable television channels, consider this HDTV antenna kit which includes an amplifier and signal booster.
Could this be the best money-saving hack for 2020? Imagine being able to rein in all the HDTV and digital signals being broadcast within 120 miles of you and displaying all those high def. and cable TV channels on your existing set – all without ever signing up for a cable subscription. Not only will this antenna give you access to cable TV channels that you previously couldn't view, it will also improve the quality of your digital and high def. TV reception.
If you're old enough to remember "rabbit ears" and other styles of old school cable antennas, you will know that they are old technology. Today, digital HDTV antennas and boosters are wall-mounted or window-mounted on glass in a matter of seconds. Installation is a breeze, so you can forget worrying about setting it up and start thinking about all the cable TV shows you can now watch that you didn't previously have access to.
Product Features:
Flat, razor-thin antenna design will aesthetically suit the look of your living room.
High gain levels and low error rates give you the crystal-clear high def TV you have been looking for.
Noticeable improvement in your analog and digital TV signals.
Access signals in any direction with the unique multi-directional design of antenna.
Installation and setup are as easy as unwrapping the HDTV antenna signal booster, connecting it via the supplied cables, then having your TV scan for the full set of available stations.
Versatile installation requirements allow for the antenna to be placed on the window, table, or wall as desired:
Imagine being able to have permanent access to cable TV stations without ever signing up with a cable TV company or paying any ongoing subscription fees. In addition, you will enjoy a wide variety of high-quality 1080p streams and videos.
Not only will you see a noticeable improvement in the clarity of the frequency of your TV channels, you will also note the expanded range of signals that your TV set can now receive - giving you access to exclusive cable television channels that are normally reserved for paid subscribers.
It is the number and frequency of signals broadcast in your area that determines the number of television channels that your TV set can access. Similarly, the quality of your TV reception depends on several factors, including the physical distance between your TV set and your nearest signal tower, weather changes from time to time, the terrain in your local area, and other geographical factors.
This HDTV antenna and signal booster allows you to overcome many of your previous limitations, giving you access to high-quality TV stations and improved quality reception like never before.
What is in the retail box?
When you purchase an HDTV antenna and signal booster, you will find everything you need for full installation and setup, including:
13 feet of coaxial cable.
HDTV antenna.
TV signal amplifier.
AC/DC power adapter.
Foam stickers to aid with easy installation.
Simple to follow information and instruction manual.
Quick Installation Guide:
Installation is a breeze when you follow these six simple steps:
Locate your ANT/IN connector, which you will find on the back of your TV set or your DVB-T tuner. Attach the coaxial cable to this connector.
Determine the ideal location for the antenna, whether on a window, table, or wall. Many people find that attaching the antenna to a window gives optimal reception, but this is not completely necessary.
Locate the tuner mode on your set-top box or TV and sent it to "Antenna" or "Air". If you're not sure where this is located within your equipment, refer to your instruction manual. If you don't still have your TV manual, do an online search for the make and model of your TV or set-top box.
Access the channel setup menu of your TV or set-top box, and then instruct it to scan for new channels. Different equipment will have different menu items but look for something similar to "scan", "channel scan", "auto scan", "channel search", or "auto program". Again, the instruction manual that came with your TV or set-top box will help you if you get stuck on this step.
If you're happy with the number of channels you have obtained and the quality of the TV reception at this stage, skip this next step. But if you think that your TV reception could be further improved or that there're more channels that you should be able to access, try moving the antenna equipment to different areas and then performing the scan (as detailed in step 4) in each location. Many people find that they can achieve the best results by placing the antenna on a glass outdoor window close to the television set. Also, try positioning the antenna on different walls near the TV set and rescanning at each position.
Once you have located the optimal position for antenna, affix antenna to that spot using the provided foam stickers.
TV Signal Booster Specs:
| | |
| --- | --- |
| Frequency Range | 174-230 MHz / 470-862 MHz |
| Input Impedance | 75Ohm |
| V.S.W.R. | < 2.0 |
| Gain | 25dBi |
| Reception Range | Maximum 120 mi. |
| Input Power | 50 W |
| Polarization | Linear |
| Connector | F-Male + IEC Male |
| Operation Temperature | -45 ~ 85 Degrees C |
| Storage Temperature | -45 ~ 85 Degrees C |
| Compatibility | 720p, 1080i, 1080p/ ATSC |
| Cable | RG-174 |
| Cable Length | 3 Meters |
| Color | Black |
| Size | 330 x 300 x 5mm |
TV Signal Booster Commercial:
Browse other TV signal boosters and antennas today to help improve your television viewing experience.
Please note that this purchase is for a HDTV antenna enhancer which improves TV channel reception by catching signals hundreds of miles away. It works the same offshore on ships, boats, yachts as it does on land in homes and buildings.
Reviews
Questions & Answers
QUESTIONS & ANSWERS
Have a Question?
Be the first to ask a question about this.
Ask a Question
Data Sheet / User Guide
Make An Offer
Warning
Note: For any signal booster to help, outside signal strength must be at least -110 dB or there must be a clear line of sight to a cell tower that is within twenty miles. Before ordering, please check outside signal level in decibels or ensure that you can make and hold a phone call at any good spot outside where you can mount an exterior antenna. Square footage stated in signal booster listings is based on good signal outside. If it is any weaker, the boosted sq. ft. area will be considerably lower, accordingly.
Kevin K. of Anderson, California gave the following review:
Website is easy to use with plain straight forward info but could have had more on testing signal strength to make sure you get a strong enough booster.
Therefore, please note that stated sq. ft. coverage is based on good signal outside. For best results: If outside signal is weak, we suggest choosing the next higher sq. ft. coverage kit. If outside signal is very weak, we suggest choosing the kit with even more higher sq. ft. range bracket. Basically, higher the sq. ft. bracket, the more powerful the signal amplifier with greater Gain as well as higher uplink and downlink output power.
If outside signal is too weak (weaker than -110 dB), submit request for cell coverage solution assessment. Upon receipt of questionnaire, we will perform residential or business site survey. This will help us determine the system that is needed to improve cell coverage. Then, we will create system design using that system such as femtocell, active or hybrid distributed antenna system (DAS), or other carrier feed signal enhancing method available that will work at your signal-challenged location. Finally, we will schedule for installation after equipment and installation service quote has been approved by you, or your company.
For non installation-included kits: Most home / office / building cell signal booster kits only include bracket to mount exterior antenna on outside wall, edge of roof, or existing pipe up to 2 inches in diameter. Mounting pole not included with most kits, unless stated specifically that it is included for free. Therefore, a mounting post must be purchased separately if you will require it to mount exterior antenna.
---
Related Products