weBoost Drive X Fleet with Fixed Antenna | 473021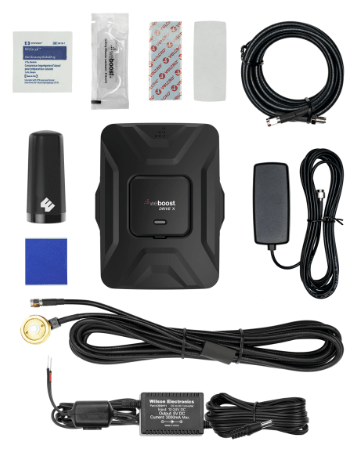 weBoost Drive X Fleet with Fixed Antenna | 473021
Best Price Guarantee. [1, 2, 3]
Buy Now, Pay Later with No Interest if paid in full within 6-12 months. Choose Klarna payment option at the checkout for details of this, and other long-term low-interest financing options.
Free Lifetime Support. SKU / Model: 473021
Best Price Guarantee [1 2 3]
Call for FREE consultation:
1(855)846-2654
Need installation quote, or help with designing a custom solution? Submit a request for quote.
Description
Reviews
Questions & Answers
Data Sheet / User Guide
Make An Offer
Warning
Description
Product Description
weBoost Drive X Fleet (473021) is the new latest 4G NMO Antenna Cell Phone Signal Booster for Vehicle Fleets. Works with all Carriers in USA & Canada. It was launched by Wilson Electronics on Jan. 20, 2020. It has been designed specifically to ensure that Fleet drivers have the protection they deserve while out on the road.
5G Ready - This weBoost booster will work for the next decade and beyond.
With this cellular signal booster, drivers can safely reach their intended destination without being stuck out in the never-never due to mechanical or similar issues, knowing they have strong and reliable signal to phone for assistance.
What is New with the weBoost Drive X Fleet Signal Booster?
This signal amplifier boasts a powerful secure antenna for the trunk or roof of your vehicle; an antenna that cannot be detached from outside. Its unique design means that this rugged external antenna is permanently installed onto your vehicle.
Dimensions of the NMO Antenna.
This is a low-profile, discreet antenna measuring about 1.5 inches in diameter and a little over 3-inches in height. Its compact size means it is able to be unobtrusively mounted and affixed to almost any type of vehicle, including trucks, buses, minivans, vans, SUVs and cars. Note that, unlike many other vehicle cell signal boosters we carry, the weBoost Fleet signal booster will require installation by a professional. Your local auto accessories shop or automotive repair shop may be qualified to install this vehicle signal booster kit for you, so just ask them if they have experience drilling through the trunk or the roof to install an NMO antenna. Alternatively, at a small additional cost, SignalBooster.com would be more than happy to install your weBoost Fleet signal booster to your vehicle. Review Drive X Fleet Data Sheet and Drive X Fleet User Guide for more details.
Who Can Benefit from Installing a WeBoost Drive X Fleet Signal Booster?
Commercial fleet vehicles, like delivery trucks and cars, law enforcement patrol cars, government vehicles, vans, and any other type of mobile fleet out on the road can benefit from having this 4G drill-mount NMA signal booster installed. This signal booster amplifies the cellular reception of all North American carrier networks. Today, all drivers can have reliable cellular signal to stay connected whilst out on the road, whether it be connecting to their business, friends, or their loved ones.
For way too long, drivers of fleet vehicles have had to struggle with little or no cellular service, while always hurrying to reach their destinations and meet timelines. Now that strong and reliable cellular service is available to all vehicles, no longer must fleet vehicles remain unprotected with unsure or no methods of communication. With so much uncertain terrain in both the United States and Canada, it is quite common for fleet operators to not even know the location of their vehicles or what difficulties they may be experiencing.
Modern fleet vehicles depend heavily on reliable wireless communication systems to ensure communication is not a hit-or-miss affair, so this weBoost Drive X Fleet signal booster ensures that drivers have access to strong and uninterrupted data and voice. Today's fleet businesses have the ability to stay in constant communication with both their drivers and clientele, giving them the satisfaction of not only being up-to-date on deliveries, but keeping a close eye on business operations.
The Drive X Fleet Cell Phone Signal Booster by weBoost is capable of amplifying 4G LTE, 3G, and 2G signals for not only cell phones within vehicles, but also other devices like tablets. This innovative booster also enhances carrier signals for all cell phone services. Drivers and passengers can be guaranteed of receiving an efficient and strong wireless cellular signal at all times, allowing them to communicate and stay in touch with individuals and other fleets in their groups.
Putting Fleet Managers Back in Control.
All cellular devices and tracking gadgets will achieve strong reception strength with the Drive X Fleet booster, allowing fleet managers to easily track and control vehicles in their groups. This advantage is extremely helpful in vehicles that are crossing rugged terrains, which often leads to poor cell coverage. With a we-Boost Drive X Fleet signal booster, the cellular range is widened, improving the quality of voice calls and delivering fast data speeds.
With a weBoost Drive X signal booster installed on your vehicle, mobile payments can be processed immediately, which means that fleet operators can accept and make payments and close deals regardless of the terrain. This is all made possible because this booster is fully compatible with all cell carriers in United States like T-Mobile, US Cellular, AT-T Wireless, Sprint, Verizon wireless, Straight Talk, and all others.
Special Features of Drive X Fleet by weBoost (473021):
The weBoost Drive X Fleet signal booster amplifies 4G LTE, 3G and 2G voice and data networks.
This booster not only improves cellular signal for multiple simultaneous cell devices in a fleet vehicle, but also for other cellular devices within the vehicle.
Fleet operators can now track their vehicles regardless of where they are and how poor the cell signal may be, thanks to the amplification of cellular tracking equipment.
The weBoost Drive X Fleet can boost cell phone signals for every cellular device and for all cell phone carriers, simultaneously.
Whilst enhancing cellular range, this booster kit delivers improved call quality plus the fastest available data speeds.
This booster has been certified by the FCC.
The Drive X Fleet booster conforms to FCC regulations by providing the maximum 50 dB gain allowed.
This signal boosting kit includes every component required for installation.
Even in areas of very poor signal quality, with this signal booster you will be guaranteed of achieving additional talk time of up to two hours.
When purchasing the weBoost X Fleet signal booster you will receive a two-year manufacturer's warranty and a two-month cash-back guarantee.
The NMO 4G Antenna is a durable and permanent solution.
What is Included in the Drive X Fleet Signal Booster Kit?
Your weBoost X Fleet kit includes everything you need for installation, and this includes the New Motorola (NMO) antenna, which does require professional installation to ensure it is set up correctly. A powerful antenna, the NMO antenna delivers the maximum 50 dB system gain which has gained approval by the Federal Communications Commission (FCC). This antenna will improve 4G LTE, 3G, and 2G voice and data signal by a whopping 32 times, and is compatible with all cellular bands globally for voice and data from UMTS, AWS, CDMA, GSM AND LTE. In addition, this is an omnidirectional antenna, which amplifies within cellular frequencies 1710-2700 MHz and 698-960 MHz.
The NMO antenna is the perfect choice for installations of M2M systems both indoors and outdoors. In fact, it is perfect for all vehicle systems, including trucks, RVs, and cars because it connects seamlessly to cell boosters and signal modems as required. The NMO antenna comes complete with a 24 month warranty.
How the weBoost Drive Fleet X Cell Booster Works.
This cellular signal booster works by using its 4G LTE high-gain antenna to identify existing poor-quality signals. Then, using SmarTech III (patented technology), these signals are amplified numerous times. Now, easily able to bypass all obstructions, the booster directly delivers the signal into the vehicle's cabin area. The 4G LTE NMO exterior antenna is permanently affixed onto the trunk or roof of the vehicle. If you require more details on this permanently affixed antenna, please refer to the 4G LTE NMO exterior antenna listing.
Because this is a highly efficient booster kit and NMO antenna, it will require an installation professional to ensure a safe, effective, and ultimately successful installation. Your installer will determine the cell antenna's perfect location, which will be approximately 6 inches from car windows and around 12 inches away from others antenna on the vehicle. This expert will understand that a "soft install" should be undertaken prior to drilling holes on the vehicle's roof and routing the necessary cable across a door or open window, in addition to other installation processes.
Once installation is complete, you will be able to access all 4G LTE, 3G, and 2G GSM text, data, and phone call signals using the weBoost X Fleet antenna, transmitting these signals into the cell phone signal booster whilst the vehicle is either parked or still moving. Once a signal has been received, it will be amplified by your weBoost signal booster. Basically, the signal booster is a contact point between the phones and devices within the vehicle and the closest carrier tower, resulting in all cell devices enjoying strong and reliable cell signal. And it works in reverse, where voice calls and data are submitted back to the cellular network through the booster.
Product Overview.
With the weBoost Drive X Fleet cellular signal booster, no longer must you tolerate slow Internet, poor quality of voice calls, as well as dropped phone calls.
weBoost Drive X Fleet is the ideal signal booster for fleet vehicles, ensuring that all users enjoy boosted 4G LTE and 3G signals, simultaneously, for multiple users.
With its weatherproof, rugged NMO external antenna, the Pro-Model weBoost Drive Fleet delivers twice as much uplink power. This equates to a 30% - 60% greater reach from the closest cell tower.
Up to four cellular devices can benefit from enhanced wireless cell signals when you install a weBoost Drive X Fleet signal booster on your vehicle. Regardless of whether they be smartphones, tablets, or Kindles, users will receive a stronger signal and clear connection, with improved gains of as much as +50 dB.
For over 40 years weBoost has resolved reception issues with cellular signal boosters which are both FCC and IC Certified. Our innovative boosters are brilliant for improving poor signals in all remote, rural, and city areas. Your weBoost Fleet X signal booster kit will come with everything you need to complete a successful installation. However, please keep in mind that this booster must be properly installed by an experienced in-vehicle installation expert.
Benefits of Installing a WeBoost Drive X Fleet Booster on your vehicle.
Users will be able to download and upload much quicker.
Reception will be much improved.
You will be able to achieve a great number of signal bars.
Disconnection problems and dropped call issues will be eliminated Text messages will be delivered fast.
Coverage inside your vehicle will be increased.
The dreaded "dead zones" will be either eliminated, or drastically reduced.
This cell phone signal booster offers cell devices a longer battery life than without it.
Connections will be strong and reliable.
Cell phone voice calls will be crystal-clear.
If you're looking for lightning fast 4G LTE Internet connections and strong, dependable signal for data, voice and text in your vehicle, the Drive X Fleet Cell Phone Signal Booster by WeBoost will deliver between 30% and 60% greater reach than other signal boosters available on the market today. You can be sure that this Fleet model by weBoost is simply the best!
It is the ideal booster for users that are looking for fast downloading and uploading for streaming-style apps like YouTube, Pandora, Netflix, Spotify, and other similar apps and services that use a lot of data.
Carriers Compatible with Drive X Fleet.
The Drive X Fleet Cell Phone Signal Booster by weBoost is a signal booster for fleet vehicles, designed specifically to boost network reception for all major carrier networks in United States, with the exception of Sprint LTE Plus. This signal booster supports AWS 1700/2100 MHz, and 900 MHz, 850 MHz, and 700 MHz.
Drive X Fleet kit (item # 473021) contains the foll.:
Drive X Fleet Cell Phone Amplifier/Repeater (471010 / U471010).
Internal 4G Low-Profile Slim Antenna (314401).
Hardwire power supply – 12 V (851111).
NMO Mount, three-quarter-inch, with 14 feet of cable (901150).
Extension cable, RG58 – 6 feet.
Protective tape for hole drilling.
Sealant for O-rings.
Specs. of weBoost 473021 Amplifier Model.
| | |
| --- | --- |
| Frequency | 700 MHz - Band 12/ 13/ 17, 850 MHz - Band 5, 1700/ 2100 MHz - Band 4, 1900 MHz - Band 2. |
| Maximum Gain | 50 Decibels (dB) |
| Impedance | 50 Ohm |
| Voltage / Power | 12V/ 2A |
| Connectors | SMA-Female |
| Dimensions | 6.25 x 4.5 x 1 in. |
| Weight | 0.77 lbs (amplifier only). |
| Alternate Model # 's | WA473021, WA473021R, WA653021, 473021, 473021R, 653021, WB473021, WB473021R, WB653021. |
| 473021 (USA) UPC | 810005961554. |
Note: Works with all Carriers in USA & Canada. If ordering to be shipped to Canada, Canadian version (653021) of this kit will be shipped.
Installation.
This fleet vehicle cell phone booster kit requires professional installation.
CELL SIGNAL BOOSTER FOR ALL TYPE FLEET VEHICLES.
Watch video showing how to install weBoost Drive X Fleet:
Why buy weBoost Drive X Fleet? Watch this video for answer:
Consumer Alert:
Reviews
Questions & Answers
QUESTIONS & ANSWERS
Have a Question?
Be the first to ask a question about this.
Ask a Question
Data Sheet / User Guide
Make An Offer
Warning
Note: For any signal booster to help, outside signal strength must be at least -110 dB or there must be a clear line of sight to a cell tower that is within twenty miles. Before ordering, please check outside signal level in decibels or ensure that you can make and hold a phone call at any good spot outside where you can mount an exterior antenna. Square footage stated in signal booster listings is based on good signal outside. If it is any weaker, the boosted sq. ft. area will be considerably lower, accordingly.
Kevin K. of Anderson, California gave the following review:
Website is easy to use with plain straight forward info but could have had more on testing signal strength to make sure you get a strong enough booster.
Therefore, please note that stated sq. ft. coverage is based on good signal outside. For best results: If outside signal is weak, we suggest choosing the next higher sq. ft. coverage kit. If outside signal is very weak, we suggest choosing the kit with even more higher sq. ft. range bracket. Basically, higher the sq. ft. bracket, the more powerful the signal amplifier with greater Gain as well as higher uplink and downlink output power.
If outside signal is too weak (weaker than -110 dB), submit request for cell coverage solution assessment. Upon receipt of questionnaire, we will perform residential or business site survey. This will help us determine the system that is needed to improve cell coverage. Then, we will create system design using that system such as femtocell, active or hybrid distributed antenna system (DAS), or other carrier feed signal enhancing method available that will work at your signal-challenged location. Finally, we will schedule for installation after equipment and installation service quote has been approved by you, or your company.
For non installation-included kits: Most home / office / building cell signal booster kits only include bracket to mount exterior antenna on outside wall, edge of roof, or existing pipe up to 2 inches in diameter. Mounting pole not included with most kits, unless stated specifically that it is included for free. Therefore, a mounting post must be purchased separately if you will require it to mount exterior antenna.
---
Related Products