WiFi 6 (802.11ax) Access Point with Smart Antenna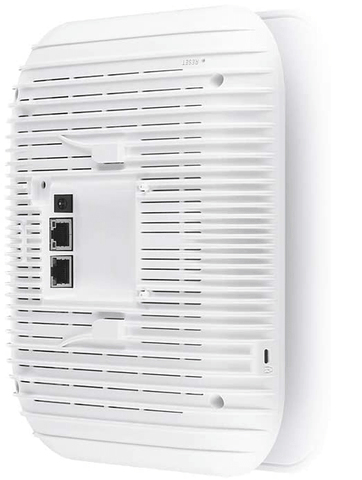 WiFi 6 (802.11ax) Access Point with Smart Antenna
Regular price

$1,000.00 USD

Sale price

$844.99 USD
Best Price Guarantee. [1, 2, 3]
Buy Now, Pay Later with No Interest if paid in full within 6-12 months. Choose Klarna payment option at the checkout for details of this, and other long-term low-interest financing options.
Free Lifetime Support. SKU / Model: WAX650SAFC
Best Price Guarantee [1 2 3]
Call for FREE consultation:
1(855)846-2654
Need installation quote, or help with designing a custom solution? Submit a request for quote.
Description
Reviews
Questions & Answers
Make An Offer
Warning
Description
Product Description
WiFi 6 (802.11ax) Access Point with built-in Smart Antenna. This dual-radio unified professional access point provides smooth, consistent, fast Wi-Fi 6 connections every time. Offers speeds of up to 2400 Mbps on 5 GHz and 1150 Mbps on 2.4 GHz with ethernet port 5GbE+1GbE. Dimensions: 230 x 235 x 53.5 mm.
Features:
4 x 4 dual MIMO radio (80211.ax AP) features BLE and third dedicated monitored radio, providing a data rate of 3550 Mbps.
With low latency in any scenario and consistent levels of high-performance, OFDMA is known throughout the industry as high-level Wi-Fi6 innovation.
Boost the performance of your Wi-Fi 6 and mitigate sources of interference thanks to the proven technology of the smart antenna.
Switch between various modes as required, including the cloud-managed intuitive Nebula mode, controlled managed on-premises mode, and standalone mode.
4G and 5G cell network interference will be minimized thanks to advanced coexisting cellular technology.
Wi-Fi 6 Is Here.
WiFi6 is the next-generation wireless standard. It is faster than 802.11ac. In addition to speed, it will provide better performance in congested areas. These can include sports arenas, malls, to your own home packed with devices. Ensure reliably fast and consistently smooth connections for every user, every time.
Smart, Fast Wi-Fi for Every User.
Wi-Fi 6 is here and it promises consistent, fast connections for everyone, even in environments of high density. If your organization is in the position of accommodating multiple simultaneous users and devices, WiFi 6 allows the very best connection for every user, every time.
Equip your Classroom to Allow Immersive Learning with Quality Connections.
Help your students achieve the best results while making the most of online resources and today's latest technology. Effective teaching and enthusiastic and engaged students depend on fast Wi-Fi connections without latency caused by the connection of multiple devices.
Choose a Smart Solution.
Featuring Smart Antenna technology, SignalBooster.com Access Point (AP) ensures that performance is optimal every step of the way by adapting its connection options to suit the needs of each device. It does this by continuously monitoring every connection to prevent interference delays and inconsistency in connections.
Robust and Trustworthy Hardware Design.
Reliability and performance depend on attention to detail in every respect. This access point ensures the longevity of the device, having been constructed with the highest quality components.
Your Choice of Management Style.
This wifi device has been created to pair beautifully with the Zyxel's cloud-based flexible management system software, NebulaFlex Pro. Now you can choose how you manage your AP - either without a controller, by using the controller on the premises, or by using Nebula's control center (NCC).
Why SignalBooster.com AP with Smart Antenna?
With maximum data speeds at 2.4 gigahertz of 1.15 Mbps and 5 gigahertz of 2.4 Mbps, this SignalBooster.com Access Point is powered by the latest technology in smart antennas. Proven to mitigate interference caused by co-channel issues, this technology allows for consistently fast connections for multiple simultaneous users, even in environments of high user densities. Now you can welcome a greater number of devices and users at any one time without compromising on response time or performance. This is of particular use in spaces like bars and cafes, airports, stations, guest houses, hotels, and educational institutions like colleges and schools.
Pairing perfectly with the NebulaFlex Pro platform, it offers users ability to choose the mode that suits them best, whether cloud-managed, controller managed, or standalone. And with a one-year license for the NebulaFlex Pro platform, you can do away with licensing costs while enjoying all the benefits of cloud management features.
Highlights:
Enjoy data transfer rates as high as 3550 Mbps with the 4 x 4 dual MIMO radio (80211.ax AP) coming fully equipped with BLE and monitored third dedicated radio.
Promising high-performance levels and low levels of latency regardless of the scenario, OFDMA is the latest and best innovation in Wi-Fi.
Lessen effects of interference and boost your performance on Wi-Fi 6, thanks to the latest technology in smart antennas.
Switch between different modes including controlling on-premises, controlling on the Nebula cloud, and controlling in standalone mode as needed.
No longer will you need to worry about interference from 5G or 4G cell signal networks thanks to advanced technology in cellular coexistence.
Benefits.
Next-Gen Wi-Fi is Now Available.
This is the latest generation in Wi-Fi 6, ensuring ultimate user experience, increased capacity, and ultimately faster performance thanks to the latest technology. Twenty-five percent faster than similar products on the market, it accommodates a greater number of simultaneous users and devices without any drop in connection rate, facilitating connections numbering in the hundreds without an increase in latency. Now you can scale your capacity without worrying about decreased performance.
Manage the Device Your Way with NebulaFlex Pro.
Now you can have all the flexibility you need, thanks to the NebulaFlex Pro. Switch between three different management modes as needed to protect your investment in wireless technology without running up unnecessary expenses. Choose between Nebula Control Centre (NCC), controlling on the premises, or standalone mode.
When you register with Nebula, you will receive a complimentary 12-month professional pack subscription which includes a year's worth of statistics, full client and device monitoring, topology sitewide, and ongoing indicators of wireless health. Even better, as new features are rolled out, you will automatically have access to these in the intuitive Nebula Control Centre.
Incomparable High Performance.
When it comes to Wi-Fi 6, there are two types of technologies that you need to know about. Spatial reuse is sometimes referred to as BSS (Basic Service Set) coloring, while OFDMA stands for Orthogonal Frequency Division Multiple Access. In combination, these two technology types are what make Wi-Fi 6 so much more efficient and reliable than 802.11ac. The role of BSS coloring is to facilitate several access points within the same environment without running the risk of interference of co-channels. The cutting-edge technology in smart antennas allows this device to become even more efficient in areas that are exceptionally dense, allowing it to physically alter the pattern of antennas to prevent co-channel AP interference, thus enabling spatial reuse.
Coexistence on the 5G and Four G Cell Networks.
As mobile device usage continues to rise, wireless networks can become overloaded and users begin to experience high latency, ping drops, and ultimately reduced levels of performance. These problems can usually be avoided by simply shutting down mobile devices, as necessary. With this in mind, and to enable the coexistence of the 5G and 4G cell networks while reducing interference from 5G and 4G signal boosters and antennas, this device has inbuilt interference filters for the 5G and 4G networks. This has an effect of ensuring that indoor 5G and 4G antennas - whether invisible or visible, do not pose a problem in AP installation.
Advanced Features to Optimize your Wireless Experience.
Thanks to advanced wireless features such as Smart Client Steering, Load Balancing, Zero Wait DFS, and DCS (Dynamic Channel Selection), this unit provides for a wireless experience that is unlike any other. Featuring a third additional radio whose sole purpose is to monitor and scan the surrounding wireless environment, it ensures that the 5 gigahertz and 2.4 gigahertz radios can focus their attention on service alone.
Numerous factors can have a direct effect on the performance of the Wi-Fi network, including neighboring APs, channel loading, and other types of interferences. Its Wireless Health platform measures retransmission and errors on the Media Access Control (MAC) layer, giving an accurate indication of connection factor quality under all circumstances. Please note this is only available in cloud management mode. Making use of heuristics machine learning to ensure an optimized connection in any type of environment, the Wireless Health platform allows for an uninterrupted, consistent, and smooth quality connection for all users on all devices.
IoT Enabled and Beacon BLE Integrated.
If you're looking to provide your customers with a WLAN that is beacon BLE enabled and suitable for deployment in high-density areas, look no further than this WiFi 6 (802.11ax) Access Point with Smart Antenna by SignalBooster.com. If you are a retailer keen on improving the in-store experience for staff and customers alike, this includes full cooperation with third-party management with beacon platforms to assist in boosting engagement with users. Another helpful 11ax feature is TWT (Target Wake Time), which has particular significance in the IoT and is designed not only to conserve precious battery life but to increase the sleep time of the device by scheduling the sending and receiving of data.
Hardware Design Features:
BLE.
Protection from ESD and surges.
PoE converter (low loss).
Rejection of power noise.
High performing FEM.
5G and 4G filter.
Intelligent antenna design.
Heat spreader.
Radio scanner.
Specifications of Wi-Fi 6 (802.11ax) Unified Pro Access Point (Dual Radio).
Wireless:
Standard
IEEE802.11 ax/ac/n/g/b/a.
MIMO
MU-MIMO
Wireless speed

2.4 GHz: 1150 Mbps.
5 GHz: 2400 Mbps.

Frequency band
2.4 GHz (IEEE 802.11 b/g/n)

USA (FCC): 2.412 to 2.462 GHz.
Europe (ETSI): 2.412 to 2.472 GHz.

5 GHz (IEEE 802.11 a/n/ac)

USA (FCC): 5.15 to 5.35 GHz; 5.725 to 5.850 GHz.
European (ETSI): 5.15 to 5.35 GHz; 5.470 to 5.725 GHz.

Bandwidth
20 MHz, 40 MHz, 80 MHz and 160 MHz.
Conducted typical transmit output power

US (2.4 GHz / 5 GHz): 28 / 28 dBm.
EU (2.4 GHz / 5 GHz): 19 / 26 dBm.
RF Design:
Antenna type
4 x 4 Smart Antenna.
Antenna gain

2.4 GHz: Peak Gain 3 dBi.
5 GHz: Peak Gain 5.8 dBi.

Minimum Receive sensitivity
-105 dBm
WLAN feature:
| | |
| --- | --- |
| Band Steering | Yes. |
| WDS | Future Support. |
| Mesh AP (By License) | Future Support. |
| Mesh AP for multiple SSID with VLAN | Future Support. |
| Smart mesh | Future Support. |
| Fast roaming | Pre-authentication, PMK caching and 802.11k/v/r. |
| DCS (Auto Channel) | Yes. |
| Load balancing | Yes. |
Security:
Wireless Security

WPA.
WPA-PSK.
WPA-Enterprise (WPA / WPA2 / WPA3).

Access management

L2-isolation.
MAC filtering.
Rogue AP detection.
EAP.
IEEE 802.1X.
RADIUS authentication.
Networking:
| | |
| --- | --- |
| IPv6 | Yes. |
| VLANs | Yes. |
| WMM | Yes. |
| U-APSD | Yes. |
| DiffServ marking | Yes. |
Management:
Operating mode

Nebula Cloud managed.
Controller-managed.
Standalone.

ZON Utility

Discovery of switches, APs and gateways.
Centralized and batch configurations:

IP configuration.
IP renew.
Device factory reset.
Device reboot.
Device locating.
Web GUI access.
Firmware upgrade.
Password configuration.
One-click quick association with AP Configurator (AC).

AP Configurator

Batch AP configuration.
Batch AP firmware upgrade.
Batch AP profile backup.

Wireless Optimizer

WiFi AP planning.
WiFi coverage detection.
Wireless health management.

Web UI/ CLI
Yes.
SNMP
Yes.
Physical Specifications and others:
Item

Dimensions (WxDxH) (mm/in.): 230 x 235 x 53.5 / 9.06 x 9.25 x 2.11.
Weight (g/lb.): 1160 / 2.56.

Packing

Dimensions (WxDxH) (mm/in.): 282 x 266 x 79 / 11.1 x 10.47 x 3.11.
Weight (g/lb.): 1490 / 3.38.

Included accessories

Mount plate.
Mounting screws.

MTBF (hr)
180,653.
Physical Interfaces:
Ethernet port

1 x 1/2.5/5Gbps Ethernet (PoE port).
1 x 1Gbps Ethernet.

Power

802.3BT POE (Maximum power draw: 31W).
12V DC input.
Environmental Specifications:
Operating

Temperature: 0 Degrees C. to 50 Degrees C. / 32 Degrees F. to 122 Degrees F.
Humidity: 10% to 95% (non-condensing).

Storage

Temperature: -30° Centigrade to 70° Centigrade / -22° Fahrenheit to 158° Fahrenheit.
Humidity: 10% to 90% (non-condensing).
Certifications:
Radio

FCC Part 15C.
FCC Part 15E.
ETSI EN 300 328.
EN 301 893.
LP0002.

EMC

FCC Part 15B.
EN 301 489-1.
EN 301 489-17.
EN55022.
EN55024.
EN61000-3-2/-3.
EN60601-1-2.
BSMI CNS13438.

Safety

Safety EN 60950-1.
IEC 60950-1.
BSMI CNS14336-1.
Summary:
The New 11ax Wi-Fi Access Point Provides Speedier, Consistently Reliable Connectivity In Educational Environments Of High-Density, Optimizing The Performance Of Bandwidth Intensive Devices And Applications.
Leading broadband networking, connected home technology product reviewers, and Internet access providers appreciate Wi-Fi 6 802.11ax Pro Dual Radio Access Point. This product marks the exciting first release of new AP (Access Point) 11ax series of products. Intended for use in environments of high-density, it is designed to allow students and educators alike to make the most of digital advancements within a classroom environment, and helping to make the most of network device performance while reducing congestion on digital networks.
Delivering reduced latency, increased capacity, and noticeably faster speeds than ever before, it uses Wi-Fi 6 wireless high-efficiency technology in conjunction with BSS coloring (spatial reuse) advancements and OFDMA to allow for multiple simultaneous reliable device connections within classrooms without causing any strain on bandwidth. This allows for an efficient Wi-Fi setup and an enhanced network capacity.
Product Benefits:
The Latest Technology Wi-Fi.
With full support in 2.4 gigahertz of 1150 Mbps and 5 gigahertz of 2400 Mbps, it is dual-band and allows for the best possible classroom performance of applications that are bandwidth-intensive. When combined with the latest technology and smart antennas, Wi-Fi 6 delivers reliable and fast connections for each user and each device while noticeably increasing the capacity of the network to allow for hundreds of simultaneous connections without an increase in latency or a reduction in network speeds.
Maximize Your Performance In Environments Of High-Density.
BSS (Basic Service Set) coloring ensures the elimination of interference with co-channels between a variety of access points, allowing for full support of a large number of Wi-Fi devices sharing simultaneous connections on one channel. In addition, the latest technology in smart antennas makes physical changes to the pattern of antennas to avoid co-channel AP interference. Meanwhile, interference from other 5G and 4G signal boosters and cell network antennas is minimized thanks to the inbuilt 5G/4G interference filters.
Easy To Manage And Versatile.
There're two primary management options available to you when you choose this WiFi 6 (802.11ax) Access Point with Smart Antenna. Firstly, the Nebula Control Centre is cloud-based and allows for remote management. Secondly, management of this AP is simple when you use the standalone controller located within the premises. Now you can choose the best way to manage your AP and protect your investments in wireless technology, depending on your management style and your specific network environment.
Enjoy The Best Possible Wireless Experience Thanks To Its Advanced Features.
Now you can optimize your connected devices' performance and the network's performance as a whole thanks to intuitive technologies including Zero Wait DFS, Smart Client Steering, Dynamic Channel Selection (DCS), and Load Balancing. This AP with in-built smart antennas includes a technologically sophisticated inbuilt third channel solely dedicated to monitoring and scanning the bordering wireless environment, reserving the primary 5 gigahertz and 2.4 gigahertz channels for client device servicing only.
Conclusion.
The new digital curriculum within classrooms has been an ongoing shift that has necessitated the speedy incorporation of smart devices in the classroom, including tablets, laptops, and smart whiteboards. These changes have been seen across the board from kindergarten to year 12 and beyond.
It is the rapid growth of these smart connected devices that has overtaxed school networks and threatened to render the most bandwidth-intensive devices and applications simply unusable. This A.P. offered by SignalBooster.com has been specifically designed for classroom environments with high-density requirements where an unprecedented number of connected devices will be simultaneously used and expected to access the school's network without causing instability in the network or decreasing access speeds. This new product provides the high reliability, high-performance, and robust infrastructure that today's school environments need to utilize and deliver the digital curriculum to the benefit of students at every year level.
Reviews
Questions & Answers
In the product description it says "With maximum data speeds at 2.4 gigahertz of 1150 megahertz and 5 gigahertz of 2400 megahertz." Was this a typo? Is it supposed to say at 2.4 GHz of 1.15 Mbps and 5 GHz of 2.4 Mbps." ?

Thank you very much for pointing that out. Yes, indeed you are correct. That was a typo - and thanks to you, it has been corrected:)

It says this is a wifi-6 access point so is it okay to connect it to my current wifi router (not wifi 6)? Will it provide any faster wifi if I do that than my current non-wifi 6 router?

Yes, this device is mainly an Access Point and can be managed by the Nebula control center which is a cloud based management.

Here is a link which will show you how to register your AP with Nebula: https://mysupport.zyxel.com/hc/en-us/articles/360006443240--Nebula-How-to-register-NebulaFlex-access-points-with-service

AccessPoint will be able to work as long as you have a high speed connecting on your router as before you would have half duplex on the wireless connection.
Data Sheet / User Guide
Make An Offer
Warning
Note: For any signal booster to help, outside signal strength must be at least -110 dB or there must be a clear line of sight to a cell tower that is within twenty miles. Before ordering, please check outside signal level in decibels or ensure that you can make and hold a phone call at any good spot outside where you can mount an exterior antenna. Square footage stated in signal booster listings is based on good signal outside. If it is any weaker, the boosted sq. ft. area will be considerably lower, accordingly.
Kevin K. of Anderson, California gave the following review:
Website is easy to use with plain straight forward info but could have had more on testing signal strength to make sure you get a strong enough booster.
Therefore, please note that stated sq. ft. coverage is based on good signal outside. For best results: If outside signal is weak, we suggest choosing the next higher sq. ft. coverage kit. If outside signal is very weak, we suggest choosing the kit with even more higher sq. ft. range bracket. Basically, higher the sq. ft. bracket, the more powerful the signal amplifier with greater Gain as well as higher uplink and downlink output power.
If outside signal is too weak (weaker than -110 dB), submit request for cell coverage solution assessment. Upon receipt of questionnaire, we will perform residential or business site survey. This will help us determine the system that is needed to improve cell coverage. Then, we will create system design using that system such as femtocell, active or hybrid distributed antenna system (DAS), or other carrier feed signal enhancing method available that will work at your signal-challenged location. Finally, we will schedule for installation after equipment and installation service quote has been approved by you, or your company.
For non installation-included kits: Most home / office / building cell signal booster kits only include bracket to mount exterior antenna on outside wall, edge of roof, or existing pipe up to 2 inches in diameter. Mounting pole not included with most kits, unless stated specifically that it is included for free. Therefore, a mounting post must be purchased separately if you will require it to mount exterior antenna.
---
Related Products