Cell Phone Boosters with No Exterior Antenna (Home & Car)
Nov 05, 2021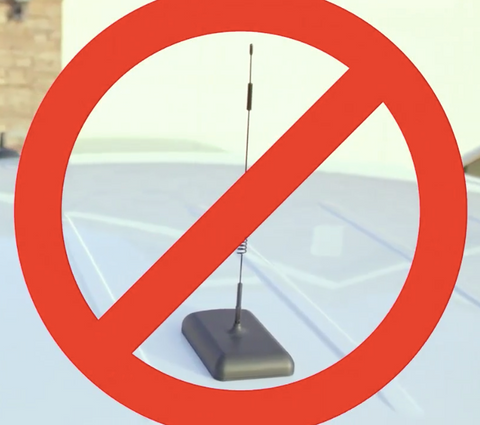 Easy install signal boosters that don't require an outside antenna.
When it comes to cell phone accessories and enhancement hardware, especially cell phone boosters, there're abundant options available to increase cell phone signal strength. However, one will find that the selections which are available primarily focus around the cellphone signal boosters with an external/outdoor antenna. And while this may be the best option for maximizing the signal "capturing", it may not be the best option for some with limited access to their roof of apartment/condo or for those that do not want a loose cable running from antenna on top of a vehicle. Using a 4G LTE Signal Booster that requires no antenna outside can provide the solution to your cellphone reception and data drags and slags.
Many in-building cell phone signal booster kits for homes, offices, apartments are available without outside antenna installation requirement. Here's the full list of in-building non-exterior antenna cell phone signal boosters. These wide variety of kits are available from single room cell boosters w/out exterior antenna to small thru large home phone boosters w/out outside antenna - requiring no outside installation to get them installed, set-up, and working. Few in-vehicle kits are also available that require no roof antenna - see below.
When to use a cell booster that requires no antenna outside.
Rental residents, or those that lease property that has specific stipulations preventing enhancements and alterations to the property - may not be able to use a signal booster with an outside antenna. Buildings within a historical district often have stipulations as to what can be added to the exterior of the building. Preservation of the continuity of the building is often important to such areas. In addition to zoning considerations, the elevation of the building may make it unwise to attempt attachment of an exterior antenna.
Types of cellular amplifiers available that do not need an outside antenna.
SignalBooster.com offers a selection of 4G LTE signal boosters which do not require an outside antenna. It is important to understand that these are not entirely free of an antenna. You do need a window unit which usually serves as an exterior antenna and an inside antenna which broadcasts signals indoors. However, antennas for these cellphone signal boosters can be installed indoors and not cumbersome to install, allowing for quick and easy installation. Here are a few of the products offered:
CelFi DUO+ smart signal boosters are designed to dramatically improve HD voice and data coverage in up to two bands for 3G, 4G, LTE. All new patented echo cancellation algorithms enable them to offer higher signal levels throughout the coverage area than competing brands. They improve 3G/4G/LTE cellular service by eliminating dead zones and dropped calls. With up to 100 dB of gain, they will improve cellular service like no other in the market. It covers up to 15,000 square feet of indoor space per system. It is fully self contained and self-configuring, requiring no external antennas or wiring. Simply plug it in to boost indoor cellular coverage. Move Coverage Unit further away from the Network Unit to maximize coverage. The total coverage area equals twice the distance between the Network Unit and the Coverage Unit. The maximum distance is up to 100 dB path loss.
Cel-Fi PRO improves 3G, 4G, LTE, 5G-E cellular service by eliminating dead zones and dropped calls. With 100 dB of gain, Cel-Fi PRO will not only improve cellular service across four (4) concurrent bands, it will also reduce your cell phone's power requirements and extend its battery life. Cel-Fi PRO covers up to 13,000 sq. ft. of indoor space per system. Cel-Fi PRO systems feature an LCD color interface, are fully self-contained and self-configuring, and require no external antennas or wiring. Simply plug it in to boost indoor cellular coverage. Cel-Fi PRO is CE and FCC approved. It has been approved by numerous mobile operators and regulatory bodies and is shipping globally. Cel-Fi PRO EXA variants feature an external antenna connector to enable the use of an external Donor antenna. A Cel-Fi PRO EXA with an external Donor antenna can thereby acquire an outside signal, allowing it to be used in applications where no signal is present indoors (i.e. cement, metal walls, etc.). This opens up new opportunities for using Cel-Fi PRO Smart Boosters when other solutions fail. Cel-Fi PRO EXA enables cellular coverage in hard to reach places by allowing the Cel-Fi Network Unit to be placed, where no service exists.
FusionTrek 4G LTE Vehicle Signal Booster – Unlike many other vehicle cell phone signal boosters, this phone cradle signal booster is intended for boosting signal to a single cell phone or cellular device. It is the cheaper of the selections noted here. This is also the only vehicle cell signal booster which does not require an outside antenna. This booster is certified by the FCC and IC for improving cellular reception. It is a first in the industry product, allowing you to transfer the booster from one vehicle to another, and not have a loose wire on the top of the car, truck, or RV. Maximum gain is 23 dB.
Please remember that commercial building signal boosters will require an outside antenna because that is the best way to boost signal over extremely large indoor spaces such as within very big office buildings. Depending upon the type of antenna which needs to be installed, there may be FCC regulations to the installation process and therefore professional installers must be hired to do the job right. Lastly, 4G LTE signal boosters without antenna outside must be used only when there's strong signal atleast at one spot where the window unit can be placed. Otherwise, a signal booster kit with exterior roof-mount antenna would be recommended because they capture signals from farther away.
The Key benefits of using an amplifier without an exterior antenna.
As with any product, there are pros and cons to using a cell phone signal booster without an exterior antenna. Primarily, the benefit is that the installation time is cut short considerably because plug and play signal booster kit installation process is usually very easy and straightforward. Additionally, there is no need to drill holes into the roof to feed wires/coax cables, no mess from loose wires handing down along the side of the house, no installation and ventilation problems from feeding coax cables through windows, and no need to "fine tune" the antenna when wind and other factors move it off of its ideal beam (this occurs quite rarely, though).
Home cellphone signal boosters which are plug in play ready certainly do not require professional installation. Many of the devices offered for home use can be installed and plugged into a standard wall outlet to power them on. This is true for the home boosters with and without an external antenna. Those who are concerned that the boosting of the signal will be less than that of a signal booster with an external antenna need not fret as long as the signal near window or wherever they place the window unit is strong although rest of the house or car has weak signal. Keep in mind that the power of the booster is greatly dependent upon the existing signal strength it receives which it then amplifies up to 32 times.
Determining the right phone booster.
When looking for 4G LTE Signal Boosters that require no antenna outside, consideration needs to be as to how and for what purpose the signal booster will serve. For example, is the signal strong, weak, or is the signal non-existent? A strong signal at point of window unit is ideal for such plug and play units requiring no exterior roof-mount antenna.
A weak signal is generally a signal that external elements such as trees, building materials, and other electronics are in the way. A weak signal could also be an indicator that the cell phone is on the outskirts of the network serviceable area so proximity to cell tower is may be very far away. In such instances when signal is weak, a signal booster that enhances the radius of coverage would provide much less indoor coverage - definitely not amount of maximum coverage space stated in its features.
If the signal is non-existent outside, leave along plug and play kits with no external antennas - NO signal booster booster will help in such instances. A Small Cell Technology signal enhancing system or Distributed Antenna System (DAS) will be required in those instances when there's zero cell phone service available for this signal booster to boost (zero bars or "no service" display).
For more information about above listed types of cell phone signal boosters which require no outside antenna, please contact us.
---
Share this post
---
---