Best Rural or Remote Area Car & RV Cell Phone Signal Boosters
Nov 13, 2017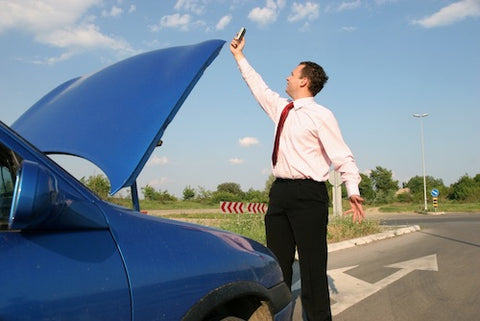 Which one is best for my car, truck, and RV?
Driving to remote areas? How to make cell phone work in remote areas? How to get cell coverage in remote areas? Install the most powerful cell phone signal booster in your car, truck, or RV before you go! The reason why a vehicle 3G + 4G + LTE signal booster is an essential automotive accessory is because the cellular reception may be spotty at best in many areas on such long isolated stretches of freeways, highways, and rural roads. When comparing best rural or remote area car and RV cell phone signal boosters, the benefits of cell phone signal booster for car or truck or a cell phone signal booster for RV easily outweighs their cost.
Do I really need it?
Those strong and powerful over the road cellular signal boosters help ensure a lifeline, a means of communication, when there's none other available. The cost is minimal because it is a one-time cost with no additional monthly fees than what you already pay your cell phone carrier. It helps ensure signal when you need it. A stronger signal improves data speed and minimizes dropped calls. In fact, those car and recreational vehicle signal boosters help you make the most of the fees you currently pay your cellular provider.
Will it increase electromagnetic radiation?
While you can always switch the signal booster system power off if you feel it is not needed, the research suggests that we avoid using cell phones in places with weak signal. The reason for this is that poor signal causes cellular devices to increase electromagnetic emissions to try to make connection with the nearest cell tower. Therefore, on contrary, signal boosters decrease electromagnetic emissions from mobile phones.
What is the worst that can happen on the road?
The problem of weak mobile reception is magnified when driving in any vehicle, not only in remote areas where mobile reception is bad due to distant cell towers, but also in cities where building and other construction can often block cellular phone signals. This can be extremely frustrating from both a business and a personal perspective.
Consumers are increasingly demanding permanent connectivity, wherever they are - For good reason. It especially gets very frustrating in case of accidents, if out of gas, or if the vehicle breaks down due to a mechanical problem or some other like a flat tire. Road rage incidents are also increasing across the country and reporting them can also be hampered due to weak cell reception.
These boosters improve text messaging connectivity, provide clearer voice conversations, and faster 4G LTE wireless data transfers for all carriers in North America including AT&T, Verizon, T-Mobile, etc. Not only do they enable outgoing calls on smartphones, they greatly reduce missed and dropped calls during emergencies when in your vehicle. They provide uninterrupted service for many miles of travelling through remote areas by enabling improved connectivity and data speeds.
Will it work with my Handsfree Kit & Bluetooth Headset?
The product is especially handy to use with Bluetooth devices and for hands-free cellular phone systems because it simply boosts reception around a sphere of space around your cellular device itself. Say goodbye to slow data speeds and dropped calls while on the road, and experience the consistent, clear coverage for multiple cellular devices that the mobile amplifier kit provides while in any vehicle. It makes your life easier by removing the frustrations associated with unreliable and weak cellular signals.
Their operation does not interfere with other wireless technologies such as the Bluetooth or AM & FM radio handsfree kits that work using a certain FM or AM radio station. These OTR (over-the-road) bi-directional amplifiers boost both cell signals received from, and cell signals sent back to the cell tower. They will always operate at maximum performance due to their auto-adjusting gain feature enabling the booster to optimizes gain automatically. The booster can be mounted almost anywhere inside the vehicle due to its small footprint and does not need a docking station or cradle. Power is provided through a standard 12V DC vehicle power adapter.
Will it work for only one, or for multiple cell devices?
Fusion To Go 3.0 booster kits ensure seamless connectivity in remote areas for multiple cellular users by providing the maximum power and gain that can be achieved with a vehicle signal booster. Missed and dropped calls are greatly reduced, and battery life for multiple devices extended by unrivalled performance with cutting-edge technology.
The sturdy metal construction of boosters are covered by manufacturer's guarantee. Put a stop to unreliable, weak cell phone signal with the Fusion 2 Go 3.0 series signal boosters. The signal from the cell tower is captured by the roof-mount antenna, and is then boosted and re-broadcast to all mobile devices inside the vehicle. Outgoing signal is amplified before being sent back to the cell tower.
Can I install it on my own or do I need an installer?
Most in-vehicle cell booster kits are consumer grade devices and have simple "do it yourself" instructions included with purchase. The respective product listing page also has a video that shows the installation procedure that is very easy for anyone to perform. Apart from the Fusion2Go 2.0 amplifier, the kit contains everything required to perform an easy DIY installation. It includes a magnetic antenna for roof mounting, an interior patch antenna including velcro mounting tape, both a 12V DC power adapter and a 12V DC power splitter, and a magnetic phone mount.
Watch video that provides more details of our suggested vehicle boosters:
---
Share this post
---
---