Bi-Directional Amplifiers BDA vs DAS Distributed Antenna Systems
Sep 18, 2017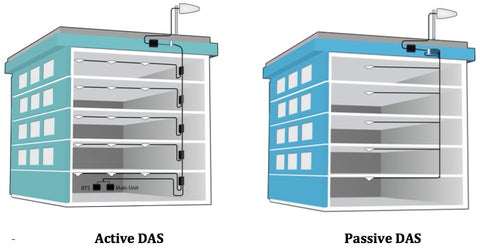 Active DAS Distributed Antenna Systems (Full Fiber) for OVER 500,000 sq. ft. versus Passive DAS or BDA Bi-Directional Amplifiers for UP TO 500,000 sq. ft.
What is BDA or Bi-Directional Amplifier System and When Is It Ideally Implemented?
A consumer, commercial, and public safety BDA System is also known as a cell phone signal booster system or Passive DAS system (passive distributed antenna system PDAS). It is typically ideal for approximately UNDER 10 floors and 500,000 sq. ft. of coverage areas to fix dead zones within them for all cellular carriers simultaneously. It requires some signal outside in one spot for it to amplify and distribute it indoors using distributed RF antenna(s). Great for schools and universities. Hotels are perfect because SureCall cell boosters allow a large amount of simultaneous callers. Hospitals and medical facilities have been using BDAs for years to eliminate dead zones. It can be installed a lot quicker (within weeks) at a much lower cost than digital fiber optic DAS systems.
BDA or Bi-Directional Amplifier Systems are of two types:
1. Consumer & Commercial BDA Systems.
Commercial and consumer BDAs boost cell reception for consumer and commercial mobile phones and devices that operate on all cellular carrier networks.
2. Public Safety BDA Systems.
Public Safety BDAs boost reception for emergency personnel radio networks on 700 MHz, 800 MHz, 900 MHz including FirstNet's new dedicated public safety spectrum.
What is a Full Fiber DAS Distributed Antenna System and When Is It Ideally Implemented?
A digital full fiberoptic DAS Distributed Antenna System is also known as Active DAS (ADAS) System or a traditional Small Cell System. It is typically ideal for roughly OVER 10 floors and 500,000 sq. ft. of coverage areas to provide complete coverage for a single carrier. It is ideal for very large venues such as concert arenas or sports stadiums, business convention centers, and international airports. It can be implemented even if there's absolutely no signal outside the building or venue. It takes longer for its installation (typically months) and the cost is much higher than Bi-Directional Amplifier Systems.
Distributed Antenna Systems (DAS) are of two types:
1. Consumer & Commercial DAS.
Commercial and consumer DAS boost cell reception over all building areas entirely, for consumer and commercial mobile phones and devices that operate on a single carrier network.
2. Public Safety DAS.
Public Safety DAS boost reception for emergency first responder radio networks on 700MHz, 800MHz, 900MHz including FirstNet broadband network operating on the new dedicated public safety spectrum.
What do we do, and what do we offer?
SignalBooster.com is a Wireless Integrator. Wirelessly connected handheld devices and tablets have created a necessity for connectivity at home, at work, and on the road. An ability to have good voice and data everywhere you go, including the office, is more critical than ever as the culture of connectivity continues to grow. Many building owners and solutions providers or IT professionals don't even know that there is a product out there to fix dead spots in buildings. That is exactly what we do - We fix dead spots with BDA systems. If intense coverage is required in every corner of the building, we do that as well with DAS systems. We do this for both consumer & commercial mobile networks as well as public safety wireless networks.
There are many that may already know that mobile signals are weak inside buildings. However, what they may not know is that the makeup of the building is a huge factor in why cellular signals are so bad inside buildings. Concrete and high-quality glass windows prevent signal from getting into the cellular users inside. Better the quality of building construction, the worse the signals indoors.
On other hand, outdoor signal is only as good as the terrain and the distance from the cellular tower will allow, so if you don't have adequate signal outside on the roof, there isn't much we can do to help you inside with BDAs. But if you have ample signal outside, it is simply a matter of capturing that signal and sending it into the building with some coaxial cable and a cell phone signal booster such as that made by SureCall.
Basically, the objective of our first site survey are:
Determine the best location to mount the external antenna.
Make sure there is ample & adequate starting signal strength.
Map out where the indoor antennas should be installed to provide best coverage in areas where needed.
Gather all information we need such as outside signal strength to determine suitability of DAS or BDA system and then design DAS or design BDA system accordingly for review by you, our client.
Credibility of our Bi-Directional Amplifier Kits.
Now we're going to take a quick look at some of SureCall's products broken down into application needs and sizes. So why is SureCall an industry leader in the commercial market? It all starts with design. The overall design features ensure that the booster stays cool, stays quiet and lasts for a really long time. Design allows us to maximize the number of simultaneous users allowed and allows all carriers to be represented in buildings instead of one or two specific carriers. SureCall also holds the patent on the technology that allows 2G, 3G and 4G frequencies to all be enhanced by one booster. It also offers built-in remote monitoring technology in some of its amplifiers such as Force 5 2.0 which is hard to find in any other out there.
Examples of our BDA system kits.
SureCall booster solutions come in three different sizes: small, medium, large, extra-large, and super-large:
1. Fusion 4 Home series is our low tier booster and it covers one outdoor and one indoor antenna. This works great for specific dead spot coverage or smaller applications like homes or retail spaces. 
2. The next is our medium tier, the Fusion 5s, that covers one outside antenna and up to two inside antennas. 
3. The large tier Fusion 5x is an upgraded product that can allow three or even four antennas depending on the incoming signal. 
4. The next tier is extra large, the Force5 2.0 and Fusion7 (Cellular + WiFi + HDTV). It is good for up to two outside antennas and four to five inside antennas. 
5. Force 5 Industrial and Force 7 are our super-large tier and does two outside and as many as ten inside antennas. 
BDA Public Safety System or DAS Public Safety System - Optional or Necessity?
Police officers and Fire fighters depend on code-compliant indoor coverage on multiple frequency bands for two-way radio and emergency communications regardless of location within your facility through thick concrete walls and even underground floors and parking lots. Therefore, if you're a business owner, not only do you need to worry about indoor cellular coverage, you also need to worry about public safety coverage.
As long as all areas within the building have required amount of coverage, it does not matter whether Public Safety signal booster (BDA) is installed, or Public Safety distributed antenna system (DAS) is installed. However, if coverage is not up to par, installation of one that rectifies the problem is a necessity to obtain required building permits.
Mobile radio technology has significantly improved and states and municipalities are now requiring public safety coverage in building as part of the Building Code. Our Guardian 3 QR BDA or signal booster enhances frequencies for public safety bands on the 700, 800 and 900 megahertz spectrums including the highly anticipated FirstNet network. 
It meets the code for Chapter 24 Emergency Communications System of NFPA72 and features a NEMA-4 rated amplifier housing, which eliminates the need for an additional NEMA enclosure. It meets and exceeds all in-building communication requirements of the National Fire Protection Association (NFPA) and the International Fire Code (IFC) with advanced features that include the following:
Supports more than 100 simultaneous users per band on 

700 MHz (

FirstNet Ready

), 800 MHz, and 900 MHz SMR.

Provides crucial signal coverage for first responders two way radio communications in buildings with coverage up to 80,000 sq. ft.
80 dB Wideband and 3W EIRP for Public Safety Bands.
Linear Design increases number of simultaneous users to over 100 per band.
Features built-in SureCall Sentry remote monitoring system with ethernet port.
Integrated 7-pin alarm and UPS port for external battery backup.
NEMA 4 rated amplifier housing. No additional NEMA enclosure(s) needed.
Meets Chapter 24 Emergency Communications System of NFPA-72.
7-pin alarm, UPS and Ethernet port for remote monitoring.
Energy-saving operation allows bands to remain dormant when not in use.
Automatic gain control (AGC).
Independently adjustable frequency attenuation for uplink and downlink. Reduces gain in -1 dBm increments.
Areas, locations, venues that require a Public Safety Network enhancement.
In addition to mainly large multi-story buildings, you would be surprised that it has traditionally been installed inside Shopping Malls, Hotels, Airports, Stadiums, and Universities. Large underground Parking Garages everywhere are notorious for poor signals due to thick concrete floors and walls to sustain weights of hundreds of vehicles simultaneously.
Small but critical spaces such as Elevators are like metal boxes resembling a Faraday cage where no signals penetrate. Therefore, building elevators are the target areas to enhance public safety first responder radio signals (and even consumer/commercial mobile phone signals so individuals can call for help while trying to exit tall buildings in certain criminal or medical emergency scenarios).
Do you have a system to enhance your public safety band? If the answer is no, have us give you a quote to install a PSB system. It is important to note that we do have a built-in remote monitoring system service that you can use in order to monitor the system as well as receive email notifications if the booster is displaying any alarm conditions.
We start with the Site Survey to fix poor signals indoors.
We will use a RF signal meter to record the best signal strength at any available spot on your building where we can place an exterior antenna. If we find signal above -95 dB, there would be enough signal to be able to fix the dead spots in your building using a BDA system. The number of antennas can quickly be determined by using an antenna for every dead spot you need fixed. After initial site survey, we will input all information within our BDA and DAS design software to design a system for you and to confirm we can boost indoor signals satisfactorily.
How can you begin the process?
If your engineering team can fill out the site survey, you can send that to our design team for a configuration or we can come out to your property and do that for you. Once we have the site survey with completed answers and a copy of the floor plan, our design team can have a suggested system layout and list of needed part numbers and quantities within five business days.
Included in the design will be a detailed placement chart for the system components. We will then require your approval of the quote to begin installation. Not all customers are going to need or be able to afford their entire facility being covered and that is ok. Just let us know how many areas where you need coverage in, or how many critical areas are there?
How does it work?
What essentially happens in a booster system is that antennas and the booster will create an increase in the strength of the cellular signal and the cables and splitters create a reduction in the signal strength. By using our design team, you don't have to worry about the science and challenges of mapping out the components. We do it for you. 
Myths and misconceptions cleared.
There are some that have a misconception of signal boosters and their reputation with the carriers. For example, all of SureCall's line of consumer grade signal boosters are carrier approved. They all include essential security features to ensure that they do not adversely affect the networks that the major carriers are operating on. In fact, all SureCall boosters are carrier agnostic meaning they work on all carrier's networks. The only thing that the carrier's asks for in order to approve the booster is that they be registered online, and here are the links you can visit to register.
What is the difference in cost between BDA system (Passive DAS) and DAS system (Active DAS)?
Above snapshot shows a sample cost of cell phone signal booster or BDA equipment and installation. BDA solutions are typically under $1 a square foot, all in. DAS solutions start at $2 a square foot. Therefore, the cost of installing a DAS would be double of the cost of installing a BDA system.
The reason is that BDA solutions fix dead spots/ dead zones for multiple carriers simultaneously (all carrier problem solver) which is quicker to install and requires less equipment. DAS solutions increase coverage in whole buildings immensely, but for a single carrier (cost increases for each add'l carrier) requiring longer installation time frame and more high tech fiber optic equipment which is more expensive. It also requires more detailed carrier approvals and cooperation.
As an ethical contractor looking out for your best interests to save you time and money, we first suggest fixing dead spots for cell phones in dead zone areas of the building if outside signal strength is good enough, for a more cost effective BDA system solution.
Most people do not know there is such a cost effective solution possible. Most just assume that it is a carrier network problem and continue to suffer inconveniences and loss of revenues due to connectivity issues. Then they assume DAS is the only option which typically takes six months to install and costs twice as much as the BDA system would cost.
If BDA system is not suitable for circumstances at the target location, then the plan B we would suggest is definitely a comprehensive carrier-grade Full Fiber Distributed Antenna System. Please complete and submit your location details using our installation questionnaire today, to get started.
---
Share this post
---
---