Small Area Cell Phone Signal Boosters for Home (Canada)
May 18, 2018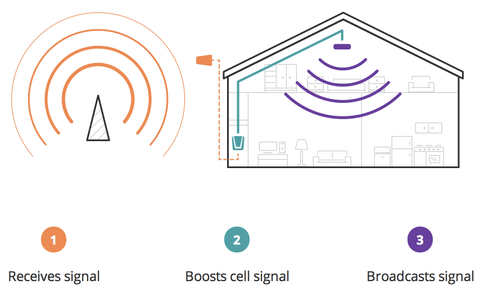 If you're looking for small area smart-phone signal booster for your home in Canada, you're looking at a price range of between 290 and 700 CAD. The range of small area cell phone signal boosters manufactured by SureCall and weBoost have been designed specifically with small areas in mind. They are compatible with all Canadian carriers. The 4 boosters discussed below will cover an area of up to 4000 square feet depending on the model. You can easily install any one of them yourself. Easy to install instructions included with all of below listed kits.
Refurb. SureCall EZ-4G LTE Canada Signal Booster for up to 2000 sq. ft.
This refurbished EZ4G Canada small area cellular signal booster comes with a 1 year warranty + 60 day money-back guarantee, even though it is refurbished. As far as value for money is concerned, this is the best deal you will find anywhere. This unit is ideal for apartments and offices that have no access to roof but strong signal outside because you don't need to install an outside antenna for this low cost signal booster. Access to the roof is absolutely NOT required.
SureCall Flare 3.0 Canada 3G 4G LTE Signal Booster For Home/Office 3000 sq. ft.
The SureCall Flare 3.0 Canada booster is easy to configure as it is a combination booster / indoor antenna. The outdoor antenna that is included is a yagi logarithmic periodic uni-directional that will capture signals from cell towers that are far away. This small area signal booster for smart-phones covers 3 to 4 rooms of a small home or office. It will also allow up to 8 cell devices to connect to it simultaneously depending upon strength of outside signal. It is approved by Innovation, Science and Economic Development Canada (ISED Canada) for use with all Canadian cellphone carriers simultaneously.
SureCall Fusion4Home 3.0 CA Yagi/Whip Canada Cell Booster for 3k sq. ft.
The small area Fusion 4 Home Canadian cell phone booster kit comes complete with an internal whip antenna and an external yagi antenna. It covers up to 3000 square feet of indoor office or home space. Supporting all Canadian carriers, it boosts voice, text, 3G, 4G LTE signals. It is fully approved by ISED Canada (Innovation, Science and Economic Development Canada) for use with all Canadian mobile phone carriers.
Small Area 4G LTE Signal Booster weBoost Home 4G 470101F
This Home 4G LTE Canada cell signal booster kit is for small areas such as a home or office, and boosts signals up to 1,500 square feet. This makes it ideal for 1 or 2 rooms in an apartment, home, or office to amplify voice calls, text and 4G LTE data. The unit supports multiple devices such as phones, tablets and mobile hotspots boosted at the same time. The booster will also work with all smartphones on all Canadian service carriers. It is certified for use within Canada on all Canadian cell phone carrier or service provider networks.
Medium Area 4G LTE Signal Booster weBoost Connect 4G 470103F
The medium area Connect 4G LTE cellular booster kit is ideal for use in a medium sized office or home. It can boost signal for up to 5,000 sq. ft. The device supports cellular device and multiple users' signals boosted at the same time. It enables instantaneous texting, clear voice conversations and fast 3G & 4G LTE mobile internet uploads and downloads. The kit is easy to install and easy to follow DIY installation instructions are included. It is approved by the Canadian government for use with all cellphone service carrier networks within Canada. View remaining weBoost Connect signal boosters.
---
Share this post
---
---