An item you're pre-ordering is on backorder so it will take few days to ship - are you sure you want to proceed to order it?
Close
High Power Outside WiFi Antenna with 8 dBi Gain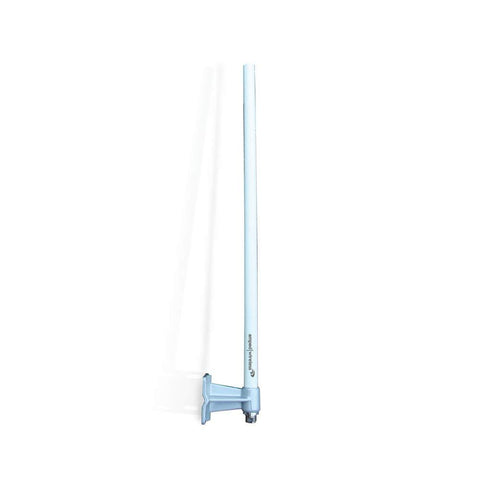 High Power Outside WiFi Antenna with 8 dBi Gain
Regular price

$100.00 USD

Sale price

$79.99 USD
Best Price Guarantee. [1, 2, 3]
Buy Now, Pay Later with No Interest if paid in full within 6-12 months. Choose Klarna payment option at the checkout for details of this, and other long-term low-interest financing options.
Free Lifetime Support. SKU / Model: A8EXAFC
Best Price Guarantee [1 2 3]
Call for FREE consultation:
1(855)846-2654
Need installation quote, or help with designing a custom solution? Submit a request for quote.
Description
Reviews
Questions & Answers
Make An Offer
Warning
Description
Product Description
With 8dBi High Power Omni-Directional outside WiFi antenna, you can boost 801.11b/g/n 2.4 GHz Wi-Fi gadgets to extend both range and signal strength in just about any direction. This Amped Wireless antenna is high gain to ensure Wi-Fi gadgets from adapters, routers, bridges, access points, repeaters and others enjoy a multipoint Wi-Fi connection in 360 degrees. It is a great replacement of any Wi-Fi device antenna that takes the signal and spreads it around in every direction to offer powerful signal strength for up to one mile maximum. This wi-fi antenna kit arrives in a unique kit with all that you require to safely and properly mount it outside your office or home either on a pole or wall.
Advanced Tech Exterior Wi-Fi Antenna.
One of the strengths of this Multi-Directional outdoor antenna is the quality of its design and technology. It features top-notch design created to maximize the WiFi coverage of the device it is fixed on. The device boosts antenna gain from nil dBi to 8dBi on average, pointing the connection in 360 degrees to enhance performance and transmission range outdoors.
Features:
Highly compatible, certified and tested WiFi antenna perfectly safe to apply in all types of surroundings. Antenna hardly releases extra radio frequencies of any kind, apart from what your WiFi gadget releases.
Omnidirectional antenna ensures wireless connection is expanded in all possible directions by boosting antenna gain on the Wi-Fi gadget. Speed and quality of Wi-Fi depreciates with increase in distance, but a fresh feature in this antenna ensures wireless quantity is guaranteed to elongate the WiFi network range.
Features a safe high power antenna mountable on wall, desktop or metal base via a magnetic mount. Its base is also detachable for easier installation on any certified WiFi device.
Features a universally compatible design and build that only needs separating the Wi-Fi antenna you need to remove and attach this smoothly and easily.
Includes many mounting options. It works with all 802.11b/n/g 2.4 GHz Wi-Fi devices with removable antennas and all types of brands.
Easy operation.
To maximize on your coverage, multiple antennas are highly recommended. With this 8dBi external wi-fi antenna, you will boost the wireless gadget's transmission power through the concentration of the coverage from a typical wireless device. To accomplish the most optimal range you need a high gain antenna on either peripherals of a wireless connection. This antenna is superb at increasing the total wireless range and comes with power boosters to amplify the transmission and reception strength as needed.
Specifications.
IEEE 802.11b/g/n Wireless Standard.
2.4 - 2.5GHz Frequency Range.
8 dBi Antenna Gain.
N-Type Female Antenna Connector.
2.0:1 VSWR Max.
H Plane: 360° Degrees and V Plane: 15° Degrees Antenna Patterns.
Linear and Vertical Polarization.
-40° F to 176° F Operating Temperature.
DC Ground Lighting Protection.
135 mph Survival Wind Speed.
50W Power Handling.
Weighs 0.54 Pounds.
Measures 3 x 20.5 x 20.5 inches.
Limited 1 year manufacturer warranty.
Shipped contents include:
One 8dBi High Power Outdoor Omni-Directional WiFi Antenna.
Pole/Wall Mounting Kit.
Three feet N-Type Male to RP-SMA Jumper Cable.
Premium Surge Protector.
Easy Setup Guide.
Easy Installation of High Power Outside WiFi Antenna:
Reviews
Questions & Answers
I purchased the High Power Outside WiFi Antenna With 8 DBi Gain from you. What is the best type of inexpensive wireless router available I can use?

Are you looking for a router specifically, or possibly an access point or extender? All of our "range extender" units will work with the antenna such as the https://www.signalbooster.com/products/high-power-wifi-range-extender. You can replace any one of the antennas on it with the one you already bought using the connectors it comes with. However, the type of unit you will want to use will be important. Do you already have a network with internet access that you will be trying to set these up with? If you already have network with internet access, you don't need a powerful "wifi router" such as this https://www.signalbooster.com/products/high-power-wifi-router-mu-mimobecause you can use the one provided by your Internet provider. If you already have Internet, then you will want a "range extender" as suggested in first paragraph above, or an access point. If speed is important and you can connect the unit to your router with an ethernet cable, I would recommend an access point specifically. If speed isn't the top priority and you would prefer something a bit more practical in order to avoid using more long cables, a "range extender" as suggested at the top would be best. 
Data Sheet / User Guide
Make An Offer
Warning
Note: For any signal booster to help, outside signal strength must be at least -110 dB or there must be a clear line of sight to a cell tower that is within twenty miles. Before ordering, please check outside signal level in decibels or ensure that you can make and hold a phone call at any good spot outside where you can mount an exterior antenna. Square footage stated in signal booster listings is based on good signal outside. If it is any weaker, the boosted sq. ft. area will be considerably lower, accordingly.
Kevin K. of Anderson, California gave the following review:
Website is easy to use with plain straight forward info but could have had more on testing signal strength to make sure you get a strong enough booster.
Therefore, please note that stated sq. ft. coverage is based on good signal outside. For best results: If outside signal is weak, we suggest choosing the next higher sq. ft. coverage kit. If outside signal is very weak, we suggest choosing the kit with even more higher sq. ft. range bracket. Basically, higher the sq. ft. bracket, the more powerful the signal amplifier with greater Gain as well as higher uplink and downlink output power.
If outside signal is too weak (weaker than -110 dB), submit request for cell coverage solution assessment. Upon receipt of questionnaire, we will perform residential or business site survey. This will help us determine the system that is needed to improve cell coverage. Then, we will create system design using that system such as femtocell, active or hybrid distributed antenna system (DAS), or other carrier feed signal enhancing method available that will work at your signal-challenged location. Finally, we will schedule for installation after equipment and installation service quote has been approved by you, or your company.
For non installation-included kits: Most home / office / building cell signal booster kits only include bracket to mount exterior antenna on outside wall, edge of roof, or existing pipe up to 2 inches in diameter. Mounting pole not included with most kits, unless stated specifically that it is included for free. Therefore, a mounting post must be purchased separately if you will require it to mount exterior antenna.
---
Related Products