Westell 61080-S8N 806-809/851-854 MHz Public Safety 80dB Amplifier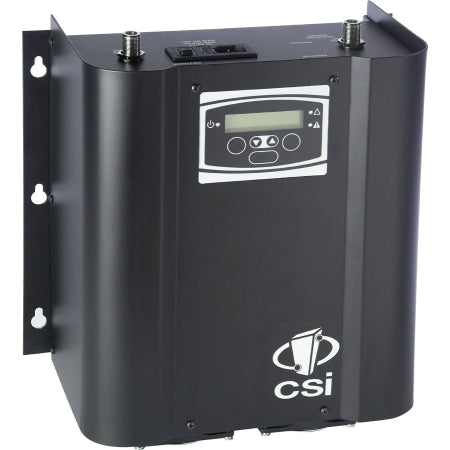 Westell 61080-S8N 806-809/851-854 MHz Public Safety 80dB Amplifier
Regular price

$7,712.00 USD

Sale price

$6,350.00 USD
Best Price Guarantee. [1, 2, 3]
Buy Now, Pay Later with No Interest if paid in full within 6-12 months. Choose Klarna payment option at the checkout for details of this, and other long-term low-interest financing options.
Free Lifetime Support. SKU / Model: CSIBDA61080-S8N
Best Price Guarantee [1 2 3]
Call for FREE consultation:
1(855)846-2654
Need installation quote, or help with designing a custom solution? Submit a request for quote.
Description
Reviews
Questions & Answers
Data Sheet / User Guide
Make An Offer
Warning
Description
Product Description
Westell 61080-S8N 1:1 SMR 800 Public Safety In-Building Amplifier (BDA). At 80 dB of Gain, Westell's model 61080S8N provides amplification of both uplink and downlink wireless signals in facilities located within reasonable proximity of cell sites and where wireless coverage is otherwise non-existent. UPC: 888063939020.
Highlights:
Alphanumeric user interface.
Integrated digital power/AGC meter allows for precise set up without test equipment.
Oscillation detection and suppression control feature to prevent network interference.
Each band is independently controlled.
Local alarm contact closure points and interface for remote shutdown.
Westell CSI-BDA61080-S8N in-building wireless SMR 800 MHz rebanded NPSPAC public safety bi-directional amplifier provides 80 dB gain of uplink and downlink wireless signals in facilities within the coverage of a cell site. This wireless signal booster operates within the SMR rebanded public safety frequency range of 806 - 809 MHz and 851 - 854 MHz. The BDA Composite output power is +29 dBm with N female connectors.
Westell in-building amplifier features LCD read-out, easy-to-use menu system, dual controllers, integrated digital power/AGC meter and automatic isolation control. The bi-directional cellular amplifier is wall mountable and includes a 120 VAC power supply.
The Westell in-building wireless SMR 800 MHz NPSPAC BDA has typical applications in hospitals, basements, campus environments, office complexes, warehouses, and more.
Technical Specifications.
| | |
| --- | --- |
| Manufacturer: | Westell, Inc. |
| Bands Supported: | 800 MHz Public Safety Band. |
| Uplink Frequencies: | 806-809 MHz. |
| Downlink Frequencies: | 851-854 MHz. |
| Composite Power Uplink: | 29 dBm. |
| Installation: | Professional installation by SignalBooster.com certified installers. |
| Composite Power Downlink: | 29 dBm. |
| Gain Adjustment Range (dB): | 0-30dB in 1dB steps. |
| Gain: | 80 dB. |
| RF Connectors: | N Female. |
| Impedance: | 50 Ohm. |
| Item Height: | 6.25 inches. |
| Item Length: | 12.5 inches. |
| Item Width: | 12.5 inches. |
| Item Weight: | 12 lb. |
Important Note:
This is an industrial grade signal booster kit. It requires professional installation by a certified installer. Our pro installers will design your system per our free Public Safety Design Configuration Assistance Program for areas over 10k sq. ft. requiring multiple interior antennas. Whether your building needs full coverage because it has no signal indoors, or it needs partial coverage (only some areas are failing inspection), our installation experts will design an efficient and cost-effective solution that is customized to meet all your requirements. We will then send you the design along with a bill of materials (BOM), installation quotation, and installing timeframe. Please submit public safety wireless coverage details so we may proceed to provide information to purchase, design and install the best public safety signal booster system that meets your needs and passes the most rigorous in-building fire safety inspection for your city and state.
WARNING. Per FCC laws and regulations, this INDUSTRIAL GRADE device must not be installed by consumers. It is designed for installation by QUALIFIED INSTALLERS only. You MUST have an express consent in writing from all Carriers in your service area to operate this device. Unauthorized use may result in significant forfeiture penalties, including penalties in excess of $100,000 for each continuing violation. Please contact us for a quote if you require professional installation and assistance with consent and approval process.
Reviews
Questions & Answers
Does the 61080-S8N 806-809/851-854 MHz Public Safety 80dB Amplifier have battery back up system that will maintain the system for 24-hours?

Unfortunately, Westell 510 and 610 Series repeaters do not have a battery backup system. The link at specifications data sheet tab for the 510/610 Series amplifiers https://cdn.shopify.com/s/files/1/1142/1404/files/Westell_Public_Safety_BDA_Specifications.pdf will help if you need the power draw of the repeater to assist with battery back up options. Please contact us for details or submit your requirements at online questionnaire https://www.signalbooster.com/pages/commercial-installation-questionnaire and we will provide specific details regarding battery backup options. Thank you.
Data Sheet / User Guide
Make An Offer
Warning
Note: For any signal booster to help, outside signal strength must be at least -110 dB or there must be a clear line of sight to a cell tower that is within twenty miles. Before ordering, please check outside signal level in decibels or ensure that you can make and hold a phone call at any good spot outside where you can mount an exterior antenna. Square footage stated in signal booster listings is based on good signal outside. If it is any weaker, the boosted sq. ft. area will be considerably lower, accordingly.
Kevin K. of Anderson, California gave the following review:
Website is easy to use with plain straight forward info but could have had more on testing signal strength to make sure you get a strong enough booster.
Therefore, please note that stated sq. ft. coverage is based on good signal outside. For best results: If outside signal is weak, we suggest choosing the next higher sq. ft. coverage kit. If outside signal is very weak, we suggest choosing the kit with even more higher sq. ft. range bracket. Basically, higher the sq. ft. bracket, the more powerful the signal amplifier with greater Gain as well as higher uplink and downlink output power.
If outside signal is too weak (weaker than -110 dB), submit request for cell coverage solution assessment. Upon receipt of questionnaire, we will perform residential or business site survey. This will help us determine the system that is needed to improve cell coverage. Then, we will create system design using that system such as femtocell, active or hybrid distributed antenna system (DAS), or other carrier feed signal enhancing method available that will work at your signal-challenged location. Finally, we will schedule for installation after equipment and installation service quote has been approved by you, or your company.
For non installation-included kits: Most home / office / building cell signal booster kits only include bracket to mount exterior antenna on outside wall, edge of roof, or existing pipe up to 2 inches in diameter. Mounting pole not included with most kits, unless stated specifically that it is included for free. Therefore, a mounting post must be purchased separately if you will require it to mount exterior antenna.
---
Related Products